Bug Bite
WFC-GS16 - Shared Online Exclusive, BotCon Style

Transformers Generations War for Cybertron Trilogy Selects Voyager
Item No.: No. E9689
Manufacturer: Hasbro
Includes: Multi-part bazooka
Action Feature: Transforms from Car to Robot
Retail: $19.99
Availability: November 2020
Other: Shares tooling with Cliffjumper, Hubcap, and Bumblebee

PREVIOUS
RSS
NEXT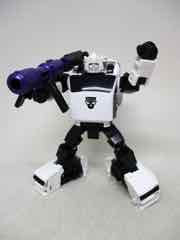 Based on a BotCon exclusive which itself drew some inspiration from an old Tonka GoBots toy, Bug Bite is an odd duck that seems to have less and less in common with his forebears. The original GoBots toy was a yellow Volkswagen Beetle - which Hasbro used as an alt mode for Bumblebee. For BotCon and Takara's G1 minibots, Bug Bite was a white redeco of Bumblebee, sometimes with extra purple markings. This time around, it's a non-VW Cliffjumper body - but with a Bumblebee head!
I was seriously expecting this toy to be a white redeco of Walmart's Netflix Bumblebee, but instead we get a mishmash of parts - which is arguably more interesting. So far we've got four toys using this same basic build, but with three total heads and two total car body kits between them. The possibilities for more Minicars is endless, and Bug Bite is a pretty nifty - and different - take on the character. Dig that Mercenary faction
Click here to check availability at Entertainment Earth.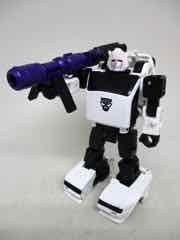 The robot has all the articulation and functionality of Cliffjumper and Hubcap, but now with a new faction symbol and a new head. In robot mode you don't miss the lack of a VW car mode - the robot is appropriately Bug Bite-esque. This might be the first toy to feature this faction symbol prominently on the packaging and the toy, dropping the Decepticon symbols we've seen on other incarnations of the robot. While mostly black and white, there's a lot of metallic purple on the weapon and also red on the eyes. This should fit well with the seemingly never-to-be-complete "Crossover" set of GoBots.
Given the BotCon version wasn't a VW - and costs north of $100 - I don't mind the changes. I do wish they had a rubsign on the chest rather than a Mercenary symbol, but as the first (and one of few) toys to sport the logo, it's certainly an interesting footnote in the line.
Articulation is excellent, and the coloring looks great thanks to the glossy finish on the car parts. He's also compatible with all those C.O.M.B.A.T. blasts in a drawer somewhere.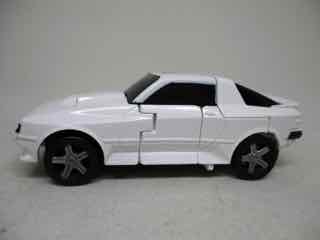 Transformation is still a bit of a partsformer, and fun enough. The car you get turns out pretty nicely, and it's not too difficult to get the robot to a car - getting the car to a robot takes a bit more work. It's a bit smaller, but it's still decent. The robot scale tends to be the chief concern these days, and they do a good job of making sure it's the right size.
While the toy car mode has no new functionality, it looks great. The white plastic is painted white, giving it a more expensive look than bare plastic. This is what made the best of the best Alternators car mode look good, and is one of few things I can name that make me not complain about the slowly creeping-up price points. That extra paint really makes the figure gorgeous, and it might help hide yellowing over time too. You can also plug the bazooka in the top of the car.
Obscure toys getting wide releases as new toys makes the line a lot of fun. A rarity can now be had - more or less - cheaply. Along with a Shattered Glass Optimus Prime, Hasbro has started to tap into its old convention rarities - and some unproduced concepts - to let fans get their hands on once ultra-rare character collectibles. $20 for Bug Bite is a bargain, and it looks like there's enough newish tooling to do a few more items just like this one. I hope Hasbro goes back to this well a few more times, as a $20 figure is something we toy collectors can't get enough of these days.
--Adam Pawlus
Additional Images

Click here to see more Hasbro figures in Figure of the Day.
Click here to see more Transformers figures in Figure of the Day.

Want to buy this figure? Check Transformers availability at our sponsors:
Entertainment Earth