Spoilers Inside
Walmart.com sold as "Transformers Toys Generations War for Cybertron Series-Inspired Leader Class Spoiler Pack"

Transformers Generations War for Cybertron Trilogy Walmart.com Exclusive Netflix Set
Item No.: No. F0969
Manufacturer: Hasbro
Includes: Megatron with Fossilizer Skelivore, sword, fusion cannon, Matrix on bandolier, Allspark, 1 C.O.M.B.A.T. effect, 2 energy blasts, Play-Doh
Action Feature: Transforms from Robot to Skeleton and Robot to Tank
Retail: $59.67
Availability: July 2021
Other: Packaging better hints at the contents

PREVIOUS
RSS
NEXT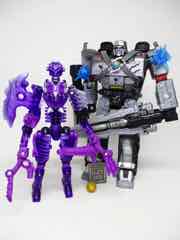 I was waffling on ordering Megatron with Fossilizer Skelivore, but since Nemesis Prime was hard to get - and Ultra Magnus wasn't - it was unclear how it would play out. One of the better representations of the on-screen model, it's a rotten deal and probably overpriced for what you get in the box. I'm not saying you won't like it for $60, but you get a $30 Voyager-class toy, a $20 deluxe-class toy, 2 new accessories that are - at best - worth a couple of bucks... and that's it. The 2021 Megatron is virtually identical to 2020's Megatron with Captives Pinpointer and Lionizer [FOTD #2,212] which will undoubtedly make this a challenge to your completism. Hasbro has so far offered fans a grand total of five grey Megatron toys based on this mold, two of which are nearly identical Walmart exclusives save for their accessories. Optimus is arguably popular enough to sell regardless of this, but Megatron does tend to sit occasionally. This one won't, most likely, thanks to it seemingly not appearing in stores.
We're going to be lazy on this one due to the similarities. It was a very good Megatron - making an encore - and the Skelivore mold is also excellent. If you don't have them, you will like this.
If you don't have any of these toys, it's a decent set with some black Play-Doh that hides a bag with 2 gorgeous blue blast effects and a clear yellow Allspark. But is it worth $60? I mean... probably no? The value you place on Megatron will undoubtedly change based on the secondary market prices of other releases, all of which provide something different and - say it with me now - just different enough to make you mad.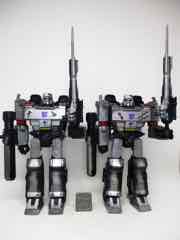 To call Megatron a redeco is overly generous - the mystery packaging did a good job of hiding that it was similar to a previous release. It's so close I had to go get my old one after I opened the box to realize I was a putz to pre-order this without better comparing my toy to the photos - I expected more damage. Netflix Spoilers Megatron has a chest deco closer to the TV show (and 2019 Siege release), with slightly different splatter over his crotch.
I really liked the pink blasts and the Targetmaster buddies with the other release a lot - heck, I even had uses for them since I had a toy that's close enough to Rad and a couple of toys that used Pinpointer nicely. Megatron is basically a $30-$40 duplicate you may want to sell, or part out. The accessories are pretty cool - a little yellow Allspark cube can peg on to his arm, and there's a clever Matrix of Leadership bandolier that's really the reason for you to buy this set. It's all one piece and fits in some slots on the robot chest - just like on the show. Since it actually changes the look of the figure a bunch, I'd say this is the Megatron to buy if you don't have the previous Netflix release. Or the Siege or 35th Anniversary G1 deco Megatron. Or the upcoming even-closer-to-the-cartoon $53 version from Takara-Tomy which is also very similar to Walmart's Netflix ones, but seemingly with improved color layouts - but you get less in the box. It's toys like this that remind you that they're trying to make different figures from different kinds of fans (casual fans, impulse fans, Walmart shoppers, etc.) and they are not taking fan completism into account all of the time with these things.
What's particularly neat about this figure are the accessories, mostly because Megatron wearing a bandolier with a matrix feels very much a 1990s Generation 2 comic design choice - except here, Megatron isn't wearing a nametag, and isn't green.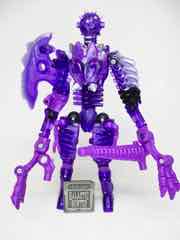 Skellivore is a purple redeco of Paleotrex [FOTD #2,277], an exquisite figure in bony deco that is absolutely worth your time. The clear purple redeco is cool in its own right, but it's clear, so you'll want to be careful with it. It reminds me of some Glyos figures, with excellent silver highlights to bring out some of the bone detail. You can read the Paleotrex review for the nuts and bolts of how it works - you pry it apart and have to reassemble it to make a t-rex skeleton or weapons for other figures. It's a very good design and much more interesting and different than Megatron.
20 years ago, Hasbro made some utterly bizarre exclusives like a big set with a bright yellow fire truck Optimus Prime, or another one with a gold cab. Costco got the epitome of crackpot fun and gorgeous exclusives with a boxed set during Energon with a redeco of Armada Optimus Prime and Overload in blindingly bright yellow - I have no idea how these toys sold, but I was excited to track them down. In 2021, I just bought my fourth Siege Megatron redeco of Megatron as Megatron in grey. I can't say this feels like a high point for my hobby but it is a good example of where we are now. I've been getting letters from Hasbro fans grousing as Hasbro puts out metallic, silver, and gold repaints of Star Wars figures, but they sell. They sell well. They're somehow selling well to a wider audience, and Funko has been making a fortune doing pretty much that exact thing for years. Having said that, putting it in a mystery box and selling it blind seems like a cruel thing to inflict upon fans who shovel their disposable income into a furnace - but the contents leaked long before it shipped, at least, so few fans probably bought it completely blind.
Had this been the final, best-ever take on the mold, I'd say Hasbro should be applauded for making the best of the best - but the Premium Finish deco from Takara-Tomy looks better. However, it lacks the Matrix. It's a frustrating era.
--Adam Pawlus
Additional Images

Click here to see more Hasbro figures in Figure of the Day.
Click here to see more Transformers figures in Figure of the Day.

Want to buy this figure? Check Transformers availability at our sponsors:
Entertainment Earth