Dinobot Slug with Daniel Witwicky
Slug because Slag means something naughty in the UK

Transformers Studio Series Leader Class Toy
Item No.: E0703 No. F0715
Manufacturer: Hasbro
Includes: Slug, Daniel, blaster, backdrop
Action Feature: Transforms from Robot to Skeleton and Robot to Tank
Retail: $52.99
Availability: July 2021
Other: Biggest, therefore best official Slag toy

PREVIOUS
RSS
NEXT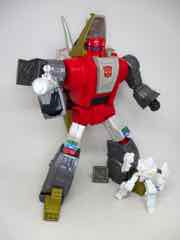 I heard some complaining about Dinobot Slug with Daniel Witwicky, but that was before anyone saw it or had one in their hands. Dinobots, despite being quite popular, get surprisingly few toys based on their 1980s counterparts - the Triceratops formerly known as Slag got an animated toy, a combiner deluxe toy (and a redeco), and this one after its original toys. That's it, unless you want to count Kreons (nope), Mini-Cons (not even hardly), or movie molds (a-nope.) By comparison Grimlock has had Masterpieces - multiple! - as well as a Classics figure, an Energon toy, and a few other ones. As popular teams go, the Dinobots haven't got a whole heck of a lot of love until pretty recently, which is amazing considering how many 1980s robot kids also were 1980s dinosaur kids.
Click here to check availability at Entertainment Earth.
If Slug doesn't look like how you remember Slag as a toy, good eye - they went specifically after the movie animated look, so the head is a little weird without much of a visible lower jaw, with grey horns and big blue eyes. I have the original toy so this is sort of weird seeing it in different colors - the chrome is gone, and so is the clear plastic. However, we now get a red robot head like on the old cartoons, plus a few other features. Oh, and Daniel is here, for some reason.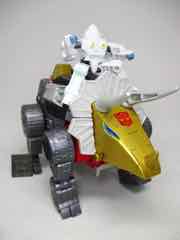 Standing about 8-inches at the robot head or 9-inches at the golden bonnet, this is a big robot. After getting Kingdom Rodimus for over $80 and a $50 Galvatron that just isn't very big, I'm just so happy to get a robot figure and feel like I got what I paid for. Mostly. It's not quite as impressive as a $20 Ultra Beast Wars toy from 1996 in terms of gimmicks, but deco and articulation are much improved - plus there are less gaps. Hasbro clearly heard fan complaints about panel fillers, and made this one more or less perfectly. It's filled with clever adjustments to improve his silhouette too. The original toy had Triceratops legs hanging off the shins, while this one rotates them around the back and they fill gaps in the legs. The thighs aren't visibly hollow, nor are the arms. At my count, this guy has 26 points of articulation and they're all great.
There's no sword, but you do get a decent update of his main blaster rifle which has a tip where you can connect blast pieces (sold separately.) Since there is a little paint on the fists, it can be a tight fit - but it looks great. Slug has a good amount of detail - more than the animation model, not as much as the original toy - and certainly captures the spirit of the character. I have no doubt we all have opinions on how it could be better, or different, but Hasbro basically delivered the Marvel Legends-equivalent of the robot figure and it just happens to be able to wad up into a decent triceratops toy. It's also worth noting there are no stickers, but there are some painted elements on the knees and chest that hint at the original toy's stickers. A little color never hurt nobody. The wings are still there, too, so you can pretend he can fly when it suits the story.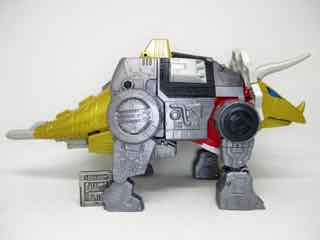 The original toy's transformation was a little tricky, and so was this one. There are false toes on the dinosaur back because the real toes now sit under the tail, and while you can figure out most of this without the instructions, I'd say use the instructions. There's a new bit where the robot shoulders tuck down together, and getting the tail just right was a pain. In other words, you're getting a $53 Masterpiece toy. If you like solid, complex toys with tricky transformations that won't make you scream, this fits the bill.
Slug has small back feet and big front ones, with an opening mouth that comes complete with a 3mm peg for C.O.M.B.A.T. blasts - not included, of course. You can also mount blast effects on the horns, but it lacks the 3mm peg "zits" of other War for Cybertron-era toys from 2018-2021 beyond the blaster. It's clean - and you can see tons of painted detail, making the figure arguably more ornate than the movie. The sides have silver and grey elements, but the figure mostly matches what you remember from the movie. Within reason. The only moving parts are the legs and mouth, much like the original toy, and you can mount Daniel on his back if you like.
Daniel is more or less like Wheelie - weird bent knees, no transformation. It's fine. He's probably too big, and since I can't see his face I'm not crazy about him. I wish he could at least transform, as it is I assume most fans will just see him fall off the shelf one day and go into a drawer somewhere. He was designed to mount on either the robot or dino modes, though, so you should have no problems keeping him around if you prefer.
Hasbro put out a lot of very good toys this year, but this may be the Transformers release to beat. I love how sturdy the dinosaur is, and the robot is very tall and sized to match Grimlock. There might be a better one, one that looks a lot like the original toy, but it doesn't exist yet - for now, he's the best and I have no problems recommending him for $50-$60. There's nothing terribly surprising here, but unlike a lot of other big Leader-class toys, it gives you something substantial enough that you don't feel like you got short-changed. Get one. Or two!
--Adam Pawlus
Additional Images

Click here to see more Hasbro figures in Figure of the Day.
Click here to see more Transformers figures in Figure of the Day.

Want to buy this figure? Check Transformers availability at our sponsors:
Entertainment Earth