Megatron
WFC-K13

Transformers Generations War for Cybertron Kingdom Core
Item No.: Asst. F0363 No. F0666
Manufacturer: Hasbro
Includes: Blaster
Action Feature: Transforms from tank to robot
Retail: $9.99
Availability: February 2021
Other: Tiny Megatron Revenge

PREVIOUS
RSS
NEXT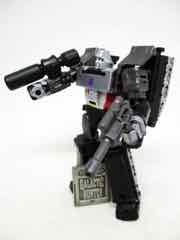 If you want a 3 1/2-inch Megatron you are in for a treat - this little toy has a great robot mode and a tank mode... well, look at the pictures. Articulation is good for a robot of this size, and I would say the paint is largely better than the $30 Voyager-class toys we've had. The silver paint really makes the colorful detail on his lower waist pop. If you want a tiny Megatron, this ain't bad - but a much bigger (but not as pretty) toy in the Authentics line only costs $10.
These little guys are closer in scale to the Titans, so if you want a Megatron that can sit in Metroplex' gun stations this is more likely to be the right size. Hasbro cleared the backside of kibble so he can sit too - possibly foreshadowing some "vehicles" for these figures. Probably not. But the engineering makes it look like that was a consideration.
Click here to check availability at Entertainment Earth.
If you need a Megatron to play with your giant Scorponok - who could probably use a Galvatron - this is the one. He's fairly sturdy with giant shoulder kibble, but still stands up with sturdy robot boots. 10 points of articulation means that he has no problems assuming a number of poses, although the shoulder gear may get in the way sometimes. His fusion cannon is non-removable, and he also includes a bonus pistol which vaguely resembles his G1 pistol mode. Since it fits in 3mm and 5mm fists, you might get a lot of use out of it.
What I love about this figure are the head and chest. Thanks to the silver paint, it really pops in a way that the other, larger Hasbro Megatron toys don't. The bright red eyes really look perfect, and I love the chest detailing here. Given the size and price point, whatever reference files Hasbro and Takara-Tomy used seem superior to a lot of other more expensive items. Hopefully this level of paint detail will return on the bigger guys, and for now I'm going to enjoy having this guy torment my various bases.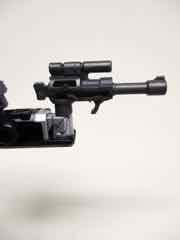 The transformation process is a not too involved, and is easier with the instructions to give you the right order. Otherwise you'll be massaging parts in place, and while you'll get it, it could be easier.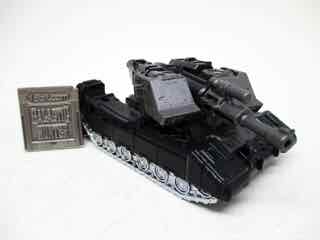 I didn't love the tank at first, but it's surprisingly decent. The turret can turn, it's not particularly gappy, the treads are painted nicely, and there was no money wasted on tiny wheels that don't actually do you any good. The turret itself may be a little disappointing, because it looks like arms with a pistol in it. This certainly feels like a "the robot came first" design, and it's perfectly nice given what you get for your money. If you want a rolling tank with wheels, Hot Wheels can hook you up for a dollar. Sometimes. There's not always one on the shelves.
If you compare this to other kid-driven 3 3/4-inch $8-$10 action figures from Mattel (Jurassic World) or Spin Master (Batman/DC), it fares pretty favorably with similar figural articulation and, of course, the transformation gimmick. It's kind of like in the 1990s when a basic Beast Wars figure was $4.99 while Star Wars figures were around $5-$6, depending on the year. In that context, it's a decent toy - a great robot, a good tank, and an adequate transformation puzzle. My hunch is this will be popular with collectors collecting the big base toys and fans just wanting a $10 Megatron, but so far in 2021 all toys in Hasbro's robots in disguise lines seem to be flying off the shelves at most stores in my area. It's fun enough for $10, unless you're all Megatron-ed out, in which case you probably don't have a reason to buy another tiny one. I like what they did here, but I would also be interested in seeing what a toy like this would look like if the tank mode took priority.
--Adam Pawlus
Additional Images

Click here to see more Hasbro figures in Figure of the Day.
Click here to see more Transformers figures in Figure of the Day.

Want to buy this figure? Check Transformers availability at our sponsors:
Entertainment Earth