Covert Agent Ravage and Decepticons Forever Ravage
G1 Ravage with New Deco with possible X-9 Replacement

Transformers Generations War for Cybertron Trilogy SDCC Pulse Con Exclusive
Item No.: No. F1201
Manufacturer: Hasbro
Includes: 2 blasters, 2 chrome rocket packs
Action Feature: Transforms from robot to jaguar or jaguar to tape
Retail: $52.99
Availability: October 2021
Other: Expensive, but neat

PREVIOUS
RSS
NEXT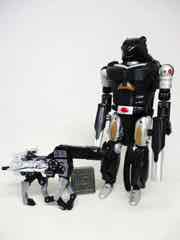 It's expensive, but Hasbro knows you're going to buy Covert Agent Ravage and Decepticons Forever Ravage anyway. In an alternate timeline this set would have been sold in San Diego last July, but due to the COVID-19 pandemic (and the desire for absolutely no one to be in a building with 200,000 fans) this set was punted to October and sold as a Hasbro Pulse Con exclusive - that means it was sold on their web store after a day of streaming informercials for these and other new toys. At $53 the set is quite expensive - you get a remold of a $20-$23 toy, and a reissue of a 37-year-old toy with new paint that'd be - generously - a $5-$10 toy.
Collector's note: Hasbro swapped the beast forelimbs of the Covert Agent Ravage figure. (That's the deluxe-sized one.) You can swap the entire kitty legs by popping them off the ball joint. Our pictures of the robot mode have the legs incorrectly assembled, as Hasbro sent it out. The jaguar modes are swapped/corrected in our pictures.
I don't blame Hasbro for the upcharge - Covert Agent Ravage is technically debuting as a toy in the USA, an update if the infamous Beast Wars Metals Jaguar X-9 toy. Over 20 years ago, Japanese fans and some online collectors found it was easily had for a very short period of time, and now commands massive sums on the secondary market due to it being a physical manifestation of the direct connection between the Transformers of the 1980s appearing on the cartoon of the 1990s. It was a big deal, and was selling north of $200. Meanwhile, the original cassette Ravage keeps getting reissued but is frequently bootlegged and isn't terribly cheap - expect to pay $20-$30ish for a good one. (Don't confuse it for Shadow Panther.)
So it's not cheap, but it's a cool set - and unless you can get it at a better price, you're going to want to pay for it.
Click here to check availability at Entertainment Earth.
The Predacon Agent Ravage - represented here by Covert Agent Ravage - is something fans of the series are always going to want. He shows up, works with the Maximals to arrest Megatron, and then changes teams after getting a missed text from his old boss. The toy is largely modeled after the pictures on TFWiki, as many toys are these days.
It's a heavy remold of Kingdom Cheetor - like how Metals Jaguar was a heavy remold of Transmetals Cheetor. While that toy added cool action features like quick-draw blasters and an opening chest, this one doesn't. It's basically just a slightly different transformation with some new parts, arguably giving you a better-looking toy complete with opening mouth. What's funny is that people were expecting a Transmetals Cheetor toy due to the Kingdom toy's tail whip, and instead we get Ravage. (I'm not complaining, but that means another remold is possible.)
Our new pal Ravage has a head much more in line with the TV show, with blasters and a chest that also match better. The coloring seems better too. Honestly, this is the one you're going to want as a modern collector, but I love the original 1990s styling and spring-loaded weapons on the original too much. Since it's truer to the cartoon - and that matters - this toy is still an essential addition to any toy box that places any emphasis on the original Beast Wars series. You won't be sorry you got it - the robot is almost entirely new when you compare it to another retool of the same mold, Shadow Panther.
It's kind of a shame this was a convention exclusive, mostly because fans would buy it any way it was sold. This could've been in a Buzzworthy Bumblebee set at Target for $100 with a yellow Buzz Saw (Waspinator), any Bumblebee repaint, and literally nothing else and it would be impossible to find.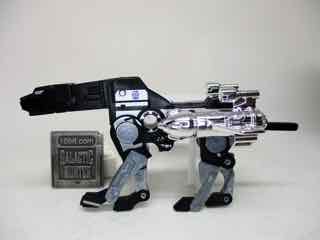 Decepticons Forever Ravage is, as I am fond of saying, just different enough to make you mad. It's fundamentally the same toy as the 1984 original with slightly rougher metal legs and new deco. If you haven't looked at your original toy in a while, odds are you may not realize it's different. Instead of stickers, Hasbro opted to paint tape detail on both sides giving you a much nicer feel than we've ever seen on the mold - and it's a good molds. He can stand, he can sit, and as a robot has has 14 points of articulation including the head and the tail. New molds of Ravage aren't usually as good as the original, so if you don't have the original yet you'll be happy to own this one.
While it does lack the rubsign sticker of the original toy, you get an entirely new, fully-painted side on the figure which you'll either love or hate. It makes for a better tape mode - arguably the best - but an unpainted Ravage body would give you a more true-to-media kitty mode, meaning Hasbro has one more golden reissue opportunity here. The tape itself is, simply, a microcassette, a block, and arguably one of the more original alternate modes of the original line. (Despite there being over a dozen of them.)
As with before, his accessories are hard plastic 5mm-peg that plug into his sides perfectly. Sadly there's nowhere to store them when not in use, but such is life. They're still great.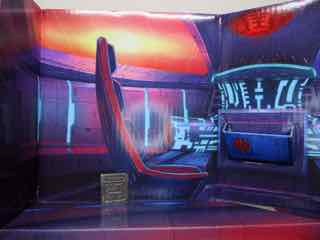 As a bonus - or garbage - you get a nice little backdrop with an opening tape deck for the moment where Ravage reverts back to his glory days and shouts "Decepticons forever!" to join the fight against his enemies. Or their grandkids, really. It's nice, and with the plastic trays and plastic ties, it's something we probably won't see very much of in the future. Enjoy the window box packaging while you can, kids!
$53 is a lot for a remold of a $23 toy and a reissue of a $5 toy, but it's Ravage and it's probably going to be something a lot of fans love to have. The Predacon version of Ravage is a real rarity to American fans, so getting the chance to get one should make a lot of fans happy while others are confused that Hasbro also has Shadow Panther out at pretty much the same time. They're very different-looking toys, despite both being black cat robots, but this one is special. Nostalgia sells, and toy junkies are not immune - so get it if the price agrees with you.
--Adam Pawlus
Additional Images

Click here to see more Hasbro figures in Figure of the Day.
Click here to see more Transformers figures in Figure of the Day.

Want to buy this figure? Check Transformers availability at our sponsors:
Entertainment Earth