Starscream
WFC-K12

Transformers Generations War for Cybertron Kingdom Core
Item No.: Asst. F0363 No. F0665
Manufacturer: Hasbro
Includes: 2 Null Ray cannons
Action Feature: Transforms from plane to robot
Retail: $9.99
Availability: February 2021
Other: Tiny Starscream Revenge

PREVIOUS
RSS
NEXT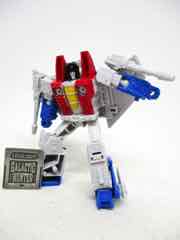 We've had tiny versions of characters in varying sizes since Hasbro got into G1 remakes in the mid-00s. This 3 1/2-inch Starscream joins a tiny Legends toy, a bigger Legends toy which came with a tiny Waspinator, multiple Deluxe releases, and even a couple of Voyagers. And a leader. And a combiner torso. There will, no doubt, be many more as time goes on, each of which offer some worthwhile features. Sadly we've been getting a bit less on some of these toys lately - a similarly sized but $5-$7 figure in the Authentics line can be bought right now, for example - but without the complexity or nearly as many colors.
If you just want a ting Generation 1-inspired, 1984-esque Starscream you've got many choices. You may already have them all in your home. The main reason to get this one is compatibility with the Titans, but I'd say the C.O.M.B.A.T.-peg cannons and the bright colors may also be of interest if you're a photographer or diorama fiend. I like this toy - but I know full well I bought a $10 Deluxe Starscream in 2009 with firing rockets that had a robot mode sculpted to look almost identical to this one. It stings a bit that inflation has really kicked in, but in the context of the modern toy world you do get something comparable to competitive action figures. The key difference in 2021 versus the 1990s, Hasbro is now treating Transformers as a premium brand for shoppers of 4-inch-ish figural toys.
Click here to check availability at Entertainment Earth.
While not as big as some other smaller Starscreams, he is a lot more colorful with a painted orange cockpit, some bright blue on his fists and boots, and a lovely slathering of evenly-applied red. The Decepticon markings aren't visible in robot mode, but somehow even more sadly, his SKU is - the wing has F0665 stamped on it, rather than putting it out of sight like under a foot or on the inner leg. This kind of thing is pretty ugly and when Hasbro really started doing it heavily 12 years ago, it was an eyeroll - some figures had it on the front of the leg. Today it seems like there's no excuse for it, but aside from that this may be one of the most endearing little Starscreams. The robot sculpt is based on the Earthrise Voyager, which was based on the Classics and Universe Deluxe, so it will no doubt seem very familiar. The blasters plug in to the fists or shoulders, and it's a perfectly nice little robot.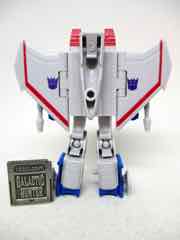 The transformation process is not remotely intuitive - the chest splits open and rotates, but everything else more or less tucks into a sensible position. I needed the instructions because the rotation thing - and the chest thing - were not obvious.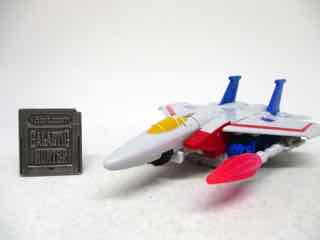 The jet is fairly big compared to other Core-class alt modes, thanks to the wings. It doesn't do much, other than look colorful and connect to your existing blast effects. Hasbro did a nice job here - but do you need another tiny jet? If so, this is a good one. If not... well, you're probably covered.
While it's true bigger and better and more robust versions of this character exist - as do much cheaper ones - this one holds a unique place with its unusual transformation and the fact it seems designed to potentially be able to sit in a chair. I doubt this will pay off, but I can hope. It's not as clumsy a vehicle as we saw with Optimus or Megatron, so I would encourage you to snag one if you need to buy something to make this week worthwhile. If you miss it, and you're happy with your existing Starscream toys, I'm sure you'll also be fine.
--Adam Pawlus
Additional Images

Click here to see more Hasbro figures in Figure of the Day.
Click here to see more Transformers figures in Figure of the Day.

Want to buy this figure? Check Transformers availability at our sponsors:
Entertainment Earth