Traveler Simiod Clone
Monkey around

Glyos System Series
Item No.: No. n/a
Manufacturer: Onell Design
Includes: n/a
Action Feature: Pops apart
Retail: $10.00
Availability: June 13, 2019
Other: Aping details from popular designs

PREVIOUS
RSS
NEXT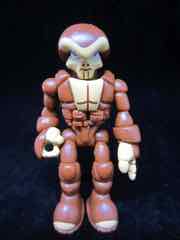 I have a lot of awesome toys I shot years ago and haven't finished writing up yet - the Traveler Simiod Clone was photographed way back in June 2019 with the intent to post "soon." But you know how it goes - things get busy, then there's a pandemic, then your friend dies, and blah blah blah. Let's talk monkey space entities.
Seemingly inspired by Donkey Kong, the 2 3/4-inch Traveler Simiod Clone was sold by Matt Doughty of Onell Design direct to fans a couple of years ago. As of my writing things, none are active on eBay and there are no closed auctions, so I have no idea what it will cost you to get one in 2021.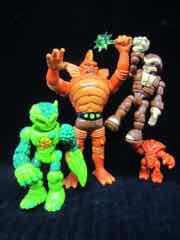 Cast in brown, the figure shows just how versatile the aging Pheyden mold has been. Sure, it's an alien with a skull-like face and a belt with pouches on it, but a little paint goes a long way. The artist painted on nostrils and a mouth above a skull/Thanos-like chin, with painted muscles on the chest and light tan hands to give the illusion of flesh next to hairy body parts. And they make it look easy, because there's a fleshy brow and big brown eyes too.
The figure stands and is generally easy to enjoy. He stands, he sits, and he'll hang out nicely with your Imaginext and Playmobil toys. Each point of articulation is also a place to tear the figure apart, allowing you to swap elements with other Glyos-compatible action figures. Long-time readers know what this means, but there are 14 years of indie toys that you can mix and match parts with - plus some mass-released ones you can find in some shops like GameStop. To put it mildly, it was a great idea in the post-Stikfas/Xevoz world, but it never turned in to the phenomenon that an idea like this could have - indeed, should have been. There should have been Batman figures made like this, and the Gods of Mount Licensing were seemingly not interested. But at least there are hundreds of obscure little guys like this out there to enjoy.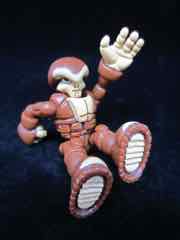 Pheyden - the original character for which this mold was created - has proven to be quite the cosplayer, being recolored like a Game Boy, Skeletor, Vlix, Walrus Man, and dozens of others in addition to sporting his own unique colorways. The ape was just a good idea, and I dig it a lot. I hope you can find one and get one on the cheap, because it shows the versatility and creativity in the indie toy world without the higher price points we saw in the days of the early designer vinyl era. Ten buck isn't a lot to ask for a figure this neat with a run this low, and believed to be in the very low hundreds.
--Adam Pawlus
Additional Images


Click here to see more Onell Design figures in Figure of the Day.
Click here to see more Glyos Compatible figures in Figure of the Day.