Captain America
Bendy, Flexy

Avengers Bend and Flex
Item No.: Asst. E7335 No. E7869
Manufacturer: Hasbro
Includes: Blast accessory, shield
Action Feature: Bendy
Retail: $9.99
Availability: January 2020
Other: Gumby skeleton, Xevoz extremities

PREVIOUS
RSS
NEXT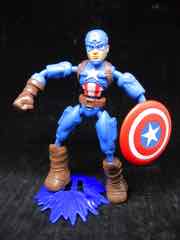 Another day, another Captain America! I wrote this in 2020 and for some reason, didn't get around to posting this. Much like Spider-Man [FOTD #2,381], this figure has 2 points of articulation and is bendy. The neck and waist are real joints, everything else is like your dad's old Gumby figures. The hard plastic bits covering them remind me a lot of Stikfas and Xevoz.
Click here to check availability at Entertainment Earth.
The Bend and Flex figures continue to do well, in that in my limited retail hunting they don't seem to hang around very long. It's a real toy for $10 - they look meatier, but smaller, than the 12-inch Titan Hero Series line. The 12-inch figure skinny boxes don't do them many favors, but that's an impressive toy for the price. These guys are posed in-pack to show off their range of motion, and they're sturdy big-footed plastic dudes. Some even have accessories - Cap here has both his shield and a blast effect with some holes in it for some reason. Why? I have no idea. But he can stand on it like an impact, or hold it like some sort of fist effect.
The 6-inch figure is similar in size - but not proportions - when compared to Marvel Legends or the pretty awesome and cheap 6-inch kid figure lines Hasbro has been churning out for the likes of Black Panther and Infinity War. The bendy blue skeleton seems durable but stiff, allowing you to get some decent poses out of a figure that actually still has traditional plastic joints at the neck and the waist. The figure easily splits at the waist too! It reminded me a lot of Xevoz, and when I see the exaggerated proportions of these figures I was thinking just how much I would love to collect Marvel Xevoz.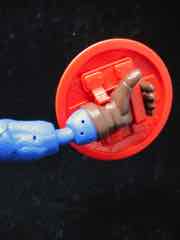 Like Spidey, Cap is sturdy and holds his stuff well. I like the sculpted detail on the plastic parts a lot, but I'm not as fond of the smooth rubber-coated wire joints. It's functional, but some excellent work went in to crafting his look - it would be nice to see even more of it on this figure.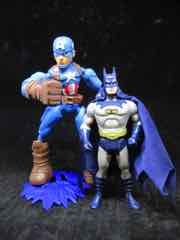 With big boots and fearsome fists, this is a figure that's meant to fight your other figures. He can punch and kick, and looks like he could take a beating too. I doubt many collectors will want him right now, but I look forward to seeing if future generations of fans have a soft spot in their hearts for these. We're always seeing long-running lines' target audiences grow up every decade and a half, and things like Imaginext still tickle the imaginations of kids and drain their wallets on the secondary market. There are plenty of Cap toys out there, but this one is particularly charming. If you know a kid that loves Captain America, and I mean a younger kid, this might be a great gift purchase.
The line has since turned into a roaring success, with mission-specific figures including the requisite space, ice, and fire themes. Who knew kids would love it so much?
--Adam Pawlus
Additional Images

Click here to see more Hasbro figures in Figure of the Day.
Click here to see more Marvel figures in Figure of the Day.