Sparkless Seeker with Caliburst and Singe
WFC-20

Transformers Generations War for Cybertron Trilogy Walmart Exclusive Netflix Voyager
Item No.: Asst. E9490 No. F0975
Manufacturer: Hasbro
Includes: 2 HPIO Null-Ray Laser Launcher, 3 transforming robots, 3 C.O.M.B.A.T. effects
Action Feature: Transforms from Robot to Tetrajet
Retail: $41.99
Availability: July 2021
Other: Just as good as you would hope

PREVIOUS
RSS
NEXT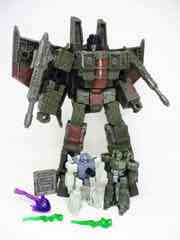 You can't go wrong with more Decepticon jets! The undead gift set that is Sparkless Seeker with Caliburst and Singe gives you one sensible toy - a puke-green and brown repaint of Starscream - with two bland blaster buddies for just over $40. Starscream repaints tend to sell well, and this one came and went somewhat quickly where I live - I think I saw its casemate, an Optimus Primal & Rattrap set, literally only once. This stuff sells! For a relatively nameless character, the new coloring makes it interesting and worth getting - rusty toys are cool! It's also #9 of 11 toys to use this mold, three of which are named Starscream. I'm hoping this is my last rodeo for Seeker collecting, so I'm interested in repaints of this mold - but if they move to a new mold/style, I'm unsure if I'll want to go all-out another time. (I missed a few of the "Classics" mold ones.)
Sparkless Seeker - which could have followed a "Storm" naming convention had decorum not been necessary - is a perfectly good toy that I like. His buddies Sparkless Singe and Sparkless Caliburst are basically as good as their forebears, which means they're great if you don't have them and you're probably done pretending that more Targetmasters are exciting at this point (unless they complete a specific character's armory.) The colors look like something out of a 1990s "realtype" Japanese modeling book, and overall the set is pretty darned good for anonymous characters.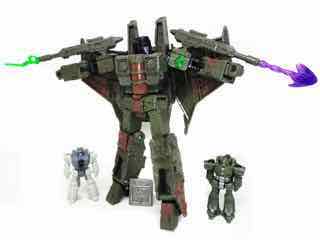 Acid Storm was the brightest green, so Sparkless Seeker is something of a muted, rotting green with a lot of dirt on it. The template isn't the same as a previous Seeker - a plus - but you'll no doubt notice some color distribution similarities to Hotlink. It's not at all colorful, and there aren't as many bright spots, but you can see the toy go from black to brown to green, or other colors, depending on where you look. The quasi-olive drab would be right at home in a G.I. Joe crossover line, if and when they finally go that route. The typically bright orange cockpit glass is now dark orange, and the purple Decepticon symbols on the wings seem to fade into the green sludge.
Since the toy was meant to look like it died and has been reanimated by some force, this decayed look really works. It's a great way to sneak out an army-builder too, but it would have been nice to also make him a new character while they were at it. The big guy is arguably worth the price of the entire set, particularly if you're on board for these kinds of things. It's cheaper than a convention exclusive would be, but not particularly easy to find.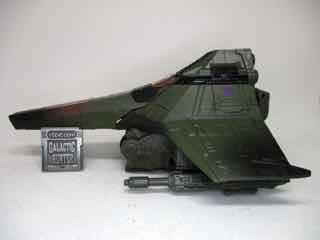 The weapon buddies are not terribly exciting - Singe is now green with green blasts. His eyes are red, and there's not a lot going on there. Caliburst - once a bright purple robot with black limbs - now has a grey body, black grip, and light grey limbs. I like this one a bit more. Singe looks more like a dead robot, whereas Caliburst's coloring look like a 1986 or 1987 Autobot who was colored to match the likes of Metroplex. He has a big purple blast effect that sags a bit.
Thanks to continued price increases, you might see this set as a value. Thanks to Battle Masters buddies being dumped at Tuesday Morning and 99 Cents Only for a couple of bucks, you might not. It's effectively nothing new, but the whole "robot zombie" thing adds to the story behind these toys and gives you a chance to buy things in new, weird colors. I assume a lot of people will just forget this one exists over time, but Hasbro's weird, rusty deco tends to please. I'd recommend this for army builders, completists, and those seeking new characters. But if you've got another Decepticon Siege Tetrajet and you don't want more of them, save your money, and move on.
--Adam Pawlus
Additional Images

Click here to see more Hasbro figures in Figure of the Day.
Click here to see more Transformers figures in Figure of the Day.

Want to buy this figure? Check Transformers availability at our sponsors:
Entertainment Earth