Neo Phase Pheyden MK II
A Classic!

Glyos System Series
Item No.: No. n/a
Manufacturer: Onell Design
Includes: n/a
Action Feature: Pops apart
Retail: $8.00
Availability: February 1, 2013
Other: Green, Mean, Rarely Seen

PREVIOUS
RSS
NEXT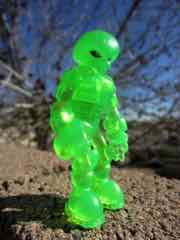 Behold, the ravages of age! I shot this figure right after I got it way back in 2013 - I really loved the wave and shot Neo Phase Pheyden MK II and some of his buddies outdoors. I've got a lot of great Glyos figures which still haven't been reviewed - many of which have been photographed a long time ago. Let's fix that! Originally a cheap $8.00, this figure last sold on eBay for around $24.99. New figures are still pretty cheap when you buy them new, the dark brown Pheyden Gloucenn at the end of July 2022 was a mere $8.00 with pretty much the exact same paint apps as this green fellow from 2013.
After celebrating their 15th anniversary a few weeks ago, it's fun to look back at Onell Design and all their great figures. Early on they didn't have many molds, so we got a few figures in a lot of colors. Sometimes we'd get a new wave every month, usually it was every other month. We saw it expand from a couple of little PVC dudes to a mini Glyos empire, and it seems to be (at least temporarily) shrinking a bit after expanding to licenses like Dark Souls, Fallout, The Outer Space Men, and precious few others. We don't get Onell Design drops as often, and new indie makers are not as common as they once were - but the figures are still excellent and have aged fairly well. None of my old Glyos figures seem to be yellowing with age!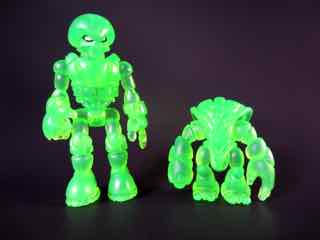 This figure came out in a 1970s-inspired "Yellorange" wave that reminded me a lot of Adventure People (specifically the Alpha Star pilot) with some gray and green figures too. This green fellow reminded me a bit of X-Ray Man and some Micronauts - even though it's not the same exact color, they look like cousins. The green Pheyden is largely unpainted except for the eyes, and he came out in a post-packaging period. Figures have come in clear, unmarked plastic bags for quite some time now and as things like panel lines were also dropped, costs more or less remained flat as we saw some toy inflation nearly a decade ago.
The 2 3/4-inch figure has 12 points of articulation, and pops apart at each one. You can swap hands and limbs and heads between Pheydens and other Glyos-compatible figures, which is pretty impressive given not many other toys have that kind of ongoing compatibility. LEGO and Playmobil and Hot Wheels all seem to fit together well over the years, but Barbie changes size, Imaginext had a few revisions, even Star Wars 3 3/4-inch figures aren't 100% compatible from the beginning, so it's nice to see. Most of the sculpted detail shines through niecly, letting you see the treads on the feet while he's standing in a dimly-lit room. The various segments of the arms pop nicely, and the lack of paint really lets the sculpted detail literally shine through on each part of the figure. With a little light behind the figure you can see his pockets and other sculpted elements, with the painted eyes appearing darker - but still visible.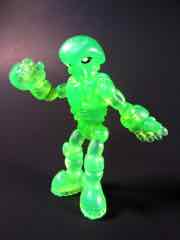 The only thing that could make this figure cooler would be some sort of vac-metal head on top. It's great, it sings under UV lighting, and it's not too expensive should you find one for sale on the secondary market. If you can get a Pheyden - any Pheyden - from Onell Design directly it's much cheaper, though, so maybe you should do that first. But I do like green, and this one did turn out nicely. Pheyden fits well with Imaginext and other 3-inch figures, and you'll find a lot of Onell Design stuff sizes nicely with Playmobil too. If you like indie toys, Onell Design's are probably the gold standard in recent years - cheap, fun, easy to customize.
--Adam Pawlus
Additional Images


Click here to see more Onell Design figures in Figure of the Day.
Click here to see more Glyos Compatible figures in Figure of the Day.