Wheeljack
Made in Indonesia

Transformers Authentics Alpha-Class Figure
Item No.: Asst. E0694 No. F3743
Manufacturer: Hasbro
Includes: n/a
Action Feature: Transforms from Robot to Car
Retail: $10.99
Availability: Spring 2022 (I think)
Other: Voyager Robot at Core Prices

PREVIOUS
RSS
NEXT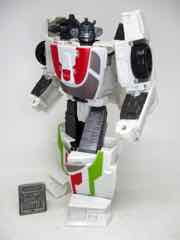 Hasbro doesn't promote its Authentics toys much, and people rarely find talk about them when they find them in the USA. I scored Wheeljack in late May, and he's sort of the idea of how I wish toys were released now. Hasbro tends to only release 1-2 Authentics toys per assortment per year, if that. They're big and cheap. They're for kids. With a few refinements these could be serious competition for the collector line, but I assume (slash believe) they're hobbled a bit on purpose so collectors pay $35 for similarly sized, but significantly more complex, toys. Considering this big Wheeljack is $11 and the last deluxe one was about $23 ($25 at current prices), it's easy to see why someone might rather have a collection of simpler, bigger, cheaper toys.
Back in the early 2000s, a Hasbro designer wrote that he found the toys the most interesting to design were the $10 ones - you had a fixed price point and finite resources, and had to make the best toy you could. Hasbro seemingly tossed all that out the window in favor of super-articulated heavily-painted figures for teenagers and adults, so I find things like this Wheeljack to be nifty because this is the biggest you can get for $10.
The 7-inch tall robot puts him at (or above) most Voyager and Leader-sized Transformers, with articulation that is roughly what you would expect from an above-average Legion/Legends-class toy from a few years ago. Ball-jointed hips and ankles are very welcome, as are the ball-jointed elbows and shoulders. You get a lot of movement for very little cost. You also get knee joints that bend, and aren't required for the transformation - they're just here to make the toy more fun. Sculpting is pretty basic, with mostly clean surfaces with a few special panel details here and there. The designers put enough in here to give you a surprisingly good figure given that they could've done something much less interesting - take a look at the much less impressive Authentics Bumblebee [FOTD #2,012] and the below-par but still notable Authentics Optimus Prime [FOTD #1,995]. Both were pretty good, but had elements that a little more time in the design stages could have fixed without adding to the toy's production cost. Wheeljack clearly took note, and the result is a much better toy.
Deco and the accessory are also pretty good. Wheeljack's forearms are painted - and did not need to be - plus they painted his eyes and face mask, both of which were essential. Everything else is painted because it was necessary to have a decent car mode. The figure's blaster weapon can be mounted on either shoulder or in the fist, but for whatever reason isn't a 5mm peg - it's smaller, so you can't use it with your other toys. I have to assume this is intentional, because older fans may be buying these toys to swipe/use/share accessories. These are closer to 4mm, so there's not a lot of sharing to be done. I would rather have a bigger blaster, but it looks like the designer decided to keep the entire toy's aesthetic as close to Earthrise Wheeljack as possible.
I know most people won't look at it this way, but if you're old like me, consider this: in 1996 we got some pretty good Beast Wars deluxe toys for $9.99 in 1996 money. They weren't huge, they weren't heavily painted, but you'd get a squirt gun or spring-loaded weapon in there with a robot roughly as well articulated as this 2022 Wheeljack - but you rarely/never got ball-jointed ankles. This Wheeljack is closer in size to the Leader-clsas robots, and even with inflation is a lot cheaper. Sure, there are gaps. Yes, it's not as beefy. But if someone handed you this very Wheeljack in 1996, even at $15, you'd probably be pretty excited to have it.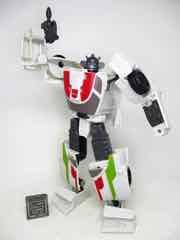 Transformation is easy, similar to the Earthrise/Kingdom toy but without as may weird bits. There are no knee windshield pieces to pop off, so it's a lot more fun to not have to reassemble the toy if you don't do it exactly as the intended. The panels require a little massaging to get just right, though, so you might see a couple of gaps.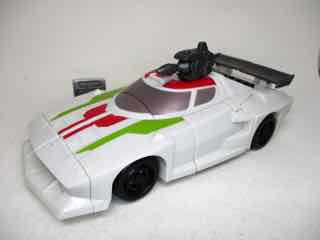 The car is a car - it has wheels, and you can plug the blaster on the roof. The back wheels spin freely and the front ones are a little rougher. You can still roll it around your desk, and it's still an off-white car with black, gray, green, and red markings. Nothing about it is going to impress you too much - it's glossy, it seems like something you'd probably get for (and leave in) the sandbox if you were a kid in the 1980s. But it feels durable, and would likely survive being shuffled around in a big toybox with minimal wear or tear. It's the kind of thing I'd probably have loved to get as a kid, mostly because I didn't get a "real" Wheeljack toy until Energon Downshift - which was $10 in 2003, and a lot smaller. Other than missing rally marks, Authentics gives us a perfectly good car.
This is not a toy that'll knock your socks off, but it's another neat example of what you can do for $10. Compare this to 3 1/2-inch Core Class toys, 4-inch 1-step Transformers, and tiny 2-ishinch Star Wars figures with a backpack accessory. It may not have the ornate rally marks of the Deluxe-class Wheeljack, but it's big, the articulation is decent, and it's pretty easy to enjoy if you're a kid or an adult who dislikes to squint at instructions. I doubt I can convince you to try these guys, but they're an impressive exercise in what a budget can do for you. But having said that, it's 2022 and I can't assume children in grocery/food/value stores are looking for a G1 Wheeljack for any reason. Dads might get a kick out of it, though, and as a collector who likes actual toys I find this to be a delight.
--Adam Pawlus
Additional Images

Click here to see more Hasbro figures in Figure of the Day.
Click here to see more Transformers figures in Figure of the Day.

Want to buy this figure? Check Transformers availability at our sponsors:
Entertainment Earth