Coronation Starscream
Studio Series 86 #12 (also Earthrise Starscream Redux)

Transformers Studio Series Leader Class Toy
Item No.: E0703 No. F3201
Manufacturer: Hasbro
Includes: Two sets of Null-Ray Cannons, cape, crown, throne, shoulder pads, backdrop
Action Feature: Transforms from Robot to Jet
Retail: $52.99
Availability: January 2022
Other: The best $53 accessory pack with a figure in it

PREVIOUS
RSS
NEXT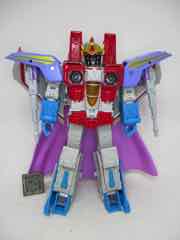 If you're familiar with the world of third party upgrades - that is to say, replacement guns, panel fillers, and other accessories - Coronation Starscream is an example of Hasbro continuing to follow and understand the changing marketplace. Hasbro hasn't a lot of accessories for Screamer done beyond a crown for its retail line, making this package kind of interesting to fans that bought 2020's Earthrise Starscream - and even more appealing to those who missed it. Hasbro has experimented with figure-with-accessory packs before, giving us quite the armory with one set and quite the shruggable blast effect collection in another. Me, I wanted the throne, and the gear is a nice goofy robot bonus.
Starscream seems to be a warning shot to third-party upgrade manufacturers. Here we get a redeco/partial retool of a $30 Voyager-class figure with altered deco and newly-tooled hands, plus a suite of accessories that would easily cost you close to $50 had they been made by some small toymaker overseas. Hasbro decided to give you the whole package with a figure for $53. Is it worth it? Depending on your perspective, it can be a bargain. If you're in the upgrade part market, unquestionably - shoulder pads and a crown could set you back $20 from a hobby maker, plus another $10 for a cape. If you already have the 2020 Screamer... maybe. It's sort of telling about the business in 2022 - if you look at most boy's brands, the "innovation" is largely new ways of selling adult fans toys they already bought, either as kids or recently as adults, with tweaks and changes. And it works. I mean, I bought it. You're probably thinking about it.
Click here to check availability at Entertainment Earth.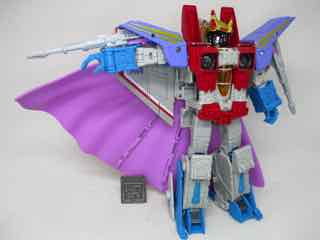 The core toy is Earthrise Starscream [FOTD #2,181]Earthrise had unpainted. The gray panels and stripe-less blue wings are a bit more accurate to some shots of the jet from the original cartoons. Now the cape covers those silver vents on the back, but at least we can say it's different. Hasbro also skipped some detail above and below the knee vents this time. The blue wings on the legs lost their stripes for the 2022 edition, but the most interesting change were retooled fists with articulated fingers. Now he can gesture dramatically.
His transformations is the same as before with pretty much the same articulation, effectively making it a fancier version of Classics Starscream from 2006. The jet mode is fine, and you may note the Decepticon sigils are slightly bigger.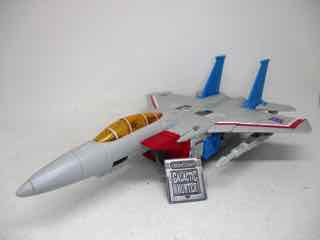 You're buying this figure for his ample accessories. What really knocked my socks off here was how nicely Hasbro and Takara-Tomy thought them out. Not only can you mount them on Starscream, they can all be stowed on the back of the throne. There are slots and compartments so you don't lose them, and they can be tucked nicely in a diorama so you don't have to lose them. This warms the empty cavity where my heart used to be.
The purple throne itself has no moving parts, and if I'm being fair, it's not great for this figure. Starscream's wing bulk and articulation make it so he kind of crouches and hovers over it, but at least it looks nice. Similarly, Megatron can sit on it, but it's not a perfect fit due to his backpack. It's a nice display piece though, and it's nice to see Hasbro including old cartoon pieces with some of these toys. It also photographs well, and is certainly good enough - but it's not like Hasbro tended to think of these figures as needing to sit in a chair some day. If Hasbro engineered the throne and the figure at the same time, it would be better, but for a post-release solution it's decent. Compared to third-party options, it's fine.
The crown is a little bulky, but fits nicely on Starscream's head or in the back of the throne. Hasbro has done a bigger crown for the Leader-class Combiner Wars toy, but outside of Masterpiece Editions we've never had the cape or shoulder pads. The cape is a jointed 3-piece affair with a 5mm peg. You can fold it down to a small cape, or you can have it swing out on the right side so he can gesture mightily or something. It just plain works, so it's good. Similarly, it can hang off the back of the throne - there's no way for him to sit while wearing the cape. Physics. The figure looks improved with the gear, but I don't assume that this Starscream is Hasbro's final say on the character - there's still room for refinement and I don't doubt a much more streamlined, less greebley Studio Series version down the road. This isn't to say that it isn't good - it's just that a different design aesthetic from Earthrise doesn't quite mesh with the smoother Studio Series look.
If you have Earthrise Starscream and see no need to get the gear, skip this one. If you're in the market for upgrades, this is cheaper than unofficial ones. (Sell the throne if you don't want it.) It's a very pricey accessory pack, but I can't deny that they're nice accessories. Right now, this is easily one of the best Starscreams you can get. The moving fingers, brighter blue plastic, and ample accessories are arguably reason enough to buy this figure yet another time. Or perhaps reason to sell your old one. Or reason to keep your old one, give him the new gear, and dump the new one on eBay. I can't read your mind, each has advantages so you can keep whichever you like. Custom thrones are $50 or more, so in that respect, and given how good accessories tend to get parted out at premium prices, this is a can't-lose scenario. If you change your mind, someone's gonna buy that crown off you.
--Adam Pawlus
Additional Images

Click here to see more Hasbro figures in Figure of the Day.
Click here to see more Transformers figures in Figure of the Day.

Want to buy this figure? Check Transformers availability at our sponsors:
Entertainment Earth