Iguanus
Fits well with your 3 3/4-inch action figures

Transformers Legacy Core
Item No.: Asst. F2988 No. F3014
Manufacturer: Hasbro
Includes: Blaster
Action Feature: Transforms from robot to motorcycle
Retail: $11.99
Availability: April 2022
Other: Update of old Pretender toy, but potentially not definitive

PREVIOUS
RSS
NEXT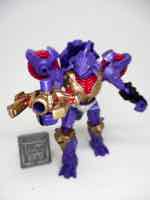 I like what they did with Iguanus. In 1988, a big, hollow lizard figure was sold and you could shove a robot inside him, and that robot could turn into a motorcycle. In 2022, you get a new toy that's the size of the smaller robot, but the motorcycle turns into a robot that looks a lot like the big Pretender shell figure. This means it's both new and interesting, but also arguably not an update because he's very small and isn't a hollow guy with another guy inside him. Should you skip him? No. But I wish he was bigger.
He also has a blaster with 3mm pegs for his 3mm fists that doesn't look anything like his original weapons - it combines with accessories from Skywarp and Hot Rod (sold separately) to make a bigger sword for some reason.
Click here to check availability at Entertainment Earth.
The now-$12 Core class toys are small, but not uninteresting. Iguanus has a lot in common with $5 Beast Wars Basics in that he's basically super-articulated for his time, with lots of ball joints. They mostly serve for his transformation, but if you compare him to the Authentics $10 toys, those are about as complex but about twice as tall. (It's possible Iguanus does have as much - or more - paint than those guys.) The sculpted detail is excellent, as the designers gave us scale-like armor - something we saw more of in the 1980s - plus gold details. Some parts are entirely unpainted, but you also get painted pink wheels and black wrist guards. If you got this for $5-$7 during the era of the Beast toys through, let's say, Energon or Cybertron, he'd be right at home there. If devoid of gimmicks. And maybe 1/2-inch shorter.
His little blaster is a new thing, and perfectly OK, but nothing too special. It's just a little thing that combines with other little things to make an awkward sword - and it looks very different from most weapons we get in this line. I appreciate the variety, but mostly I appreciate they managed to give him a tail without it having to be a removable weapon accessory.
Having a Pretender shell robot mode is fun because Hasbro rarely gives us Autobots or Decepticons with monster or animal faces. Usually we get humanoid robots, so something more reptilian is a fun change of pace.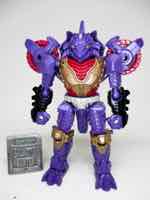 Transformation is somewhat tricky, but not impossible, thanks to big motorcycle chunks becoming a wheeled backpack. The arms become the front wheels, the tail becomes the back of the seat, and the legs are the back chunk of the bike. It works pretty well.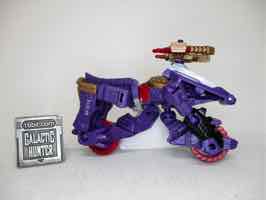 With painted wheels, and some fiddly bike parts, you get an acceptable vehicle mode. It's not great. It's clearly a robot pushed into a bike shape, but it's not like the original toy was some impeccable masterpiece. It's a weird toy from an awkward transitional era where Hasbro and Takara used to try new and weird gimmicks, and this update manages to retain a lot of that weirdness while somehow giving us a super-articulated monster figure. And it's not like you won't be leaving him in robot mode, anyway.
After the Prime Masters a few years ago, this is arguably a better update of the "Pretender" format in that it's not tiny. But it is small. I always thought it'd be cool to see a $20 Pretender update that would be a Titan Hero Series figure, but with a Core-class transforming toy as its backpack to keep down costs. This is probably a better option, and we assume more are coming. I like it because it's weird, but I'd also probably give it up pretty quickly if Iguanus got a Deluxe or Voyager-sized toy down the road. For those seeking something different, it's a pretty safe bet you don't already have a toy in these colors, or with this kind of monster mode.
--Adam Pawlus
Additional Images

Click here to see more Hasbro figures in Figure of the Day.
Click here to see more Transformers figures in Figure of the Day.

Want to buy this figure? Check Transformers availability at our sponsors:
Entertainment Earth