Pheyden Quindecim
15th Anniversary Figure

Glyos System Series
Item No.: No. n/a
Manufacturer: Onell Design
Includes: n/a
Action Feature: Pops apart
Retail: $15.00
Availability: July 24, 2022
Other: Silver and Gold

PREVIOUS
RSS
NEXT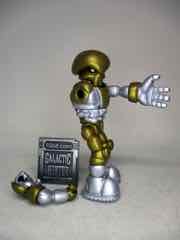 Happy 15 years of Glyos! Arguably the jewel of the 15th anniversary wave, Pheyden Quindecim takes a typically $9 figure and plusses it up with loads of silver and gold paint - quite a bit for a PVC figure! I hope some day we can get a vac metal take on this guy, but that probably means new tooling and higher prices. So, let's be happy with this one.
If you've been collecting Glyos-compatible figures, especially the Four Horsemen The Outer Space Men and Power Lords carded figures, you know that once in a while you can get figures that are completely covered in paint. This Pheyden is one of them! Molded in gold plastic (with a bare gold figure packed as a random stowaway in the wave), the Onell Design crew decided to paint over the gold with more gold - and it's gorgeous - but also some silver in spots. The paint does a lot to change the look of a figure, especially when compared to the swirly gold plastic of the Traveler Urballim Pheyden [FOTD #719] from way back in 2012. This one costs more, but you get what you pay for - that gold and silver paint is even, clean, and no gold plastic peeks through until you pop off an arm or a head to see the Glyos pegs. The bare plastic matches the paint almost perfectly, and the gold eyes also look fantastic.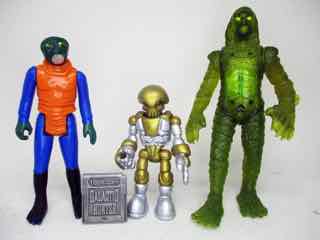 After 15 years, this anniversary Pheyden has the same 2 3/4-inch build, the same 12 points of articulation, and the same durability as almost the entire suite of dozens - maybe hundreds - of Pheyden-alikes we've had so far. This is why the paint is so important, and the unique coloring is why we're still buying a lot of these guys. The bright silver is positively delightful and shines well in my dark office. It doesn't reflect light as well as a vac-metal item, but it's the next best thing. As always, the figure has no problems standing thanks to his nice big feet and excellent center of gravity. He fits in some smaller-scale vehicles and playsets, like Imaginext and Playmobil, as well as a number of 3 3/4-inch vehicles. Just be advised, he is a bit short.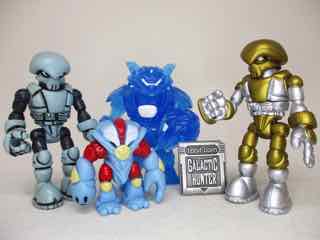 If Onell Design ever do another C-3PO tribute, these paints would be perfect. (Assuming, of course, they don't go the yellow Droids route.) With a few new figure molds here and there, Onell Design's lines are usually great for people who don't have far too many already and who love to see what new manufacturing techniques, or plastic colors, or paint applications they've come up with this time. As of my writing this, we've only had 3 waves this year - a far cry from the monthly drops - but the figures remain excellent and figures like this serve as a reminder of why some of us sit around hitting "reload" on launch night to see if there's anything we want to order.
--Adam Pawlus
Additional Images


Click here to see more Onell Design figures in Figure of the Day.
Click here to see more Glyos Compatible figures in Figure of the Day.