Autobot Jackpot with Sights
Amazon Exclusive

Transformers Generations War for Cybertron Kingdom Golden Disk Collection Chapter 2
Item No.: No. F2822
Manufacturer: Hasbro
Includes: Blaster, blast effect, two transforming figures
Action Feature: Transforms from car to robot, axe to blaster to pteranodon
Retail: $22.99
Availability: December 2021
Other: Can't win 'em all

PREVIOUS
RSS
NEXT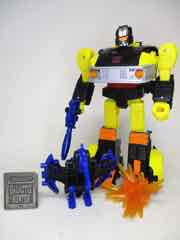 I don't love this one. It could have just been a repaint, but Hasbro did put some work in Autobot Jackpot with Sights. The first in-hand samples revealed a pretty big problem with the set - that remolded head doesn't actually fit together well. (If they just left the original Studio Series Jazz head on the mold, it would probably have been better-looking and better received.)
Click here to check availability at Amazon.
The Jackpot robot mode is Studio Series 86 Jazz with a new head - that is not good. The sculpt was good, the design is nice, but you can see in the picture that the head is made of at least three pieces which don't fit together. How this got past the tooling stage I don't know, but part of the helmet under the chin has a big gap and the top of the helmet is uneven. And they're all this way. I assume third-party part makers are already working on some sort of fix or upgrade part, and I would not expect Hasbro to plan on a replacement head program - but this is one of the few times I have seen a toy's head and say "this really isn't good enough."
Having said that, it's not like it couldn't be useful - if they made up a new Junkion or Sparkless "zombie" using this mold, this would be an excellent head beacause it is misshapen. For a tribute to an old Action Masters toy, it is not. But they got the colors right, the articulation is still good, and it's a generally good looking robot. He has no problems holding his gear and you can pose him in many pleasing ways - if you can get past the head.
The car mode is perfectly nice, and is something G1 Jackpot - a non-transforming figure - lacked. The wheels roll nicely and there's a 5mm hole on the roof so you can mount whatever accessory you wish.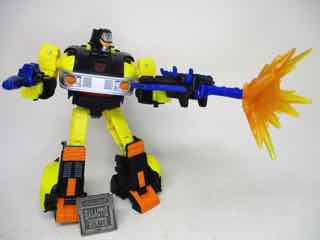 The transformation for Jackpot is the same as Jazz, and Sights is the same as Pteraxodon. They're pretty easy to shift around.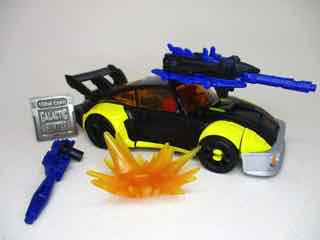 Minus the head issue, this set is something of a bargain - you get a deluxe figure and a bonus buddy for no extra charge. Sights sadly has absolutely no paint on him... or accurately, as the original toy as pretty blank too. (I assume this really cuts costs.) Rather than a bird it's now a flying prehistoric creature, but it's also a very good accessory. By design it goes from pterodactyl to axe, but there's a pretty good "blaster mode" that I assume every child and fan has found and enjoys. (This makes it truer to the original toy.) There's also an orange C.O.M.B.A.T. effect accessory, similar to that of previous (and rare) Amazon exclusive Terror-Daxtyl.
I am hesitant to recommend this set only for the bashed-up head. If that's not an issue for you, you're going to love it - the orange paint on the black car looks cool. I like the fact that they updated another Action Master. I love that they painted his blaster, and as a bonus gave you a dino-buddy sidekick without the usual higher-than-cost-of-goods mark-up we've seen on a number of exclusive sets in recent years. It is by no stretch of the imagination perfect, but with the right head it would've been phenomenal. Everything else about it works well, I love the colors and I love the accessories. Customizers and tinkerers may be able to fix this one, but I don't want to pry apart a head and shave things down to make it right. (But I will happily accept any replacement program Hasbro offers, if they offer one.)
--Adam Pawlus
Additional Images

Click here to see more Hasbro figures in Figure of the Day.
Click here to see more Transformers figures in Figure of the Day.

Want to buy this figure? Check Transformers availability at our sponsors:
Entertainment Earth