The Rumbler
Dollar Tree Exclusive

Final Faction Vehicles
Item No.: No. 09491
Manufacturer: Dollar Tree
Includes: Nothing, but there's an upgrade kit sold separately
Action Feature: Rolling wheels
Retail: $1.25
Availability: May 2022
Other: Can you make a 3 3/4-inch vehicle for a buck? No, but how about $1.25?

PREVIOUS
RSS
NEXT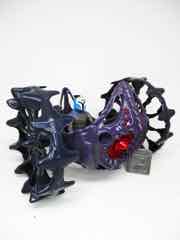 I've looked at and largely not bought Final Faction toys, the Dollar Tree exclusive line that made 3 3/4-inch figures where everything is a dollar. The figures were a dollar, the accessory packs were a dollar (and sold separately), and by sheer affront to all that is god they said "we can do vehicles too." Since the line debuted, items climbed to $1.25 but it's still a vehicle for a buck and a quarter. It was such a preposterous offer that when I saw The Rumbler I had to buy it. I've been playing around with a lot of old 3 3/4-inch scale vehicles and while this can't hold a candle to the Titan A.E. Phoenix or anything from Star Wars or G.I. Joe, it's important to look at this and acknowledge what an achievement it is.
It's not perfect, and several upgrade parts are sold in a separate $1.25 box. In this box, you get the seat, three wheels, and a mount, with enough room for even most husky 3 3/4-inch scale figures for roughly the price of a Matchbox car. Back in the 1990s - and 1980s - you only got vehicles this cheap if they were on clearance or broken. And I guess you could argue that since the figure's "Weapons and Armor" pack is sold separately - and that's where the paint mostly lives - this could be the latter.
Click here to check availability at Entertainment Earth.
I sometimes write about how a lot of collector brand toys exist at premium pricing because of things like licenses, an excess of deco, and sometimes a "collector tax" which amounts to "we charge you more because you'll pay it." A 5-jointed 3 3/4-inch Hasbro figure is $9.99-$11.99 and a 5-jointed 12-inch Hasbro figure is also frequently $11.99. We've seen a massive jump in LEGO prices, but you can still get Hot Wheels for about a dollar and a few action figure brands can still be bought for around $8 provided they're a "kid line." Even Mattel is selling some pretty swell 3 3/4-inch scale Jurassic World Dominion 3 3/4-inch figure + dinosaur packs for around $15 right now, while Hasbro's Star Wars figures are around $14-$15 a few pegs over. There's a lot of wiggle-room in toy pricing, and I assume Dollar Tree gets to cut out the middle man, with no licensing fees, and the toy is carved up in two SKUs. So what you're probably looking at here would be $4-$6, give or take, if sold elsewhere.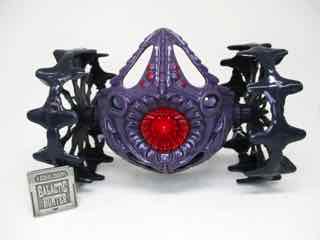 This toy is more inspiring than it is great - clearly cheap vehicles are possible and nobody is bothering to give them to us anymore. The two wheels look like a backbone grown into rolling spokes of death, with a smaller one on the back and a big weird biological nightmare as your seating area. Some red paint was used to show red lasers and an Earth core melter, but other than that, it's a pretty sparse toy. The interior is completely hollowed out and there is no sculpted detail. Were this not effectively a toy you could buy from change you get in the parking lot, it would be upsetting. I don't own any Final Faction figures so I plopped in some Kenner (and Kenner-style) figures who mostly fit like a charm.
As a thought-experiment-made-real, I've been spending a lot of time wondering "could you make a small Mini-Rig style vehicle super simple and super cheap with designs to plug stuff into it" and the answer is not only yes, but it's been done, and it's cheaper than anything I could envision.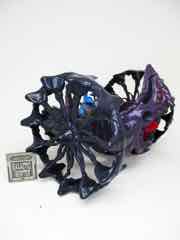 The exterior sculpting is pretty good. It's not going to impress anybody if you have unlimited funds and a house full of toys, but if you want to fidget with something you'll be impressed. The 5 1/2-inch wide, 6 1/2-inch long vehicle has wheels that pop in and roll acceptably. They're not amazing, but neither are Hasbro's collector-level Transformers wheels. They seem to move pretty well and I assume I could sand down a peg or a slot so they roll more freely. Out of the box, this is basically just a neat alien car for whatever figures you have around.
This is better than most skee-ball and cereal box prices from the 1980s and 1990s, and puts many fast food premiums to shame. It's certainly better than the plastic spoons Sonic seems to think are a good prize. There was a little buggy too in 2021, which I also picked up, and am going to open shortly. I hope I remember to revisit this toy online in 20 years to see how today's kids feel about it as adults. It's by no means impressive as an amazing toy, but Dollar Tree (and until recently, Lanard) have done well with toys at very low prices. For toy fiends, I'd say go buy one just to check it out, and give it away after you've had your fill of it. It's neat, it's cheap, and I gotta wonder if some lovable genius will get to do 1980s-style space vehicle toys some day. Sure, they've been out of vogue for decades, but I can dream. This is an impulse buy worth making, if for no reason other than you'll get your money's worth from it even if you open it, play with it for a week, and throw it at Goodwill.
--Adam Pawlus
Additional Images

See more Final Faction toys in Figure of the Day:
Day 2,436: Dollar Tree Final Faction Vehicles The Rumbler Vehicle

See more Dollar Tree toys in Figure of the Day:
Day 2,436: Dollar Tree Final Faction Vehicles The Rumbler Vehicle