Exo-Suit Spike Witwicky
Transformers - Studio Series 86

Transformers Studio Series Voyager Class Toy
Item No.: Asst. F3135 No. F3142
Manufacturer: Hasbro
Includes: 2 yellow blast effects
Action Feature: Transforms from dude in suit to thing
Retail: $11.99
Availability: May 2022
Other: Bigger, but still simple

PREVIOUS
RSS
NEXT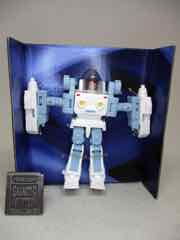 A popular choice for toys lately, Exo-Suit Spike Witwicky has had at least 3 figures - two of which in the last year or so. There are even more if you count his construction outfit toys or Headmasters, but the Exo-Suit was kind of a big deal in the movies so it's a little surprising we didn't get a mass-market release outside Japan until 2022. A 2021 mini core-class accessory-sized figure made for a good Target exclusive, but this one has a much bigger budget and a 3-inch costume. If you don't already have the Masterpiece version, this one is good and cheap - but it's not an exciting toy unto himself.
Click here to check availability at Entertainment Earth.
The robot mode is pretty plain, but it matches the movie design and actually has some fun play features. The arms rotate around so you can have fists or torches (complete with blast effects,) and the head is stuck under a dome. But no worries! There's a lever on the back so you can make him look around, which tells me Hasbro probably realized they had to trick this toy out a bit because, in and of itself, it's not terribly robust. He can stand, he has good leg articulation, and if this were $6 you'd probably be thrilled with it - but unpainted eyes and no handheld weapons can make a $10-$12 figure seem a little lacking. The figure is largely molded in color - an impressive feat that cuts costs! - with a painted face, painted hair, and very few red, yellow, and blue painted markings. It's definitely better than the Daniel figure with Slug, and much more impressive than that Target-exclusive mini Spike. It's just not as impressive as a lot of the other toys at the price.
The sculpting is good, but "great" would be nice given it's 2022. It's smooth and meshes in well with the rest of the line, and I admit it's a lot of fun to fuss with. Why he has a hole in the back of his head, though, I'll never know.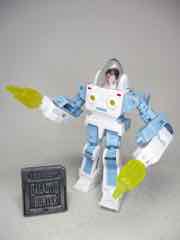 There's a lot of twists and turns in the transformation, and thanks to the unusual forearm tools you may want to consult instructions just to make sure you're massaging the parts in the right positions. It's not complicated.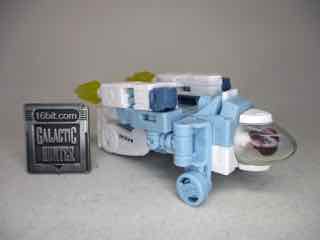 The "vehicle" mode is basically a contorted human planking, and it's not a big departure from the cartoon. This is pretty much what it does - and they did a fine job of making him as a mass-market toy. Even at its best, there's not much here beyond rolling wheels and optional blast effects. It's kind of a dorky vehicle, but when you're dealing with fan/collector-friendly toys of a beloved movie you eventually get to a point where this is what you have to make. It's not going to impress anybody once you get passed the fact that it exists - it's fine. It's just not as impressive as the bigger toys in the line.
Studio Series 86 has been a great line so far, with a Hot Rod that's almost unreal, three big dinobots that are fantastic, and lots of other very good releases like Wreck-Gar and Scourge. Those will impress even jaded fans. The smaller end of toys haven't been as thrilling lately, and Spike is no exception - collectors will want him as part of the movie's cast, and maybe old fans will appreciate the goofy costume from the movie. I have a feeling Spike's going to go on a shelf and be forgotten until much, much later.
--Adam Pawlus
Additional Images


Click here to see more Hasbro figures in Figure of the Day.
Click here to see more Transformers figures in Figure of the Day.

Want to buy this figure? Check Transformers availability at our sponsors:
Entertainment Earth