Kup
Transformers - Studio Series 86 #02

Transformers Studio Series Deluxe Class Toy
Item No.: Asst. E0702 No. F0710
Manufacturer: Hasbro
Includes: Blaster, energon goodies dispenser, backdrop
Action Feature: Transforms from car to robot, light-up eyes, removable limbs
Retail: $29.99
Availability: January 2021
Other: Good? Bad? It's a hard call.

PREVIOUS
RSS
NEXT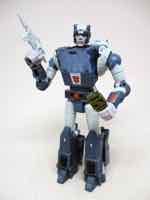 A new classic Kup has been practically meme-worthy in its clamoring on message boards for years. We've had several versions, but each of which had - to put it mildly - some issues. The BotCon one, well. Let's skip to the Generations one, which had a head that was popularly replaced by a third-party to the joy of many fans. The Titans Return one was good - I still think it's good - with a removable head, but it might not be the movie-perfect figure some would want. In theory, 2021 Studio Series Kup is that figure... I don't think it is, though. It quite literally depends on how you look at it, because from some angles it's awkward. In the box, it looks dreadful. Out of the box - with some light passing through the clandestine eye port - he's not bad. The presentation isn't doing this pretty good toy any favors, but what really matters is that Target's 2022 repaint of this figure fixed a bunch of my problems with it. So this very Kup is OK, but it's been lapped, so you can skip it.
Click here to check availability at Entertainment Earth.
I love that Hasbro and Takara-Tomy keep trying new versions with different things. This figure is very last-generation with its "Stege" chest, which doesn't feel right in the big picture of the movie line. The face feels a little sunken too, probably thanks to the paint over the plastic giving it an uncanny skin-stretched-too-tight-on-a-corpse look when paired with the black eyes. But they're not black - if you put him in front of a light, they're clear blue. Since we have not (to my knowledge) seen a render of him, it's possible the digital prototype was gorgeous. As is, it's a nice interpretation of the figure but I would have been very happy had it been marketed as War for Cybertron and had the requisite 5mm holes for Fossilization upgrades. Even though it may not be perfection, it's very intriguing and offers a lot of fun play features. Remember play features? Hasbro gave those up for Lent a few years ago, and once in a while they creep back in.
Kup has about 18 meaningful points of articulation - four of which probably exist solely for that "fix me" scene where Hot Rod has to put him back together. (Hot Rod includes the repair tool hand.) His silhouette is pretty good, but the shoulder just strike me as wrong. In person they're not nearly as awkward as the photos, especially when you're playing around with him, but they stand out due to the coloring. If the light seafoam shoulder part tucked in to the chest a tiny bit, I think we'd be OK. This Kup is a lot skinnier than how he looks on screen, and captures the landmaks - but maybe not the spirit - of the original movie design. The colors aren't quite as saturated, and he lacks the twinkle in the eye you saw on Hot Rod. I bet Hasbro could probably do a repaint of this mold that would knock our socks off - perhaps in animation colors, covering up the circuitboardy chest - because it's not a bad mold. The hands are big andsurprisingly expressive, capable of easily holding his accessories. Articulation is great, and he's fun to pose. There's a good figure here, it's just not obvious when you see the picture. Or when you see it in the box. Or when you take it out of the box, until you start playing with it.
His accessories are clever. The Energon Goodie pack looks great, and while it doesn't glow (yet) I assume someone is working on that. Even if you don't like Kup it may be arguably that this is something to sweeten the deal to make you want to buy it. His rifle matches the toy design too, it's just relatively small. Both weapons can plug in to the vehicle mode nicely, but there's no robot mode storage I saw (or noticed in the manual) for this one. He has a great range of motion for his accessories - the elbow cut is a deep one, so he can take a bite off his Energon Goodie pack. Little details like this are big improvements, normally you needed a double-elbow joint for that range of motion and here, it just works.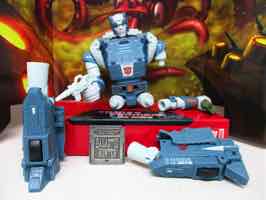 I needed the instructions. Studio Series toys are rather complicated with lots of elements where you have to fold it in. How do you fold it in? Well, you fold it in. There are numerous panels and bits that have to be done in the right order - especially on the back - with things tabbing in place otherwise it just won't look right.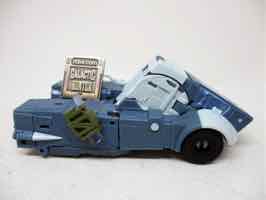 Transformation yields a sturdy truck mode with rolling wheels and places to mount weapons and snacks. It looks more or less like the right shape from the movie, but I'm finding the color feels wrong. The animation design was a bit brighter and more chipper, whereas this is a bit more dark. If this was supposed to be a sadder, more damaged Kup I would say it's perfect - but I would also happily buy the bright one in my imagination and on the TV. It's by no means bad - I like the form, it's fun to see the future truck I wanted as a child - but you know how it is. Things are usually good but not perfect.
I like futzing with this figure a lot. I love the removable limbs feature. The proportions are good, the articulation is excellent, transforming is fun, and it's a decent toy. Unfortunately it's also supposed to be an amazing replica of the animation model, and the face and colors don't quite work for me. I wrote the bulk of this review in January of 2021, and I wrote "If a better repaint gets made, get that one first - but this is still a pretty good Kup if no other flavors come to exist in the future. I'd suggest getting one for $20ish if you see it, but for more than that, maybe demand a redeco reissue." And indeed we have since got a much better version [FOTD #2,409], which makes me wish I posted this review when I wrote it because it'd make me look smarter. But I can say as I write this revised ending in 2022, that Studio Series 86 is largely the very best of the recent collector brands and is one of few you'd be well served to go complete on for the time being. I wouldn't be shocked if we someday surpass Buzzworthy Cliffjumper with a revised torso, or maybe fix Blurr's head, but everything else is arguably near-definitive.
--Adam Pawlus
Additional Images


Click here to see more Hasbro figures in Figure of the Day.
Click here to see more Transformers figures in Figure of the Day.

Want to buy this figure? Check Transformers availability at our sponsors:
Entertainment Earth