Skids
Retro Remake

Transformers Legacy Deluxe
Item No.: Asst. F2990 No. F3008
Manufacturer: Hasbro
Includes: Energon axe, 2 blasters
Action Feature: Transforms from robot to vehicle
Retail: $24.99
Availability: March 2022
Other: A little cartoon, a little toy, and a lot cheaper than the Masterpiece Edition

PREVIOUS
RSS
NEXT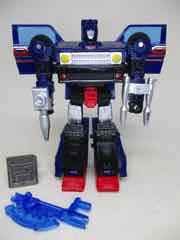 One of the last first-year Transformers toys, Skids doesn't get a lot of love. It took him nearly 30 years to get a decent remake, but in the last year he's got a couple of good ones - a roughly $100 Masterpiece Edition toy, and this $23-$25 Deluxe toy. Curiously, comparison shots show them both to be somewhat similar in sizes - the Masterpiece has more going on for it, but this is 75% cheaper. It's not a licensed Honda vehicle either, but it's a pretty good pastiche of the old toy and a little bit of the animation model. This gives you a reason to potentially buy both, if such things are of interest.
While not a precise replica of any of the classic Skids designs - for starters, the 2022 toy has black hands and most other Skids toys/comics/cartoons have red hands - it is a remarkably fun toy to transform, mostly, and the accessories are pretty robust for a deluxe. I don't like price increases, but at least this price increase came with some more stuff in the boxes.
Click here to check availability at Entertainment Earth.
When we got Thrilling 30 Skids [FOTD #809] way back in 2013, he was a mere $13 and included a full-size comic book, and that was quite the deal. This one has a lot more articulation, though, and a more robust series of joints. You can see where the money has been going in these newer guys, as we've largely gotten rid of ball-and-socket joints on the elbows and most if not all figures have jointed wrists, rocker ankles, and multiple other points of articulation. He's got clear window "wings," silver paint on hi grille, big red feet, and much of the detail you'd see on the original sculpted toy - but not everything. There was no attempt made to replicate the old stickers, but you can see residual elements of the toy or the cartoon, like the rounded knees. The head isn't exactly swimming in personality, but it looks good, and there's a big kibble block on the back for where it becomes part of the car's hood.
His shoulders have an incredible range of movement, with joints to raise and lower them as well as to swivel them - this lets you copy a bunch of different poses. You can even plug the weapons in his forearms, just like the original toy, but take care! Some reports of figures getting the pegs snapped off in there have come up, so be sure to not pry those things out with excessive force. I love the range of articulation and deco on this figure, even though this version of the character has pretty much no characterization of significance to me. (But in the comics, he got felt up.)
The weapons offer a lot of play features - some obvious, some not. You can combine 2 or 3 of the weapons into something bigger! The two silver blasters can merge to be a triple-barreled blaster, and you can plug the axe/gun into it too. The weird thing about the Energon Axe Blaster is that it has so many unusual connection points that it seems as if it should be part of a bigger build - but what? I have no idea. There's a mug handle for gripping it as an axe, and also a 5mm socket pipe directly in front of it. Perhaps the purpose of which will be revealed later, or perhaps there isn't one - but it works as a whimsical accessory just fine and is arguably more exciting than energy blasts.
Given the articulation for the price, as a figure, it's pretty good. I assume there are minor improvements (like the head slab) that could be made in 5-10 years when they try again, but I'm happy with what I have.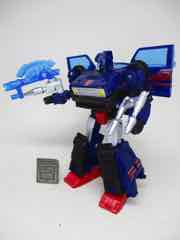 Transformation is not too bad - the legs are the back of the vehicle, the arms tuck in nicely, and things mostly fit together well - but the roof didn't quite snap in place perfectly. I hear it varies from figure to figure, but I am not in the business of shaving things down until they fit. So it's good, but not perfect, once you massage everything in place and I'm glad to say it's not as force-requiring as some of the other recent figures.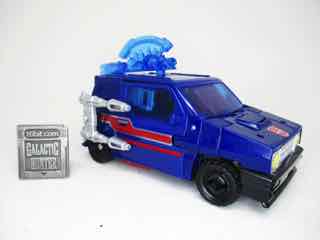 Other than the vehicle having unpainted wheels, the coloring and deco match the animation model pretty closely. It's a box on wheels, and there's even a 5mm hole in the roof for weapon storage. Also on the sides. Like most vehicle modes, it doesn't do much but I'm pleased it has onboard storage for all the accessories. The stripe is painted nicely, the clear windows are good, and some windows are just opaque plastic bits - such is life. This is pretty much the not-quite-1984 Skids you've come to expect from Hasbro these days.
Considering rising prices, improving figures, freight costs, added accessories, and an incredibly weird economy, Skids is pretty good for $25. A $10-$15 equivalent couldn't possibly have the roughly 25 joints - including a quasi-ab crunch for transformation - nor the three blasters or clear windows. I love that the robot chest actually locks in place well, and that you have optional configurations for the various accessories including an axe gun that's whatever you make of it. Between this or the Masterpiece Edition toy you may never need a Skids again - but then again, maybe Hasbro will keep this going for another few decades. As the kids who grew up with the originals age into their 40s, that may not be terribly likely unless there are continued surges of new fans to replace them though, but I digress. This is a pretty good Skids, just be careful with him and you'll have a good time.
--Adam Pawlus
Additional Images

Click here to see more Hasbro figures in Figure of the Day.
Click here to see more Transformers figures in Figure of the Day.

Want to buy this figure? Check Transformers availability at our sponsors:
Entertainment Earth