Gnaw
Transformers - Studio Series 86 #08

Transformers Studio Series Deluxe Class Toy
Item No.: Asst. E0702 No. F0786
Manufacturer: Hasbro
Includes: Mace, blaster, back kibble
Action Feature: Transforms from monster to robot
Retail: $22.99
Availability: October 2021
Other: Bigger, more expensive, fancier

PREVIOUS
RSS
NEXT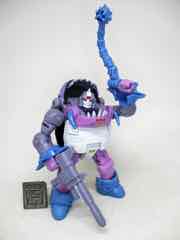 With Studio Series 86, hasbro has proven that if they charge you more, they can give you a much more impressive collectible figure. The $23 Gnaw is bigger deluxe figure, having been previously sold as a Legends-class $10 figure in Titans Return (2016-2017) and a clearance figure if you were really lucky. Hasbro going back to the well on a similar-but-different army builder so soon makes sense given the context of Transformers: The Movie toys sold in the wake of HasLab Unicron, but long-term collectors probably have one or two (or more) of the Titans Return and recent Cyberverse releases. For those wanting the very best (so far) official release of a Sharkticon, this Gnaw is it - but if you have a horde of the previous releases, you may not see this as a necessary upgrade. It's a big improvement, but for those looking to get a perfect replica of the on-screen robot, there's still some small room for improvement. (Give or take breakage or small parts issues, that is. Or the introduction of wirelessly activated and powered LEDs in Hasbro products.)
Click here to check availability at Entertainment Earth.
While he looks small, that's because he's wide. Gnaw stands about 4 1/2-inches tall at the head, with a lot of articulation. I was surprised to see ankle tilts as well as a boot joint in addition to a standard knee joint, which help add up to 21 points of articulation on a toy that's pretty close to the original Marvel Productions model. Obviously, it's not identical - the chin barbs are posed differently, the wrist guards/monster feet don't bend down, and there's some back kibble that's absent from the toy. It's functionally pretty sturdy, as the monster head tabs in the back. The monster lower jaw is somewhat loose though, so if you touch it, it'll move. There's not much friction or any pegs to keep it in place.
The sculpt largely looks like what you remember from the movie and TV show, except the figure's mouth is closed rather than the weird, surprised open-mouth we saw on the classic animated shows. The limbs are nice and round, and seeing most of the elements molded in color rather than painted for the legs really impressed me. The cost to do separately molded color parts on the head would undoubtedly be prohibitive, so seeing painted lips, eyes, and the like just make sense. I wish the eyes were a little brighter, but that's pretty typical in a post-light-up-eye figure. Heck, even eye-port figures tended to be pretty dark in most rooms.
One particularly interesting design element are his feet - flip him over and you'll notice an interesting lip that seems to serve no obvious function. There are heel spurs you can swing on in, but the extra ring under the blue part of the boots is somewhat a mystery to me. Maybe it's a gag? I have no idea. It serves no obvious function, so it's curious.
Accessories are good. The big blaster fits in the figure's fist or the monster's back, and the tail mace works exactly as one might hope with an added joint for more posing options.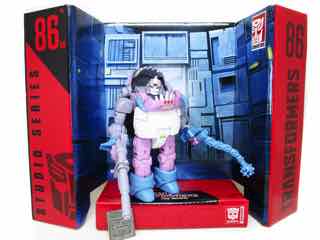 I needed the instructions, as there are some interesting twists and turns to get this one in to his sea monster form. The kibble rotates - heck, I needed the instructions just to be sure I was putting that back kibble on properly as some assembly was required! There's also a little shark's fin to put on there. Be careful, I guess is what I'm saying.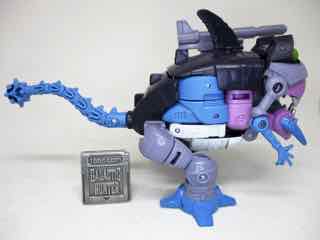 Monster mode is better this time around, thanks in part to a bigger budget and no need to cram a Titan Master inside as a makeshift vehicle mode. (This is an example of why the previous one was arguably more fun as a toy.) I love the fact that you can mount the blaster on the side here, and teh colors generally jibe with how I remember him looking in Transformers: The Movie - and he's less weird than the original toy. You still get the big green eyes and pink lips, plus the baby blue arms - but they're not quite as bright as they were. The teeth aren't shiny silver either, and you don't get quite the same level of whiskers and kibble and spikes that we saw in the movie. The colors do match the screenshots as seen on TFWiki.net, which is sort of amazing as a reference source. Yellowed toys, faded toys, or off-color images get taken as literal reference rather than going back to archival source materials, so this site - and keeping it accurate - seems to be of considerable importance.
Creature alt mode also has impressive articulation. Both the top and bottom parts of the head are jointed separately, and each arm has both a shoulder and an elbow joint - this is where Hasbro starts to prove why this was a $20-$23 figure. The last one was $10 and didn't have this. This one also has an extra joint in the tail, which was lacking on the previous Generations release as well. It may not be the pointy shark monster of your dreams, but it's definitely Hasbro's best yet and probably the one to army-build if you ever saw it. (I sold a couple of my Titans Return Gnaws after seeing the new one.)
Studio Series 86 has been a largely joyous series of upgrades plus or minus Kup's paint job and Blurr's head, showcasing some impressive upgrades on characters I never thought we'd see in a bigger format. Granted, we're paying for these upgrades, and while I would be much happier with Gnaw at a lower price (or in a multipack so I can buy in bulk and save) I can't deny the green eyes and silvery teeth made me happy. Also he's nice to add to an army of Sharkticons to keep them in differing sizes. The only reason I would suggest you consider skipping this figure is if you're reading this review 3-4 years in the future. Hasbro seems to be increasingly inclined to bring around the movie guys every 5-6 years, so I assume any time between 2025-2027 would be a very safe bet to see another, all-new Gnaw made with the latest and greatest technology. Unless Hasbro finds some new and better way to make this kind of toy, this seems to be a pretty definitive statement on the robot design for now.
--Adam Pawlus
Additional Images


Click here to see more Hasbro figures in Figure of the Day.
Click here to see more Transformers figures in Figure of the Day.

Want to buy this figure? Check Transformers availability at our sponsors:
Entertainment Earth