Fasttrack
WFC-E35

Transformers Generations War for Cybertron Earthrise Deluxe
Item No.: Asst. E7120 No. E7160
Manufacturer: Hasbro
Includes: 2 blasters, knife/tip
Action Feature: Transforms from robot to buggy to spear to, presumably, upgrades
Retail: $19.99
Availability: September 2020
Other: Redecorated as Black Roritchi

PREVIOUS
RSS
NEXT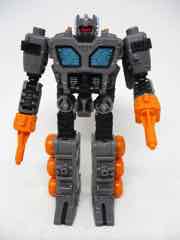 Since the nostalgia toy market kicked in - it's been around for a while, but since the '90s you can really feel it - character excitement often comes from a desire for a missing original toy, or from whatever infamy it gained since you were a kid. Toys like the U.S.S. Flagg and Fortress Maximus became legends of unusual size, rarities like "Pimp Daddy" Destro and Vlix were unobtainable legends, and comics (and fiction) did wonders to make the likes of Boba Fett, Thunderwing, and Ahsoka Tano into must-have characters. So with minimal comic or cartoon appearances, few toys, and fame mostly as an accessory to a larger toy, Fasttrack is a pleasant surprise. Hardcore fans realized he was missing from Scorponok, while people who didn't have all the toys, a toy catalog and a magnifying glass, or photographic knowledge of the TFWiki were probably left saying "wait, who?" upon his announcement at Toy Fair 2020.
To keep a nostalgia line going - like Generations (and its forebears) for over a decade - you have to find the perfect balance of new, obscure, and evergreen. Hasbro has largely nailed this, and you can tell because new fans are getting in to the line while lifers bemoan the 20th Optimus Prime toy - which inevitably sells well. Since we haven't seen a "Modulator" of Fasttrack before, and the last regular version was out in the 1980s, this is a largely welcome new addition to toy shelves. Was this one your first pick at stores? No. But it's probably new to you!
Click here to check availability at Entertainment Earth.
The robot is a good one. Despite no visible Decepticon markings in robot mode, the sculpt does a good job upgrading the original toy in terms of deco and articulation with added paint applications and a range of motion as good as (or better than) similarly priced super-articulated 6-inch action figures. The knees can bend all the way back, the legs can swivel uninhibited, and I count about 22 points of meaningful articulation. Given each limb can move enough to allow him to sit in a chair, I'd say Hasbro and Takara-Tomy more or less perfected the figure mode. My only gripe is that the shoulder-mounted cannon configuration is a little loose - the orange blaster is a perfect fit in the fists, but loose in the shoulder's 5mm holes.
The head has a big red visor, and for some reason the chest has blue window-like shapes on it. The shapes were on the original toy, but it was largely undecorated - it was a grey robot with orange wheels and blasters. There wasn't much to it, so the expanded design gives it a quality beyond discount sidekick finger food.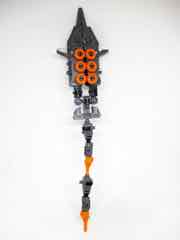 The transformations require a level of dismemberment, so keep those instructions handy. Having reference images helps a bunch, as you can rebuild this robot as a big spear for Scorponok or as a little buggy vehicle that also has seating for a Titan Master like Lord Zarak (sold with Scorponok.)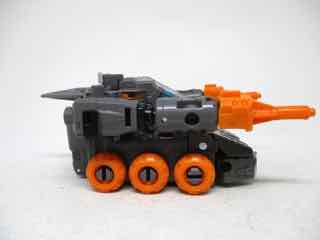 With rolling wheels, cannons you can kind of pose, and a pilot seat, it's a rewarding toy for fans with bigger toy collections. Specifically, if you bought Scorponok you'll get a bit more out of this one. I like the unique vehicle mode as six-wheel sci-fi vehicles are a rarity, and the added color gives it a bit more personality than its ancestor.
Fasttrack is an excellent upgrade of a toy you probably weren't thinking about buying, and nw he costs a bit above retail on the secondary market. With any luck he'll get the spotlight in a comic some day, but until then this toy may be the best thing going for him - and probably the go-to purchase if he ever does get cast in a meaty role in the mythos. I can't assume we'll ever see an upgrade of him at retail, but I would've said the same thing ten years ago about Warpath - and we've had no fewer than five "classic"-style toys of him since 2009. (Granted, he did make a splash on the old TV show.) If there's a better Fasttrack you should buy it - but Hasbro did such a nice job here I can't imagine they have any reason to take another crack at the character.
--Adam Pawlus
Additional Images

Click here to see more Hasbro figures in Figure of the Day.
Click here to see more Transformers figures in Figure of the Day.

Want to buy this figure? Check Transformers availability at our sponsors:
Entertainment Earth