Thor
Norse by Norsewest

Marvel Legends 375 Action Figure
Item No.: Asst. F2648 No. F3819
Manufacturer: Hasbro
Includes: Cape, Mjolnir
Action Feature: n/a
Retail: $9.99-$12.99
Availability: May 2022
Other: Get Hammered

PREVIOUS
RSS
NEXT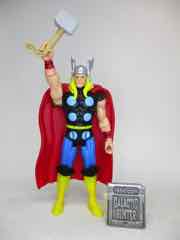 It's kind of funny, I never thought I would get The Mighty Thor in a classic comic look - I've picked up movie ones, weird ones, and whatever ones were in a sample box somewhere, but to actively pursue a Bronze Age-specific Thor? Never would have guessed - this is basically the same design Mego gave the world before I arrived, and the one that (until fairly recently) would be the go-to image for the Norse God for fans of Marvel comics. Those of us who read a lot of mythology in elementary school had other images too, but this red, blue, black, and yellow figure's bold appearance was it for a lot of pop culture junkies.
This 2022 "Kenner" Thor is an absolute throwback in light of his movie appearances, giving us what amounts to a cartoon viking that doesn't look a whole heck of a lot like how we'd imagine a Kenner figure or a Norse deity, really. But as a retro comic book figure? It's great.
Click here to check availability at Entertainment Earth.
While I never had a Mego Thor, it's easy to see that this was created from the same costume as the one I saw in Twisted ToyFare Theatre. (Remember that?) The figure has a bright red removable cape, a two-tone Mjolnir hammer, a painted silver helmet, long yellow hair and boots molded in color, blue pants, black knee coverings, painted wrist guards, and blue circles on his chest armor. And a yellow belt. There is no way Kenner would ever give you anything quite this ornate. Weirdly, Hasbro's cheap bagged Thor figure is closer to what I think Kenner would have done - which is why I was excited to get one.
He's a big beefy guy, and sadly while his legs swing forward, they don't swing forward completely. It's enough to cram him in some old vehicles (my old Kenner MTV-7 on my desk works - his cape hangs off the back) and he has no problems holding the hammer in any of a variety of ways. It's a well-engineered action figure overall, but not perfect. Actually, he is kind of perfect - the eyes are sharp and modern, and it looks like he must have been inspired by the most official, most vibrant color reference available. It's a weird piece but utterly worth having, especially with Loki nearby.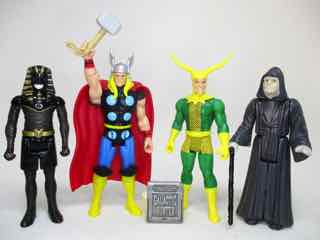 The cape is removable and connects to the figure with a couple of tabs in his shoulders. This is not likely how late 1970s/early 1980s Kenner would do it, as they were fond of vinyl capes that hang over the arms, cloth capes that were sewed around the neck, or a clip-on cape like we got for Super Powers. This 2022 model looks better and is functional, but isn't historically retro. Will that matter? I have no idea - seeing Thing and Hulk without v-crotches make these feel like an alternate universe anyway, but at least it's a pleasant and colorful one.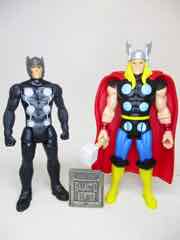 I was surprised the hammer was a two-color accessory and not a cheap one-color trinket (like Kenner gave us for Star Wars accessories), so what you have here is a very good figure that is on a nice cardback with good artwork. Since Marvel Universe 3 3/4-inch Thor was more modern, this is the best - and possibly only - way to get this costume of Thor in this size. Having a bunch of these figures on a shelf together looks superb, and I'm generally happy to have it. I'll just probably wind up selling my other Thors, I like this better. This and the Ragnarok one.
--Adam Pawlus
Additional Images

Click here to see more Hasbro figures in Figure of the Day.
Click here to see more Marvel figures in Figure of the Day.