Galvatron
WFC-K28

Transformers Generations War for Cybertron Kingdom Leader
Item No.: Asst. F0366 No. F0701
Manufacturer: Hasbro
Includes: Matrix, chain, "Revenge" blasters, orange cannon
Action Feature: Transforms from robot to space cannon
Retail: $49.99
Availability: June 2021
Other: Try, try again

PREVIOUS
RSS
NEXT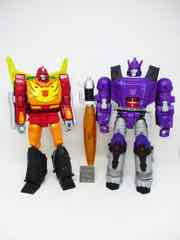 Since his introduction in 1986, we've gotten a few toys of Galvatron designed to mimic (or pay tribute to) his appearance in Transformers: The Movie. It's kind of amazing that none of them are likely to satisfy, but not too surprising considering the character is hard to pin down. He's Megatron! Except when he isn't. He's from the future! Except for when he's from the distant past. He's purple! Or gray? Clearly, not all people see Galvatron the same way thanks to different comics, cartoons, and other stories treating him differently.
Not counting the original toy, or Energon Megatron and Galvatron (both of which are pretty awesome), Hasbro has given us transforming toys of Universe Galvatron - a tank, which I would charitably describe as vile, plus Titans Return Galvatron, which looks worse when we look at it in the rear-view mirror. This is a Galvatron that seems to really want to be your cartoon movie toy, but he's covered in weird "damage" paint and many samples (including mine) had incorrectly assembled shoulders. You could pry them apart with a flat-head screwdriver in hopes of making it work, or leave it, or wait for a later release where it's corrected. (The toy also got a reissue in Legacy sans dirt paint.) Getting a good one is going to make a huge difference in your enjoyment of Galvatron... and Legacy may be the best way to go.
Click here to check availability at Entertainment Earth.
He's big! For $50 or so, he's taller than the $85 Rodimus Prime. He should be, but it sort of makes you question all the price classes. If assembled correctly Galvatron looks like he should - maybe a bit bulkier, maybe a smidgen more kibbly, but it's him. The face may not be quite right, but thanks to things like a head that can swivel and a cannon that looks right, with decent legs and generally the right color breakdown, you'll probably be pretty happy with this one.
Everything mostly tabs together nicely, which is a mixed blessing. The tank treads fit in a hole in the back of the shoulder, but doing this restricts the bicep swivel. You can leave them untabbed too, but that's sort of annoying because the treads just sort of float around and get in the way. It's good to have the options, but it's a little chaotic. The double-jointed elbows are a nice touch, and wholly necessary for transformation. You also get things like the damage paint, but it's not too much of an eyesore. It's just kind of weird for a newly-rebuilt Decepticon leader. I have no problems getting him to stand around and look cool, and this is a huge step forward from previous robot modes for Galvatron. I still expect that someone has another model in the works for later that'll be even more amazing, mostly because we seem to get a new one every 6 or so years.
He has a good slate of accessories - while he doesn't have his original toy's blaster, he does have two guns based on his movie spaceship. That's pretty neat. He also has a bulky plastic chain with a Matrix on it, which is arguably the best thing you could hope to get short of a metal chain. (Maybe next time!) Everything fits together nicely, and there's back storage for the blasters too. They thought of everything here.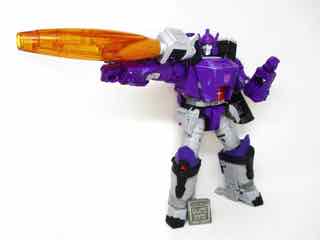 There transformation shows you where the toy's budget went, with lots of sprues of moving parts. You've got a ton of elements to twist and rotate, and it makes clever use of the robot legs. They didn't cheap out in parts count here, even if the toy isn't as tall as the similarly priced Studio Series Leader-class toys. The blaster cannon also gets split up to fit in cannon mode, a necessary move to make sure the cannon looks its best. Until someone does some retracting parts, which might be tough to do at this size and price point - I can't say this enough, there are a ton of parts in this one.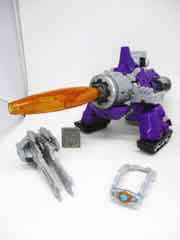 It's a decent looking cannon, but the lines aren't quite what it was in the cartoon. The general shape is there - heck, delivering the cartoon cannon may be an impossibility - especially when you slap the extra blasters and Matrix chain on the barrel. His robot arms become the somewhat wobbly legs of the cannon, complete with rolling wheels. Some aspects of the toy are pretty clever - his legs can become the back half of the cannon, or fold out to be the gray seating area, or go down and be a makeshift toy gun handle. As a smooth cartoon cannon made out of robot chunks, they did - I assume - a pretty good job. We still haven't seen a Masterpiece Edition toy, and I'm operating under the assumption that it's an engineering problem rather than an oversight after nearly two decades.
Galvatron is definitely the best yet, and good enough for now - but I assume wheels are probably turning for an even sleeker, more cartoony version later. (And maybe it'll be overly complicated to the point of not being fun, too.) This one is pretty easy to transform - provided you get the shoulders put together right - and limbs are filled with nesting pieces that may not serve much use beyond giving you options of how exactly you want the cannon to look. I can appreciate that. The robot isn't quite what I wanted, but it'll do for now. I have a hard time articulating how it could be better - maybe just sturdier - but on a shelf, he'll do, you'll like him. But the way certain things tab together, getting him in the perfect pose may prove vexing. A lot of effort went into this toy and there's a lot good about him. It's just that you're probably going to see a better one later. (And I bet it'll be a lot more expensive, too.)
--Adam Pawlus
Additional Images

Click here to see more Hasbro figures in Figure of the Day.
Click here to see more Transformers figures in Figure of the Day.

Want to buy this figure? Check Transformers availability at our sponsors:
Entertainment Earth