Motorboat
6-inch scaled and big

Fortnite Vehicle
Item No.: No. E7837
Manufacturer: Hasbro
Includes: Rocket, motor, blue water base
Action Feature: n/a
Retail: $77.99
Availability: July 2022
Other: Surprisingly big for the price

PREVIOUS
RSS
NEXT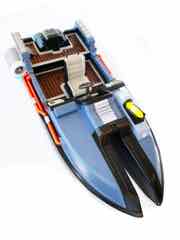 It's a big boat, about 19-inches long and it's compatible with any Hasbro 6-inch figures. So if you want a Cobra boat for your G.I. Joe: Classified Series or Marvel Legends Deadpool or Spider-Man or your The Black Series guys, this is a pretty big and impressive looking display piece. I can't easily test if it can really float - I assume it can't - but it's well-painted and looks good. If you play with toys, you have ample reason to give the Fortnite Motorboat a good look.
I assume the ToyHax/reproduction sticker people are going to have Cobra or G.I. Joe stickers to slap on this sooner or later.
Click here to check availability at Entertainment Earth.
Hasbro hasn't done a lot of 6-inch vehicles - usually bikes, a couple of Landspeeders, a Snowspeeder, the HISS for HasLab and an obscenely big TIE Fighter come to mind - so there aren't a lot of examples of an ideal vehicle out there. Electronics are scarce, action figures are largely completely absent, and if you're lucky you'll get something that looks good and is roomy. And this time you're lucky - there's seating for one driver with a steering wheel, plus foot pegs and a few handles to grab on. It's painted well, with a few hints of dirt/damage on the front plus painted buttons, dials, and brown wood paneling on the floor. It looks kind of like an expensive big model, but it's a fully-painted plastic toy. It's also a bit hollow, but it works as a display piece.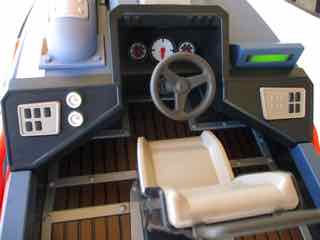 Unlike some toy boats, this one has a display stand in the form of a clear wave of blue water. The boat plugs in a hole, so the engine goes under the waves and your boat stays put.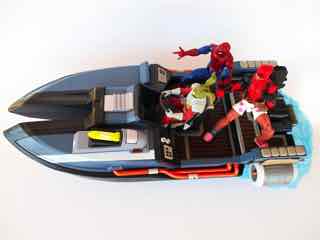 There are lots of places to put figures - the foot pegs are well-integrated, plus the figures slide right on to the seat without a big fight. A winch in the back spins, but there's no rope to play with. There's a rocket launcher on the front, but it doesn't fire - it is, however, removable. It's also worth noting the rocket engines can be pulled out and are spring-loaded to pop up. It's not exactly a fun play feature, but it's at least something it can do beyond sit on your desk and look neat.
The Fortnite line has a lot of stuff in it that looks neat but isn't anything I'd normally collect - but as a grab bag, it reminds me a bit of Xevoz what with the cat creatures and plant people and dinosaurs and arcade cabinets. This boat seems like the kind of thing you'd want on a home theater display shelf with a couple of figures on it, and given it's about the same size (but not complexity) of the Cobra HISS coming up, it shows Hasbro can indeed make a pretty good, pretty cheap vehicle when they set their minds to it. I'd recommend it if you need a vehicle for your dudes, especially if you ever get a crack at it on sale. This is one of those things that I assume a lot of people will overlook and later on, we'll see a lot of people wish they bought it. But that's years in the future.
--Adam Pawlus
Additional Images

Click here to see more Hasbro figures in Figure of the Day.
See more Fortnite figures in Figure of the Day:
Day 2,442: Hasbro Fortnite Motorboat Vehicle