Autobot Bumblebee
Small, basically the same as Alpha but smaller

Transformers Authentics Bravo
Item No.: Asst. E0618 No. E1164
Manufacturer: Hasbro
Includes: Nothing
Action Feature: Transforms from Robot to Car
Retail: $6.75
Availability: May 2018
Other: Basically a big "Basic" or "Legends"

PREVIOUS
RSS
NEXT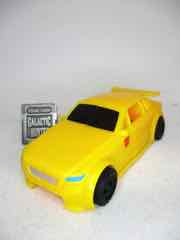 I got this Bumblebee back in 2018, but he sat unopened - because I opened the bigger, Alpha-class one and thought "eh, it can wait." I've since opened all my Authentics toys, I didn't think the big one was very good, and this is a lot like it - no elbow joints, but it's basically the same. On Twitter someone cracked "Hasbro is making its own knock-offs" and considering these are selling in stores (and markets) that typically carry bootleg Hasbro or Takara product, they might have been right on the money. While some Authentics toys are pretty impressive, this one is cheap. It's not great, but it is interesting to pick at if you really like toys.
If you have to get one, the Alpha Bumblebee [FOTD #2,012] is slightly better - it's bigger, and it has elbow joints plus black painted hands. The little guy here is about 4 1/4-inches tall with ball-jointed knees (on telescoping pegs - more on that later), plus shoulders. The head turns, and the figure basically just stands there. Hasbro gave this guy 5mm fists, which is interesting because other toys in this line have 4mm pegs which aren't compatible with any blaster accessories but their own. Perhaps Hasbro assumed kids who bought this would also want to use Prime Masters, Titan Masters, or Battle Masters, as those are other low-cost figures that may be in kids' hands due to the price. It's a tight fit, but they do fit.
As a robot figure, it stands, and the knees bend. But here's where it gets weird - the knees are telescoping ball joints. That means you have to tug outward on the knees during the transformation, which applies pressure to the ball-and-socket joint at the end of the knee, which causes the entire lower leg to pop off. It's a terrible joint for a kid toy, even as an adult you have to be weirdly careful to transform it without popping parts off, and that's the opposite of fun. If a kid got this Bumblebee as their first robot in disguise, I imagine they would be turned off of looking at more. Because Bumblebee is difficult to find in most toy lines, this could be a poor first impression. But as a collector, I think the head sculpt is neat, and the sculpted Autobot symbol on the chest is nice.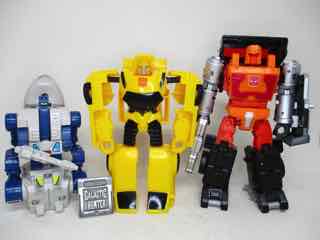 The Bumblebee robot is an easy change - because it's kind of simple. The legs fold over and become the front half of the car. The arms tuck in and become part of the back of the car. And that's it - it's about as simple as the 1984 Bumblebee, except that one was harder to pry apart. Going from robot to car is simple and fun. Going from car to robot is a nuisance.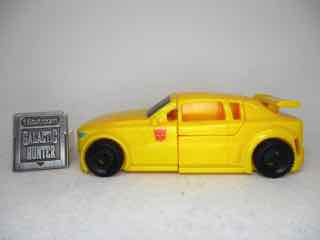 The car is mostly unpainted. It's all yellow except a black windshield , blue headlights, a tiny silver grille, and black wheels. It looks like a Happy Meal toy, but slightly better and bigger with better proportions. It's almost identical to the Alpha class car, but smaller. The wheels roll adequately, but it's just not an impressive toy. Hasbro's other toys in this assortment are a bit more impressive in their vehicle modes.
If Hasbro spent a bit more time on the design, perhaps by giving the toy better knees and actual hip joints, I would say this could be neat. As it stands, so far, this is the worst toy in this assortment and one I would suggest skipping. I've got nice things to say about the rest of them - Ratchet is surprisingly complex, Optimus Prime is certainly competent, Barricade is a cool design unavailable in any other expression of Transformers so far - but Bumblebee is just the worst execution of a not-great design. If you're looking for a present for kids, pay more and get them something else.
--Adam Pawlus
Additional Images

Click here to see more Hasbro figures in Figure of the Day.
Click here to see more Transformers figures in Figure of the Day.

Want to buy this figure? Check Transformers availability at our sponsors:
Entertainment Earth