Autobot Cosmos
Walmart Exclusive

Transformers Generations Legacy Velocitron Speedia 500 Collection Toy
Item No.: Asst. F3075 No. F5759
Manufacturer: Hasbro
Includes: Blaster, checkered flag
Action Feature: Transforms from Robot to UFO
Retail: $24.99
Availability: August 2022
Other: Biggest, therefore best Cosmos toy

PREVIOUS
RSS
NEXT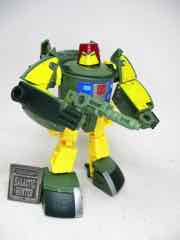 Over the past decade, Hasbro has put out lots of Autobot Cosmos toys - each of which has a good reason to pick it up. A very sleek $5 Legends-class toy was sold in 2009. A much better bulky one for $10 in 2014 had a Micromasters buddy, and that figure was reissued without the buddy in 2017 - and it was pretty great. I honestly assumed we'd never need another new version - but here we are! This new 2022 version costs more, but it's beefy and wide like the cartoon counterpart, retaining a silhouette that's pretty close to the original toy. His chest deco matches the cartoon nicely, and it was inspired by the toy's sticker. With added details like a blaster and actual fists, this may be the G1 update that puts the character to bed. I don't doubt they'll do a better one some day, but why? This is good.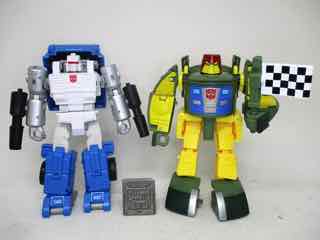 Each new flavor of Cosmos has some improvements - and sometimes, lateral moves - but generally speaking they get better, especially in the transformation. The robot mode has looks like the cartoon in your memory, and generally speaking that's what adult fans tend to gravitate toward these days. The legs are yellow, the feet are green, the chest is blueish, the head has a big red helmet with two separate blue eyes. (The original toy had no painted eyes.) Articulation is on par with the War for Cybertron Trilogy, featuring details like 3mm peg-tipped cannons to use your C.O.M.B.A.T. blast effects rocker ankles, swiveling shoulders with lateral movement, and even a waist joint. I drove around to multiple Walmarts in 108¡ heat to find this, thinking "this had better be worth it." And it was.
The robot mode has 20 points of articulation and looks just like you want - except there are some gaps. Hasbro wrote of its development, being particularly proud of how they got a whole Deluxe toy out of 3 molds - which is quite a challenge. The figure is molded in red, green, and yellow plastic with a smattering of paint to result in a good-looking robot. Sure, he has some hollow panels and in the era of price increases it stings a bit. But it's a great looking toy that's mostly fun to transform and arguably the best version of Cosmos we've ever had. At about 5-inches tall, he's a decently sized Deluxe, but not huge. The detailing is good, and really my only gripe would be that the yellow of the face and arms doesn't match the yellow of the legs. It happens, but it's OK - and I'd prefer getting this "simplified" Cosmos over seeing a repaint of an existing mold take his slot in the assortment.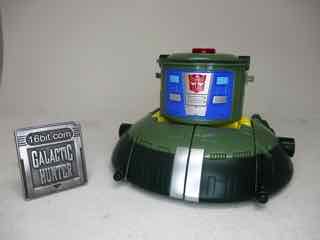 Transformation is fun and easy - lots of tabs lock into slots, and some parts require a tiny bit of force and friction to lock everything in place. I would suggest using the instructions. A lot of elements are quite clever, like the classic "pull up on the red dot to reveal the head" being replaced by "flip the panel over," and the torso... it's bigger. There's no getting around that it's a lot taller than it used to be, but it serves as the figure's torso and it seems you can choose either to have a great robot, or a great UFO mode, and they picked the robot. It's a cute little UFO but a little silly and tall, plus you can mount the blaster/flag on him if you like.
The blaster/flag accessory is also a lot of fun - you can plug in the white (or checkered) flag to the blaster and put it in his fist, or mount it on the ship's many 5mm holes. It's nothing special - it just looks right and works. It'll look good next to your other "deluxe" "minicars" and I hope this is the scale they stick to in order to (I hope) actually recreate this mini assortment. I don't know if I have it in me to collect them all in yet another size anymore - not because they aren't constantly improving, but because I have to start making decisions on if I want to keep five or six of each character in every size from the last 20 years.
I am writing this in early August just an hour after finding him, and I can say that having driven around a few nights in a row chasing phantoms and driving around in excessive heat, I'm happy to be "done" hunting this one. I absolutely hate one-per-case toys in this day and age - especially when they're good, desirable, and more robust than the third Blurr-as-Blurr mold and yet another Sideswipe repaint - but I was never a car kid anyway. I wanted the robot monsters, the futuristic vehicles, and the tapes and electronics. Cosmos totally fits in with that, and probably - I hope - will be the last time I spend money on a new Cosmos toy. Now all that's left is deciding if I should sell the old ones because there are more toys being made than space being added to my house.
--Adam Pawlus
Additional Images

Click here to see more Hasbro figures in Figure of the Day.
Click here to see more Transformers figures in Figure of the Day.

Want to buy this figure? Check Transformers availability at our sponsors:
Entertainment Earth