Autobot Blaster with Eject
Excellent

Transformers Legacy Voyager
Item No.: Asst. F2991 No. F3054
Manufacturer: Hasbro
Includes: Electro scrambler blaster, sidekick Eject figure
Action Feature: Transforms from robot to truck
Retail: $31.99
Availability: April 2022
Other: Repack of 2021 Kingdom Blaster

PREVIOUS
RSS
NEXT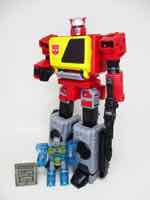 A repack - which is kind of welcome - Autobot Blaster with Eject is good. Some of the Leader/Voyager toys from the last few years make a compelling argument that this may be the price point to go with, as Studio Series 86 Hot Rod and Earthrise/Kingdom Leader Optimus Prime have shown greatness with minimal room for improvement. Blaster is a little fiddly during the transformation, but if you just got this figure (with Eject) as a non-transforming R.E.D. release, you'd be pretty happy with it. Given the fact that it can transform and looks great too, $32 (or a bit more) seems extremely reasonable for what you get and the only suggestion I could make to improve it as a toy would be to simplify the transformation.
He has a new useful point of articulation - thanks to the awkward tranformation - and is otherwise a super-articulated figure that looks fantastic. I liked the Netflix Soundwave, but this figure shows Hasbro is capable of improving on the design right now. And therefore should.
Click here to check availability at Entertainment Earth.
While not quite "Studio Series" levels of cartoon accurate, Blaster is close. The head clearly borrows from the cartoon thanks to the nose being sculpted without the band over the nose, and the head design seems to be from the cartoon too. The shoulders borrow from some of the cartoons - the design wasn't consistent from episode to episode - with speakers in the shins and the boombox handle in the legs just like the original toy. Actually, he's a lot like a smaller version of the original toy with more articulation and a stunning amount of twists and turns to get him from mode to mode. He has a good center of gravity so you can do lots of action poses without him falling over, the joints are nice and tight, and the colors are just like the cartoon and toy - but more like the cartoon, since there are no superfluous stickers or anything. You'll also notice the figure is generally free of gaps other than the ones in the forearms, between the wrist and elbows. Sadly the figure has no swivel wrist joints, but given how generally sturdy and fun the figure is to fuss with I'm not complaining.
Joining him is a decidedly not-cartoon or not-toy Eject, cast in clear blue to match the quasi-Energon Weapon accessories packed throughout the line. The original Eject toy looked pretty close to this, but was opaque and had weapons you could plug in him. This Eject has the holes to plug in weapons, but there's no accessories yet - I hope some will come later, but it's more likely a fan will design an upgrade pack. Which is a pity, I think fans would be happy to re-buy this mold a few times in opaque blue, or black for Rewind, or pink for Rosanna. With 13 points of articulation, the little guy can turn into a box that fits in Blaster's chest quite nicely.
It's worth noting Eject fits in Blaster pretty well, but Soundwave's tapes are a tighter fit. (They were also a tight fit in Soundwave.) The tolerances here are a little too close for comfort, which is another reason Hasbro may want to take another crack at Soundwave. That, and it'd sell. Unmet demand for Soundwave seems eternal.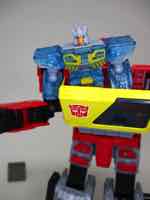 Transformation is absolutely way more complicated than it needs to be, but both modes are pretty great. The robot is an excellent pastiche of G1 Blasters, hewing toward the cartoon end of the spectrum. You can see that the legs turn into the speakers and the arms tuck in against the body, but it's bizarre and, at times, unpleasant. Contorting the arms just-so to get the unfolded legs to cover them is difficult thanks to some tight tolerances on the leg panels. There's also a second set of rotating speakers on the legs for reasons I don't understand. It adds visual complexity and more finger food to the toy's transformation, but doesn't really do anything to change things than if you just had a flat, non-moving part. You'll definitely feel like you're going to break something during the process, and I don't care for that very much.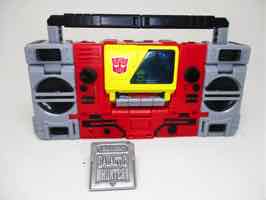 The Eject tape is basically a small blue box you push in the chest - it doesn't do much, it has no gear, so it makes sense that it's an accessory. Blaster's boombox mode looks like something new, with more dials and knobs than the toy or the cartoon. It's a real hassle to get in this mode, but it's good with plenty of fun greeblies that make it look like it's supposed to do something. There are several 5mm ports to plug in stuff, but strangely the electro scrambler has a dedicated tab on the back - so you don't need to use any of those 5mm ports. The handle looks good, and the tape door mechanism works fairly well as long as the tape inside isn't too big and prevents movement. I suppose they could fix this too, and still could by retooling the door a bit to make it roomier or by making future tapes a bit smaller.
You get two great modes at a more-or-less acceptable modern price here, with a good accessory in Eject but a frustrating transformation. Unless Hasbro makes a better Blaster down the road, I could see this being the last one I need to buy. It looks right, it does what I need it to do, it's sturdy, and I could probably dump the Titans Return one now. Or leave it in base mode. Who knows? If you got $32 to blow, get this Blaster. It's fun.
--Adam Pawlus
Additional Images

Click here to see more Hasbro figures in Figure of the Day.
Click here to see more Transformers figures in Figure of the Day.

Want to buy this figure? Check Transformers availability at our sponsors:
Entertainment Earth