Cliffjumper
Studio Series 86-13

Transformers Buzzworthy Bumblebee Studio Series 86 Deluxe
Item No.: Asst. F3927 No. F4482
Manufacturer: Hasbro
Includes: Glass gas blaster, skis, car trunk
Action Feature: Transforms from car to robot
Retail: $22.99
Availability: February 2022
Other: This Space Is Reserved For Classics Cliffjumper

PREVIOUS
RSS
NEXT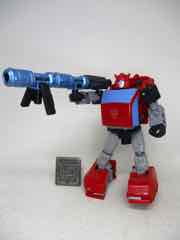 While Kup is an unquestionable improvement, the "Buzzworthy Bumblebee" Cliffjumper and your need to own him may vary. If you're a cartoon purist, you're not even reading this. You ran out and bought it. If you want toy deco, you probably bought Earthrise Cliffjumper [FOTD #2,220], but he's expensive now. If you can find this 2022 release it's a worthy replacement.
The 2020 car was painted red with a clear windshield - this version is brighter red, mostly molded in color, and looks a whole lot brighter. His limbs are also gray now, more closely matching his coloration in the original The Transformers TV show. The chest isn't quite the same, but the head, feet, and arms are all closer to a perfect ideal. An ideal, reportedly, that will be delivered by an upcoming Masterpiece toy but I don't feel like waiting for it nor paying for it. There will likely never be an end to more accurate and/or different improved versions of the cast of 1984 for the rest of our lives, so I'm not going to feel bad about buying this one and saying "I'm good." Better figures are sure to follow, but it may not necessary to buy them again.
For reasons I don't understand, his bazooka/glass gas gun is now blue. The original release was silver. You can still make it into a bazooka, or smaller handheld weapons. Or, if you prefer, car accessories like skis and gets. As accessories go, it's probably one of the most versatile arsenals to be packed with any figure that wasn't explicitly sold as an accessory pack.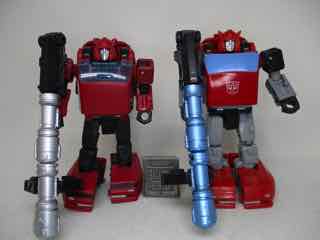 Transformation is pretty easy, but getting the arms twisted around to hold the trunk shield may be something you want to reference in the instructions. It's a tight fit - but the end result is pretty good.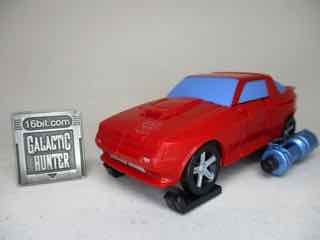 I like the car, but I like cartoons - the bright blue sky window look fine to me. I also like that they added a second Autobot logo, so now there's one on the hood as well as the roof. Other than some silver on the wheels and a tiny amount of detailing, It's simple, but more ornate than the 1984 toy. The 2020 toy has some more detail, though, and may be the better car if you care about such things. If you just want Cliffjumper to look like the cartoon, this is it.
For $23, it's a nice figure. Sure, it's a little small, but the colorful figure looks good and it's rare that we ever see Cliffjumper with gray limbs. I don't think I'll be tempted by the Masterpiece Edition figure that keeps leaking, despite it conforming to both a better idea of the 1984 toy's car and the cartoon's robot. Because this one is $23, and I have it now, and I'm feeling pretty good about the Buzzworthy Cliffjumper as the last one I'll ever need to buy. (Unless they make a fun, easy-to-transform 1-step toy somehow.) Even though this is a 15% mark-up over a toy I already own, the improvements were enough for me to want it, but more importantly, to likely stop me from buying another one. I'm feeling like I'm approaching the end of rebuy after rebuy for existing characters, mostly because Hasbro has delivered us some great stuff. I'll never need another Unicron, I doubt I'll need another Bumblebee (Goldbug, sure), Scorponok was fantastic, and so much is so good that it will be harder to justify one more return to the well. But I'm sure you'll call me out in five years when we get another one and I buy it, won't you?
--Adam Pawlus
Additional Images

Click here to see more Hasbro figures in Figure of the Day.
Click here to see more Transformers figures in Figure of the Day.

Want to buy this figure? Check Transformers availability at our sponsors:
Entertainment Earth