Skate Punk
Rolls! Fits vintage Kenner pegs!

Hot Wheels 2013 HW Racing Basic Cars
Item No.: Asst. L2593 No. X1617
Manufacturer: Mattel
Includes: n/a
Action Feature: Removable driver, board has foot pegs
Retail: $1.00
Availability: September 2013
Other: #119 / 250

PREVIOUS
RSS
NEXT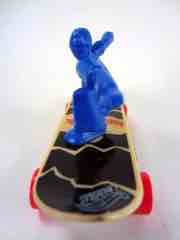 I got this Hot Wheels car a while back, but just got around to opening the Skate Punk a couple of weeks ago. While the Fig Rig was designed to fit with your LEGO figures, it turns out that the Skate Punk has a secret too - the little blue slug figure on top comes off to reveal two foot pegs which just happen to be spaced wide enough apart to fit vintage Kenner Star Wars action figures. In short it isn't only a Hot Wheels car, but effectively a skateboard for your other toys. Not all figures fit, but I've managed to get some ReAction, Star Wars Series 2, 3, and Laser Battle Beasts, and a smattering of others to fit on there. A redeco of this "car" with a yellow figure was in circulation and may be rotting at stores where older cars are(n't) sold - you know the kinds of places. If you see one, get it. It's worth it.
Along with the Carbonator (a working bottle opener) and Fast Cash (a money clip), this is a car that does something more than just be a car - it's also one of the few (if not the first) car in the line to feature a removable figure. Other figures aren't a perfect fit, but it's close enough where I have to hope it wasn't a coincidence. I was actually bugging a friend at Mattel to make a car where there would be a T-Bar of sorts, like the one that held the 1983 Biker Scout figure on the Speeder Bike from Return of the Jedi. But this works. This works nicely.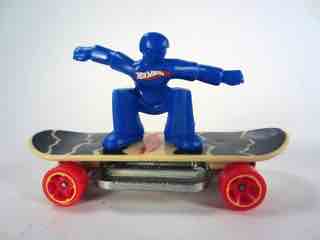 Since it's only a buck, it's not quite the same quality as a Tech Deck. The printing isn't as ornate, there's no texture on the board for your fingers, and the only graphics are on the top. The bottom is unpainted, ahem, "wood." It's really plastic, as are the wheels, with the only metal bits being the clearly visible truck. The wheels spin just about as well as any other Hot Wheels car, particularly since this one isn't particularly car-like.
Marked 2013 on the bottom, this car looked a little heftier thanks to the visible metal. It wasn't - just over 20 grams, compared to 30 or more for other cars. Clearly I'm bad at telling which toys are fat. Deco is pretty light, with some black, some red, and a little tampo on the blue man's torso. A little yellow on the red wheels completes the effect, and in some respects the toy's glossy plastic and really odd feel makes it feel like some weird "plays with" 1:64 scale toy even though it's the real deal, and it's actually a lot more interesting than I would have guessed it would be. That's what I get for sitting on it for a year!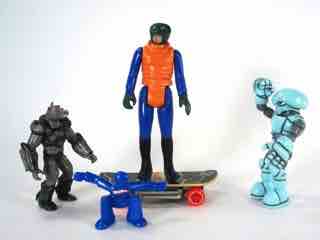 Having bought some Hot Wheels in the early 2000s, and having had a box in the early 1980s, I really am not sick of these at all. A buck is a cheap thrill, and some of the weirder designs are really neat little toys. I don't have much use for a realistic Honda Civic, but a Scorpion car? Sure. The Ecto-1? Yes. And a Skateboard that works with my 3 3/4-inch action figures so I can send them through car launchers? Yes, absolutely. The downside is now I want to blow some money on loops and motors for Hot Wheels tracks, which can get dangerously expensive fast. But it will keep me off the streets, so maybe it's ultimately a smart buy. I'll keep you posted, and if I have orange track running all over my house I'll be sure to put up some sort of Patreon thing which you can patreonize.
--Adam Pawlus
Additional Images


Click here to see more Mattel figures in Figure of the Day.

See more Hot Wheels in Figure of the Day:
Day 670: Mattel Hot Wheels Fig Rig Car
Day 675: Mattel Hot Wheels Star Trek U.S.S. Enterprise
Day 685: Mattel Hot Wheels Batmobile (Tim Burton, 2013)
Day 708: Mattel Hot Wheels Batman Live Batmobile
Day 718: Mattel Hot Wheels T-Rextroyer Die-Cast Metal Vehicle
Day 727: Mattel Hot Wheels Ratmobile (White) Die-Cast Metal Vehicle
Day 742: Mattel Hot Wheels Batcopter Die-Cast Metal Vehicle
Day 750: Mattel Hot Wheels Arachnorod
Day 770: Mattel Hot Wheels The Jetsons Capsule Car
Day 779: Mattel Hot Wheels Hiway Hauler
Day 786: Mattel Hot Wheels Speed-A-Saurus
Day 797: Mattel Hot Wheels Express Lane
Day 803: Mattel Hot Wheels Zombot
Day 817: Mattel Hot Wheels Scooby-Doo The Mystery Machine
Day 845: Mattel Hot Wheels Carbonator
Day 1,060: Mattel Hot Wheels Skate Punk
Day 1,116: Mattel Hot Wheels Let's Go
Day 1,157: Mattel Hot Wheels The Homer
Day 1,290: Mattel Hot Wheels Back to the Future Time Machine - Hover Mode
Day 1,321: Mattel Hot Wheels Loopster
Day 1,334: Mattel Hot Wheels Nintendo Cool-One (Super Mario)
Day 1,366: Mattel Hot Wheels Mars Rover Curiosity
Day 1,383: Mattel Hot Wheels Dawn of Justice Batmobile
Day 1.532: Mattel Hot Wheels Minecraft Mine Cart Die-Cast Metal Vehicle
Day 1.533: Mattel Hot Wheels Tankinator Die-Cast Metal Vehicle
Day 1,716: Mattel Hot Wheels Roller Toaster
Day 1,740: Mattel Hot Wheels Motosaurus
Day 1,768: Mattel Hot Wheels Aisle Driver
Day 1,831: Mattel Hot Wheels Radio Flyer Wagon
Day 1,873: Mattel Hot Wheels Glow Wheels Loopster
Day 2,284: Mattel Hot Wheels Screen Time Teenage Mutant Ninja Turtles Party Wagon
Day 2,316: Sonic Hot Wheels Monster Trucks Scorpion Special Glow Edition Action Figure
Day 2,319: Mattel Hot Wheels Glow Racers Lindster Prototype
Day 2,337: Mattel Hot Wheels Tooned Pixel Shaker
Day 2,340: Mattel Hot Wheels HW Screen Time Standard Kart
Day 2,400: Mattel Hot Wheels Experimotors Custom Small Block


Want to buy this figure? Check Hot Wheels availability at our sponsors:
Entertainment Earth