Scorpion Special Glow Edition
The winning Wacky Pack Prize

Hot Wheels Monster Trucks Action Figures
Item No.: No. n/a
Manufacturer: Sonic
Includes: n/a
Action Feature: n/a
Retail: $1.99-ish
Availability: May 2021
Other: It really does say "Special Glow Edition" on the packaging

PREVIOUS
RSS
NEXT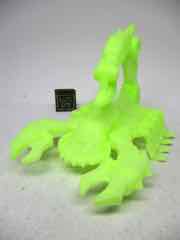 Monster trucks are not my area of expertise. Sure I know Bigfoot and Gravedigger, and that Mattel let Monster Jam go to Jakks while just doing their own thing. Which seems to have worked, because now I got a Scorpion Special Glow Edition being distributed at Sonic Drive-Ins as a "Wacky Pack" (Happy Meal) prize.
This came bagged with some food and I had no idea it existed before we brought it home. Also I don't understand how it's a truck, or Hot Wheels at all. It's just awesome for what it is - a large, cheap glow-in-the-dark mechanical scorpion. You don't need to be told that it's great. It just is. You can and indeed should put large chunks of glowing plastic out as often as possible.
The toy is a thin - but not too thin - robot with a tail that's articulated in two spots, so it can swivel and it can "sting" a bit. There's also a silver version of it, but you don't want it. You want this one, with the weird buzzsaw around the mouth, the truckasaurus legs, and no specific obvious way of how it interacts with your toy trucks. I assume you can just shove them at each other and you can let them fight. That makes some sense.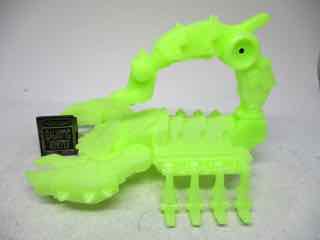 Other than the moving tail, it doesn't do much - but it does glow pretty well for a thin toy. It's about 4-inches tall and 4 1/2-inches long, meaning it could fight some decent size Transformers, although those claws aren't pinching anything. And the buzzsaw doesn't spin. But it will go great in a closet with a black light bulb in it.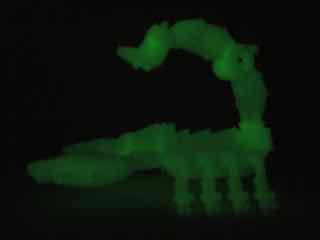 With minimal detail work, odds are this is one of those toys you'll find in a Goodwill bin for a quarter in a few years and should absolutely buy. I hope it holds up to the rigors of the toy box, where survival of the fittest is not always guaranteed. There is little here that should amaze in a technical sense, but given that it's a big piece of glowing plastic there's not a lot I should need to say or do to convince you to give this one a look. If you see it, get it. What else are you doing with your money? Get it. Do it now.
--Adam Pawlus
Additional Images

See more Sonic Drive-In figures in Figure of the Day:
Day 1,430: Sonic Drive-In Mario & Luigi Paper Jam Mario Figure
Day 1,488: Sonic Be Cool Scooby-Doo! Bobble Head
Day 1,826: Sonic DC Super Friends Throwing Superman Action Figure
Day 2,203: Sonic Kidrobot Dunny Strawberry, Lime, and Red Button Action Figure
Day 2,316: Sonic Hot Wheels Monster Trucks Scorpion Special Glow Edition Action Figure

See more Hot Wheels in Figure of the Day:
Day 670: Mattel Hot Wheels Fig Rig Car
Day 675: Mattel Hot Wheels Star Trek U.S.S. Enterprise
Day 685: Mattel Hot Wheels Batmobile (Tim Burton, 2013)
Day 708: Mattel Hot Wheels Batman Live Batmobile
Day 718: Mattel Hot Wheels T-Rextroyer Die-Cast Metal Vehicle
Day 727: Mattel Hot Wheels Ratmobile (White) Die-Cast Metal Vehicle
Day 742: Mattel Hot Wheels Batcopter Die-Cast Metal Vehicle
Day 750: Mattel Hot Wheels Arachnorod
Day 770: Mattel Hot Wheels The Jetsons Capsule Car
Day 779: Mattel Hot Wheels Hiway Hauler
Day 786: Mattel Hot Wheels Speed-A-Saurus
Day 797: Mattel Hot Wheels Express Lane
Day 803: Mattel Hot Wheels Zombot
Day 817: Mattel Hot Wheels Scooby-Doo The Mystery Machine
Day 845: Mattel Hot Wheels Carbonator
Day 1,060: Mattel Hot Wheels Skate Punk
Day 1,116: Mattel Hot Wheels Let's Go
Day 1,157: Mattel Hot Wheels The Homer
Day 1,290: Mattel Hot Wheels Back to the Future Time Machine - Hover Mode
Day 1,321: Mattel Hot Wheels Loopster
Day 1,334: Mattel Hot Wheels Nintendo Cool-One (Super Mario)
Day 1,366: Mattel Hot Wheels Mars Rover Curiosity
Day 1,383: Mattel Hot Wheels Dawn of Justice Batmobile
Day 1.532: Mattel Hot Wheels Minecraft Mine Cart Die-Cast Metal Vehicle
Day 1.533: Mattel Hot Wheels Tankinator Die-Cast Metal Vehicle
Day 1,716: Mattel Hot Wheels Roller Toaster
Day 1,740: Mattel Hot Wheels Motosaurus
Day 1,768: Mattel Hot Wheels Aisle Driver
Day 1,831: Mattel Hot Wheels Radio Flyer Wagon
Day 1,873: Mattel Hot Wheels Glow Wheels Loopster
Day 2,284: Mattel Hot Wheels Screen Time Teenage Mutant Ninja Turtles Party Wagon
Day 2,316: Sonic Hot Wheels Monster Trucks Scorpion Special Glow Edition Action Figure
Day 2,319: Mattel Hot Wheels Glow Racers Lindster Prototype
Day 2,337: Mattel Hot Wheels Tooned Pixel Shaker
Day 2,340: Mattel Hot Wheels HW Screen Time Standard Kart
Day 2,400: Mattel Hot Wheels Experimotors Custom Small Block