Mattel Hot Wheels Minecraft Minecart
Mattel, 2016

Day #1,532: September 16, 2016
Minecraft Minecart
HW Ride-Ons - #70 / 250

Hot Wheels 2016 Ride-Ons Basic Cars
Item No.: Asst. L2593 No. DPR89
Manufacturer: Mattel
Includes: n/a
Action Feature: Rolling wheels
Retail: $1.00
Availability: ca. August 2016
Other: Debut

PREVIOUS
RSS
NEXT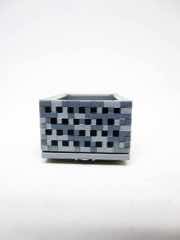 I haven't played the game as of yet, so when I saw a dozen or more of the Minecraft Minecart, I thought "hey, that's neat" and went on my merry way. It was designed to give smaller figures a ride, but I don't collect those - and at $3-$4 per, I wasn't planning on starting. A few days later I realized how they would work with Bit Figs most likely, so I spent the dollar - and most of the Minecarts at Toys R Us were long gone. It's a simple vehicle, but the feature is the selling point - there are little flaps that can hold a tiny pixel figure in place. Bit Figs Bun works quite well.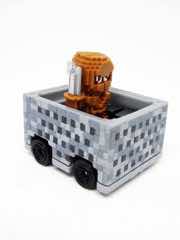 It's a box! There are lots of little painted pixels - most are on straight - but when you get right down to it this is basically a milk crate on wheels. It's not pretty, but it's functional enough to send your tiny figures - Fighter Pods, Titan Masters, Minecraft, Bit Figs - along a Hot Wheels track.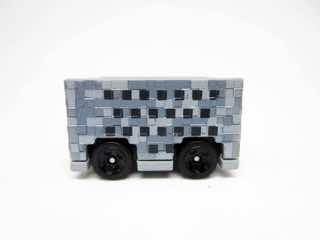 The paint is good, but not perfect - given the precision needed with dozens of painted pixels, this is more or less to be expected. The grey and black pixels look more or less perfect. The wheels are small, black, and unpainted with a grey chassis, delivering a mostly plastic car. It's not even really obvious what the front or back is - it's just a little basket on wheels to cart around other, smaller figures. For this reason, it's fantastic.
Since the introduction of the Fig Rig [FOTD #670] I was wondering what else Mattel might do - we've had some Mega Bloks cars, and of course bottle openers, money clips, and other "useful" toys. A tiny cart for micro figures was not what I was expecting, but I'm digging it! I hope they do more with similar functionality and other unique shapes. How they'll redecorate this one like the Fig Rig, I don't know, but Mattel is nothing if not clever. For a kid with Minecraft toys - or other similarly sized figures - this is a solid purchase. Get one if you see it.
--Adam Pawlus
Additional Images


Click here to see more Mattel figures in Figure of the Day.

See more Minecraft items in Figure of the Day:
Day 1.532: Mattel Hot Wheels Minecraft Mine Cart Die-Cast Metal Vehicle


See more Hot Wheels in Figure of the Day:
Day 670: Mattel Hot Wheels Fig Rig Car
Day 675: Mattel Hot Wheels Star Trek U.S.S. Enterprise
Day 685: Mattel Hot Wheels Batmobile (Tim Burton, 2013)
Day 708: Mattel Hot Wheels Batman Live Batmobile
Day 718: Mattel Hot Wheels T-Rextroyer Die-Cast Metal Vehicle
Day 727: Mattel Hot Wheels Ratmobile (White) Die-Cast Metal Vehicle
Day 742: Mattel Hot Wheels Batcopter Die-Cast Metal Vehicle
Day 750: Mattel Hot Wheels Arachnorod
Day 770: Mattel Hot Wheels The Jetsons Capsule Car
Day 779: Mattel Hot Wheels Hiway Hauler
Day 786: Mattel Hot Wheels Speed-A-Saurus
Day 797: Mattel Hot Wheels Express Lane
Day 803: Mattel Hot Wheels Zombot
Day 817: Mattel Hot Wheels Scooby-Doo The Mystery Machine
Day 845: Mattel Hot Wheels Carbonator
Day 1,060: Mattel Hot Wheels Skate Punk
Day 1,116: Mattel Hot Wheels Let's Go
Day 1,157: Mattel Hot Wheels The Homer
Day 1,290: Mattel Hot Wheels Back to the Future Time Machine - Hover Mode
Day 1,321: Mattel Hot Wheels Loopster
Day 1,334: Mattel Hot Wheels Nintendo Cool-One (Super Mario)
Day 1,366: Mattel Hot Wheels Mars Rover Curiosity
Day 1,383: Mattel Hot Wheels Dawn of Justice Batmobile
Day 1.532: Mattel Hot Wheels Minecraft Mine Cart Die-Cast Metal Vehicle
Day 1.533: Mattel Hot Wheels Tankinator Die-Cast Metal Vehicle
Day 1,716: Mattel Hot Wheels Roller Toaster
Day 1,740: Mattel Hot Wheels Motosaurus
Day 1,768: Mattel Hot Wheels Aisle Driver
Day 1,831: Mattel Hot Wheels Radio Flyer Wagon
Day 1,873: Mattel Hot Wheels Glow Wheels Loopster
Day 2,284: Mattel Hot Wheels Screen Time Teenage Mutant Ninja Turtles Party Wagon
Day 2,316: Sonic Hot Wheels Monster Trucks Scorpion Special Glow Edition Action Figure
Day 2,319: Mattel Hot Wheels Glow Racers Lindster Prototype
Day 2,337: Mattel Hot Wheels Tooned Pixel Shaker
Day 2,340: Mattel Hot Wheels HW Screen Time Standard Kart
Day 2,400: Mattel Hot Wheels Experimotors Custom Small Block


Want to buy this figure? Check Hot Wheels availability at our sponsors:
Entertainment Earth