Mattel Hot Wheels X-Raycers Carbonator
Mattel, 2014

Day #845: January 29, 2014
X-Raycers Carbonator
Rolls! Opens Bottles!

Hot Wheels 2014 HW City Basic Cars
Item No.: Asst. L2593 No. BFD41
Manufacturer: Mattel
Includes: n/a
Action Feature: Working bottle opener
Retail: $1.00
Availability: January 2014
Other: #172 / 250

PREVIOUS
RSS
NEXT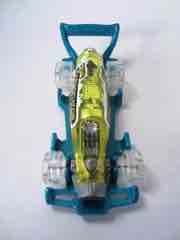 This particular Hot Wheels car isn't new, but the X-Raycers Carbonator is new in this deco. The design is incredibly clever - a bottle of soda is labeled "Carbonator Race Juice," and the clear plastic bottle rests atop a metal base. The kicker is the metal base is also a functioning bottle opener... which odds are nearly no kid is actually going to use nowadays since soda in glass bottles is something of a premium product. I'm not sure how many other cars are based on their functionality with other items - there's Fast Cash, a money clip, as well as the Fig Rig which is compatible with Lego toys.
This car was a Treasure Hunt vehicle last year, so I wasn't able to find one. I was out bumming around after dinner at Lenny's last week and saw one of the 2014 model in a giant bin of cars at a Walmart. Interestingly there were tons of Batmobiles and Flintmobiles, but only one Carbonator - I was pretty surprised there weren't more.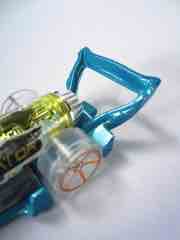 Like many cars in this line, it's obvious the designers had a much older customer in mind. The notion of a metal bottle cap is something removed from modern life, so having a car that can remove one is more than a bit of a novelty. As the car has another cap as a sort of hood ornament, it's certainly not the kind of thing that feels like it belongs in the 21st century.
Marked 2008 on the bottom, this mostly die-cast metal vehicle has a sparkling, somewhat glittery bluegreen paint covering the metal components. Plastic wheels are cast in clear, with a yellowish green bottle and some silver elements finishing up the design..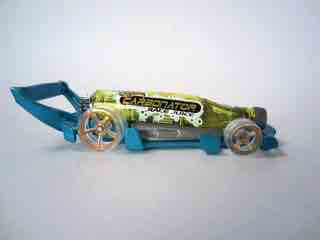 Despite being somewhat scarce so far, this current model of the Carbonator isn't worth much of anything - a few cents to a dollar at the most. Odds are you'll see more in the coming months, while you peruse shelves trying to find the new Simpsons car, The Homer (and fail). If you see it, get it - how else can you easily hide a bottle opener on your desk at work? Nobody'll ever know.
--Adam Pawlus
Additional Images


Click here to see more Mattel figures in Figure of the Day.

See more Hot Wheels in Figure of the Day:
Day 670: Mattel Hot Wheels Fig Rig Car
Day 675: Mattel Hot Wheels Star Trek U.S.S. Enterprise
Day 685: Mattel Hot Wheels Batmobile (Tim Burton, 2013)
Day 708: Mattel Hot Wheels Batman Live Batmobile
Day 718: Mattel Hot Wheels T-Rextroyer Die-Cast Metal Vehicle
Day 727: Mattel Hot Wheels Ratmobile (White) Die-Cast Metal Vehicle
Day 742: Mattel Hot Wheels Batcopter Die-Cast Metal Vehicle
Day 750: Mattel Hot Wheels Arachnorod
Day 770: Mattel Hot Wheels The Jetsons Capsule Car
Day 779: Mattel Hot Wheels Hiway Hauler
Day 786: Mattel Hot Wheels Speed-A-Saurus
Day 797: Mattel Hot Wheels Express Lane
Day 803: Mattel Hot Wheels Zombot
Day 817: Mattel Hot Wheels Scooby-Doo The Mystery Machine
Day 845: Mattel Hot Wheels Carbonator
Day 1,060: Mattel Hot Wheels Skate Punk
Day 1,116: Mattel Hot Wheels Let's Go
Day 1,157: Mattel Hot Wheels The Homer
Day 1,290: Mattel Hot Wheels Back to the Future Time Machine - Hover Mode
Day 1,321: Mattel Hot Wheels Loopster
Day 1,334: Mattel Hot Wheels Nintendo Cool-One (Super Mario)
Day 1,366: Mattel Hot Wheels Mars Rover Curiosity
Day 1,383: Mattel Hot Wheels Dawn of Justice Batmobile
Day 1.532: Mattel Hot Wheels Minecraft Mine Cart Die-Cast Metal Vehicle
Day 1.533: Mattel Hot Wheels Tankinator Die-Cast Metal Vehicle
Day 1,716: Mattel Hot Wheels Roller Toaster
Day 1,740: Mattel Hot Wheels Motosaurus
Day 1,768: Mattel Hot Wheels Aisle Driver
Day 1,831: Mattel Hot Wheels Radio Flyer Wagon
Day 1,873: Mattel Hot Wheels Glow Wheels Loopster
Day 2,284: Mattel Hot Wheels Screen Time Teenage Mutant Ninja Turtles Party Wagon
Day 2,316: Sonic Hot Wheels Monster Trucks Scorpion Special Glow Edition Action Figure
Day 2,319: Mattel Hot Wheels Glow Racers Lindster Prototype
Day 2,337: Mattel Hot Wheels Tooned Pixel Shaker
Day 2,340: Mattel Hot Wheels HW Screen Time Standard Kart
Day 2,400: Mattel Hot Wheels Experimotors Custom Small Block


Want to buy this figure? Check Hot Wheels availability at our sponsors:
Entertainment Earth