Experimotors Custom Small Block
Experimotors 10/10 - #151 / 250

Hot Wheels 2021 Experimotors 10/10 Basic Cars
Item No.: Asst. L2593 No. GTB62
Manufacturer: Mattel
Includes: n/a
Action Feature: Green engine and blue top are removable bricks, can connect to Mega Bloks or LEGO pieces
Retail: $1.00
Availability: ca. November 2021 or earlier
Other: Second release - yellow/green/blue version.

PREVIOUS
RSS
NEXT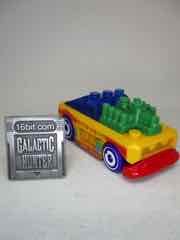 I try to cut back on buying Hot Wheels but I always look at the aisle - which is generally empty as of late. The Custom Small Block was on front of the pegs when I was at the store, and I thought "that looks fun." So I got it. A yellow bed on regular wheels is augmented by two brick pieces, which you can remove and replace with LEGO or other building blocks. It's a real toy, with real functionality, and it exists to encourage you to play with your other toys. It's the real deal.
You know how these cars work - they roll nicely and look cool. This one is unique in that it has two studs on each side and three on the back for connecting bricks, figures, or other greeblies. The top of the car has points to connect other pieces, but the green and blue pieces can come off revealing a pretty decent place to connect other builds. If you want to build a dinosaur with roller skates, these would make some pretty nice skates. You could probably make a building and use these cars as wheels to move it around. You could also put small builds on it, and send it on a Hot Wheels race track to its inevitable doom.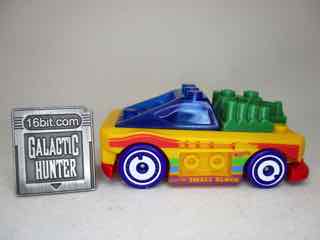 It would be hyperbolic to call this a game-changer, but I think kids would have a lot of fun with this. It's not a realistic car, but it's the kind of thing that might get 6-year-old-me to dig through his various toy boxes to cobble together something interesting. You can put figures on it, or you can try to send it through a loop with a micro vehicle build on top. Or a small whale. Or a duck.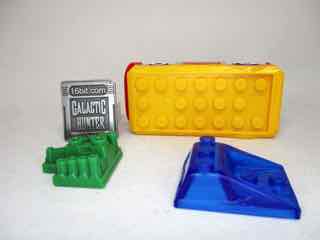 The first version was mostly red, but this one reeks of LEGO-inspired colors. While a Mattel toy, I think it's a transformative thing for your LEGO toys. LEGO wheels are nothing new, but Hot Wheels cars tend to roll a little more smoothly, and this is a bit wider and probably more durable with wheels. I assume right now some grade schooler is on YouTube putting something together and sending it across the room, only to crash and fall apart, as part of some grand development to make something even bigger or weirder.
And, of course, it's a neat car unto itself. I love the purple wheels, the yellow body, and the red bumpers. The green engine really sticks out, and the clear blue cab with some molded flames is charming. A lot of toy companies appeal to adults by squeezing out spring-loaded features, or anything that might get you to run to your room to grab an older toy to play with the new thing. Rarely does a year go by where Mattel doesn't do something surprising with this toy car format, which in the wrong hands would just be an endless stream of licensed real-world cars that would continue to sell well to kids and adults until long after we're all dead. Seeing something like this, which is clearly meant to encourage creativity and play, just makes my day. If you can find this one, in any color you can find it, go spend a dollar and get it. I can all but guarantee it'll be more fun than any awesome action figure you buy this month.
--Adam Pawlus
Additional Images


Click here to see more Mattel figures in Figure of the Day.

See more Hot Wheels in Figure of the Day:
Day 670: Mattel Hot Wheels Fig Rig Car
Day 675: Mattel Hot Wheels Star Trek U.S.S. Enterprise
Day 685: Mattel Hot Wheels Batmobile (Tim Burton, 2013)
Day 708: Mattel Hot Wheels Batman Live Batmobile
Day 718: Mattel Hot Wheels T-Rextroyer Die-Cast Metal Vehicle
Day 727: Mattel Hot Wheels Ratmobile (White) Die-Cast Metal Vehicle
Day 742: Mattel Hot Wheels Batcopter Die-Cast Metal Vehicle
Day 750: Mattel Hot Wheels Arachnorod
Day 770: Mattel Hot Wheels The Jetsons Capsule Car
Day 779: Mattel Hot Wheels Hiway Hauler
Day 786: Mattel Hot Wheels Speed-A-Saurus
Day 797: Mattel Hot Wheels Express Lane
Day 803: Mattel Hot Wheels Zombot
Day 817: Mattel Hot Wheels Scooby-Doo The Mystery Machine
Day 845: Mattel Hot Wheels Carbonator
Day 1,060: Mattel Hot Wheels Skate Punk
Day 1,116: Mattel Hot Wheels Let's Go
Day 1,157: Mattel Hot Wheels The Homer
Day 1,290: Mattel Hot Wheels Back to the Future Time Machine - Hover Mode
Day 1,321: Mattel Hot Wheels Loopster
Day 1,334: Mattel Hot Wheels Nintendo Cool-One (Super Mario)
Day 1,366: Mattel Hot Wheels Mars Rover Curiosity
Day 1,383: Mattel Hot Wheels Dawn of Justice Batmobile
Day 1.532: Mattel Hot Wheels Minecraft Mine Cart Die-Cast Metal Vehicle
Day 1.533: Mattel Hot Wheels Tankinator Die-Cast Metal Vehicle
Day 1,716: Mattel Hot Wheels Roller Toaster
Day 1,740: Mattel Hot Wheels Motosaurus
Day 1,768: Mattel Hot Wheels Aisle Driver
Day 1,831: Mattel Hot Wheels Radio Flyer Wagon
Day 1,873: Mattel Hot Wheels Glow Wheels Loopster
Day 2,284: Mattel Hot Wheels Screen Time Teenage Mutant Ninja Turtles Party Wagon
Day 2,316: Sonic Hot Wheels Monster Trucks Scorpion Special Glow Edition Action Figure
Day 2,319: Mattel Hot Wheels Glow Racers Lindster Prototype
Day 2,337: Mattel Hot Wheels Tooned Pixel Shaker
Day 2,340: Mattel Hot Wheels HW Screen Time Standard Kart
Day 2,400: Mattel Hot Wheels Experimotors Custom Small Block


Want to buy this figure? Check Hot Wheels availability at our sponsors:
Entertainment Earth