Scooby-Doo The Mystery Machine
Rolls!

Hot Wheels 2014 HW City Basic Cars
Item No.: Asst. L2593 No. BFC93
Manufacturer: Mattel
Includes: n/a
Action Feature: Rolls
Retail: $1.00
Availability: October 2013
Other: #84 / 250

PREVIOUS
RSS
NEXT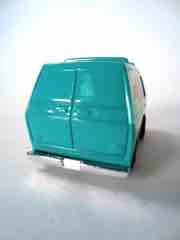 One of the things I hate about collecting Hot Wheels is that you have to keep on top of it. The Scooby-Doo The Mystery Machine first hit in 2012, then in the "pop culture" assortments for $4-$5 each in 2013 after a rerelease in the basic assortments, and now just hit in the new 2014 assortments at a buck with different wheels. It's nice that patience is rewarded at times, but I fundamentally don't get why they don't just keep items like this in circulation. That's three basic runs and one special run so far, at least, I might be missing a few. I was elated to find this in a bin at the store a few weeks ago, because a) I loved the cartoon as a kid, and b) my friends and I watched a ton of it at a hotel while on a road trip to San Diego in an era where televisions in hotels still showed scrambled porn. Is that her elbow? The world may never know.
For a buck - and this is usually how I grade these things - it's fantastic. The green parts are die-cast metal and have a nice heft to them. The underside of the vehicle is chrome plastic, and it also looks nice. You'll note that the wheels aren't as flowery as previous releases, and for this reason I expect this version will be less desirable. But it's also in stores now, and a dollar, so I'm not shelling out for a pricey variant on eBay when I can just get this.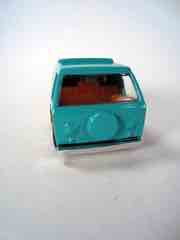 It more or less matches the animation model - the paint is finely detailed, although not evenly applied. A few spots are a little thin, but the designs and flourishes seem to have been adapted directly from the cartoon. The spare tire isn't the right color, but hey - it's a buck.
Marked 2012 on the bottom, this tiny die-cast vehicle is about 2 1/8-inches long. The orange-tinted wheels and the "metal" plastic bumpers give it a lot of character, with an orange plastic interior that looks perfectly nice. It's certainly not fancy, but as one of the most recognizable vehicles from the childhood of pretty much everybody from 1969 and beyond it doesn't need to be. You can get more expensive versions of the vehicle, but why? (Well, aside from this one being harder to find.) It's the perfect size for desks and it's at a nearly disposable price point. This is one of those toys I wish that absolutely everybody could find, because it's totally worth it and fun enough that I assume it's impossible not to get your money's worth.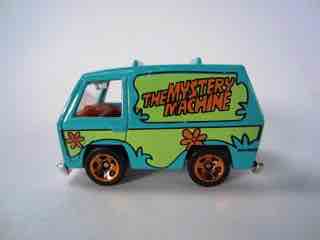 In addition to George Jetson and Fred Flintstone's cars, the Mystery Machine is another worthwhile addition to the line. I'm a huge fan of the toy, and I'm thrilled to have one - I only regret not buying more for friends of mine as gifts. Maybe next time!
--Adam Pawlus
Additional Images


Click here to see more Mattel figures in Figure of the Day.

See more Hot Wheels in Figure of the Day:
Day 670: Mattel Hot Wheels Fig Rig Car
Day 675: Mattel Hot Wheels Star Trek U.S.S. Enterprise
Day 685: Mattel Hot Wheels Batmobile (Tim Burton, 2013)
Day 708: Mattel Hot Wheels Batman Live Batmobile
Day 718: Mattel Hot Wheels T-Rextroyer Die-Cast Metal Vehicle
Day 727: Mattel Hot Wheels Ratmobile (White) Die-Cast Metal Vehicle
Day 742: Mattel Hot Wheels Batcopter Die-Cast Metal Vehicle
Day 750: Mattel Hot Wheels Arachnorod
Day 770: Mattel Hot Wheels The Jetsons Capsule Car
Day 779: Mattel Hot Wheels Hiway Hauler
Day 786: Mattel Hot Wheels Speed-A-Saurus
Day 797: Mattel Hot Wheels Express Lane
Day 803: Mattel Hot Wheels Zombot
Day 817: Mattel Hot Wheels Scooby-Doo The Mystery Machine
Day 845: Mattel Hot Wheels Carbonator
Day 1,060: Mattel Hot Wheels Skate Punk
Day 1,116: Mattel Hot Wheels Let's Go
Day 1,157: Mattel Hot Wheels The Homer
Day 1,290: Mattel Hot Wheels Back to the Future Time Machine - Hover Mode
Day 1,321: Mattel Hot Wheels Loopster
Day 1,334: Mattel Hot Wheels Nintendo Cool-One (Super Mario)
Day 1,366: Mattel Hot Wheels Mars Rover Curiosity
Day 1,383: Mattel Hot Wheels Dawn of Justice Batmobile
Day 1.532: Mattel Hot Wheels Minecraft Mine Cart Die-Cast Metal Vehicle
Day 1.533: Mattel Hot Wheels Tankinator Die-Cast Metal Vehicle
Day 1,716: Mattel Hot Wheels Roller Toaster
Day 1,740: Mattel Hot Wheels Motosaurus
Day 1,768: Mattel Hot Wheels Aisle Driver
Day 1,831: Mattel Hot Wheels Radio Flyer Wagon
Day 1,873: Mattel Hot Wheels Glow Wheels Loopster
Day 2,284: Mattel Hot Wheels Screen Time Teenage Mutant Ninja Turtles Party Wagon
Day 2,316: Sonic Hot Wheels Monster Trucks Scorpion Special Glow Edition Action Figure
Day 2,319: Mattel Hot Wheels Glow Racers Lindster Prototype
Day 2,337: Mattel Hot Wheels Tooned Pixel Shaker
Day 2,340: Mattel Hot Wheels HW Screen Time Standard Kart
Day 2,400: Mattel Hot Wheels Experimotors Custom Small Block


Want to buy this figure? Check Hot Wheels availability at our sponsors:
Entertainment Earth