Mattel Hot Wheels Let's Go
Mattel, 2014

Day #1,116: February 12, 2015
Let's Go
Release #2 - Green

Hot Wheels 2014 HW Race Basic Cars
Item No.: Asst. L2593 No. X1617
Manufacturer: Mattel
Includes: n/a
Action Feature: Connects to LEGO or Mega Bloks pieces
Retail: $1.00
Availability: Summer 2014
Other: #165 / 250

PREVIOUS
RSS
NEXT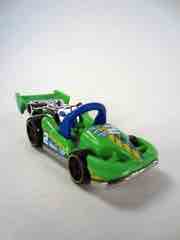 Toy lines make allusions to all sorts of things, but Hot Wheels tends to keep it pretty straightforward, or steers clear of being too clever. Let's Go, unlike its older brother the Fig Rig, is a lot more blunt about the LEGO compatibility as far as the name and illustration go. The back of the packaging has a simple illustration pointing out that you can store several figures on it, plus anyone who looks at it can find other places to put figures. It seems it was designed with Mega Bloks in mind, but we're a LEGO shop here so that's what I'm going to use.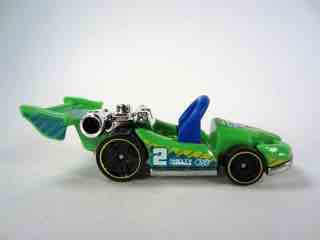 This is the second release of the mold, which is green (instead of red) but features very similar graphics with a big "2" on it. The engine has been chromed silver for this release, and your figure can hang on behind the bumper, on the spoiler, on the engine, or it can sit in the driver's seat. The packaging itself says the name is a play on "...'Let's GO' a kartin!" so it would make sense that they start developing vehicles that can actually be piloted. This isn't the only one, but it certainly does add some fun to a track and gives kids another way to integrate their various toy boxes together.
The car has four faux metal holes and the name "Let's GO" stamped on the bottom, plus the "2 SHELTY" and some other things on the doors and hood. The design is quite nice, plus you get a rather subdued blue Hot Wheels logo on the spoiler. It's a nice car, complete with yellow lines orbiting the four wheels.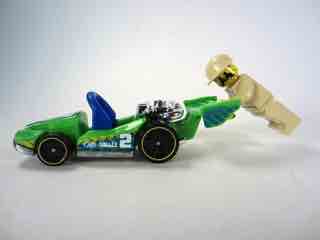 I've got a soft spot for cars that do something extra - bottle openers, money clips, and the like are wonderful. But compatibility with other toy lines? That's just madness, and I approve. I really hope that Mattel continues this trend with their signature die-cast car line, bringing in compatibility with whatever toy line they deem appropriate - maybe a pair of them could make roller skates for Barbie, or provide some sort of bobsled for 3 3/4-inch action figures. While this one doesn't bring the same sense of excitement and discovery that came with the first release of the Fig Rig, it's still neat, cheap, and fun. Much like Funko's Pop! Vinyl line, Hot Wheels continues to prove that you don't have to be a hardcore fan of what they do to have a solid excuse to buy their products - there really is something for almost everybody in there.
--Adam Pawlus
Additional Images


Click here to see more Mattel figures in Figure of the Day.

See more Hot Wheels in Figure of the Day:
Day 670: Mattel Hot Wheels Fig Rig Car
Day 675: Mattel Hot Wheels Star Trek U.S.S. Enterprise
Day 685: Mattel Hot Wheels Batmobile (Tim Burton, 2013)
Day 708: Mattel Hot Wheels Batman Live Batmobile
Day 718: Mattel Hot Wheels T-Rextroyer Die-Cast Metal Vehicle
Day 727: Mattel Hot Wheels Ratmobile (White) Die-Cast Metal Vehicle
Day 742: Mattel Hot Wheels Batcopter Die-Cast Metal Vehicle
Day 750: Mattel Hot Wheels Arachnorod
Day 770: Mattel Hot Wheels The Jetsons Capsule Car
Day 779: Mattel Hot Wheels Hiway Hauler
Day 786: Mattel Hot Wheels Speed-A-Saurus
Day 797: Mattel Hot Wheels Express Lane
Day 803: Mattel Hot Wheels Zombot
Day 817: Mattel Hot Wheels Scooby-Doo The Mystery Machine
Day 845: Mattel Hot Wheels Carbonator
Day 1,060: Mattel Hot Wheels Skate Punk
Day 1,116: Mattel Hot Wheels Let's Go
Day 1,157: Mattel Hot Wheels The Homer
Day 1,290: Mattel Hot Wheels Back to the Future Time Machine - Hover Mode
Day 1,321: Mattel Hot Wheels Loopster
Day 1,334: Mattel Hot Wheels Nintendo Cool-One (Super Mario)
Day 1,366: Mattel Hot Wheels Mars Rover Curiosity
Day 1,383: Mattel Hot Wheels Dawn of Justice Batmobile
Day 1.532: Mattel Hot Wheels Minecraft Mine Cart Die-Cast Metal Vehicle
Day 1.533: Mattel Hot Wheels Tankinator Die-Cast Metal Vehicle
Day 1,716: Mattel Hot Wheels Roller Toaster
Day 1,740: Mattel Hot Wheels Motosaurus
Day 1,768: Mattel Hot Wheels Aisle Driver
Day 1,831: Mattel Hot Wheels Radio Flyer Wagon
Day 1,873: Mattel Hot Wheels Glow Wheels Loopster
Day 2,284: Mattel Hot Wheels Screen Time Teenage Mutant Ninja Turtles Party Wagon
Day 2,316: Sonic Hot Wheels Monster Trucks Scorpion Special Glow Edition Action Figure
Day 2,319: Mattel Hot Wheels Glow Racers Lindster Prototype
Day 2,337: Mattel Hot Wheels Tooned Pixel Shaker
Day 2,340: Mattel Hot Wheels HW Screen Time Standard Kart
Day 2,400: Mattel Hot Wheels Experimotors Custom Small Block


Want to buy this figure? Check Hot Wheels availability at our sponsors:
Entertainment Earth