Mattel Hot Wheels Loopster
Mattel, 2015

Day #1,321: November 26, 2015
Loopster
HW City 2015 - Surf Patrol

Hot Wheels 2015 HW City Basic Cars
Item No.: Asst. L2593 No. CFG88
Manufacturer: Mattel
Includes: n/a
Action Feature: Rolling wheels
Retail: $1.00
Availability: Spring 2015
Other: #75 / 250

PREVIOUS
RSS
NEXT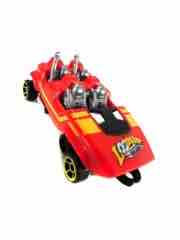 I'm late to the party - I frequently am with Hot Wheels - as I finally saw Loopster last month. It's a roller coaster car that can connect with others if you have more than one of them. Four featureless passengers ride inside the vehicle, one of which on this version has his arms up. A variation - possibly a chase variation - has arms down OR up on the blue version of the car.
If you're wondering if it will go through a loop, the answer is yes - one to five of them connected can indeed loop, as seen in this YouTube video (thanks Andrew!) Turn down the sound and check it out - the first thing I thought was "I wonder if this will go through a loop" and this video not only answers the question, but also saved me a few bucks.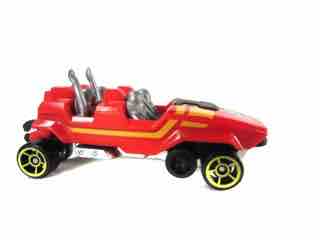 The helmeted figures are seated with safety harnesses over their chests, and on mine one figure has rubbery limbs extended to the sky. A "Loopster" logo is on the hood of the car, presumably because this is the name of the ride. The bottom of the toy is metal with a plastic top part, and if you love fake wheels then this toy is king. Two false wheels are behind the front tires, which are notable in that they're slightly smaller than a normal Hot Wheels car. What really made this toy stand out when I saw it in a store was the fact it had hooks to connect to other Loopsters, assuming you were to army-build these things and form a human centipede which is really neither.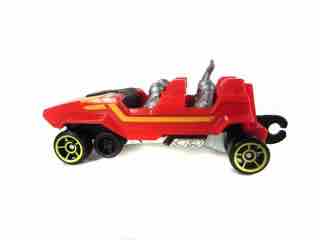 It's charming, and a fascinating gambit. Mattel came up with a way to get people to buy and play with multiples of the same car, rather than just hoard them and flip them on eBay. That takes creativity, and as a fan of some of the weirder cars in this line this is one I'll probably buy a few more times as I find the various variants. Get one if you dare!
--Adam Pawlus
Additional Images


Click here to see more Mattel figures in Figure of the Day.

See more Hot Wheels in Figure of the Day:
Day 670: Mattel Hot Wheels Fig Rig Car
Day 675: Mattel Hot Wheels Star Trek U.S.S. Enterprise
Day 685: Mattel Hot Wheels Batmobile (Tim Burton, 2013)
Day 708: Mattel Hot Wheels Batman Live Batmobile
Day 718: Mattel Hot Wheels T-Rextroyer Die-Cast Metal Vehicle
Day 727: Mattel Hot Wheels Ratmobile (White) Die-Cast Metal Vehicle
Day 742: Mattel Hot Wheels Batcopter Die-Cast Metal Vehicle
Day 750: Mattel Hot Wheels Arachnorod
Day 770: Mattel Hot Wheels The Jetsons Capsule Car
Day 779: Mattel Hot Wheels Hiway Hauler
Day 786: Mattel Hot Wheels Speed-A-Saurus
Day 797: Mattel Hot Wheels Express Lane
Day 803: Mattel Hot Wheels Zombot
Day 817: Mattel Hot Wheels Scooby-Doo The Mystery Machine
Day 845: Mattel Hot Wheels Carbonator
Day 1,060: Mattel Hot Wheels Skate Punk
Day 1,116: Mattel Hot Wheels Let's Go
Day 1,157: Mattel Hot Wheels The Homer
Day 1,290: Mattel Hot Wheels Back to the Future Time Machine - Hover Mode
Day 1,321: Mattel Hot Wheels Loopster
Day 1,334: Mattel Hot Wheels Nintendo Cool-One (Super Mario)
Day 1,366: Mattel Hot Wheels Mars Rover Curiosity
Day 1,383: Mattel Hot Wheels Dawn of Justice Batmobile
Day 1.532: Mattel Hot Wheels Minecraft Mine Cart Die-Cast Metal Vehicle
Day 1.533: Mattel Hot Wheels Tankinator Die-Cast Metal Vehicle
Day 1,716: Mattel Hot Wheels Roller Toaster
Day 1,740: Mattel Hot Wheels Motosaurus
Day 1,768: Mattel Hot Wheels Aisle Driver
Day 1,831: Mattel Hot Wheels Radio Flyer Wagon
Day 1,873: Mattel Hot Wheels Glow Wheels Loopster
Day 2,284: Mattel Hot Wheels Screen Time Teenage Mutant Ninja Turtles Party Wagon
Day 2,316: Sonic Hot Wheels Monster Trucks Scorpion Special Glow Edition Action Figure
Day 2,319: Mattel Hot Wheels Glow Racers Lindster Prototype
Day 2,337: Mattel Hot Wheels Tooned Pixel Shaker
Day 2,340: Mattel Hot Wheels HW Screen Time Standard Kart
Day 2,400: Mattel Hot Wheels Experimotors Custom Small Block


Want to buy this figure? Check Hot Wheels availability at our sponsors:
Entertainment Earth