Fig Rig
LEGO-Compatible Hot Wheels Car

Hot Wheels 2013 New Models
Item No.: Asst. L2593 No. X1654
Manufacturer: Mattel
Includes: n/a
Action Feature: Includes studs, grips for LEGO and similar figures
Retail: $1.00
Availability: ca. April 2013
Other: 080 / 250

PREVIOUS
RSS
NEXT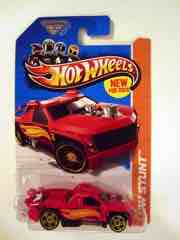 I had no idea that the Hot Wheels Fig Rig existed until my digital pal Seth, in one of our regular email exchanges, brought it up. I just happen to live within walking distance of a Walmart and within in an hour, as luck would have it, I was back home with one in my grubby little hands. Here's why you care: Mattel made a Hot Wheels car compatible with LEGO Minifigures. It's a dollar. If you're the kind of person who reads this column - and you are - this should be a required purchase.
"Plays with" toys are nothing new, although it's a subtle grab at another side of the toy aisle - seeing Mattel try to appeal to LEGO fans is surprising, and the product is actually quite good. The last time I remember something trying to bridge one type of toy with another was Hasbro's aborted Built-To-Rule sets of which some included 3 3/4-inch figures with LEGO-like bricks. The key difference here is just how astonishingly low-key Mattel's pitch to people like you and me is - absolutely nowhere on the package does it mention LEGO, and any sort of figure compatibility is absent from the front. The back boasts the truck has "fig passenger notches and spots to hang on. Riders welcome." A few drawings show blocky men on the truck, without mentioning anything by name. Personally I think it's a terrible call-out from a marketing perspective and it should be more obvious, but hey - at least you and I know about it, right?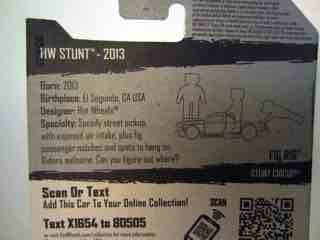 I very rarely buy Hot Wheels cars not because I don't want them, but I have extreme difficulty finding the ones (the licensed ones) I want. As this one is devoid of any sort of licensing, its main selling point to the older fan is (.shtml) play value! When is the last time that happened with a Hot Wheels car?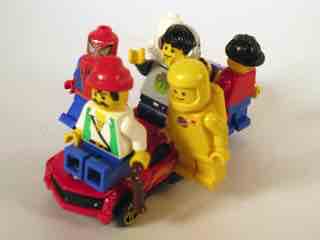 The bottom of the truck has a decorative hole (it can't grip a stud), while the top has four studs and at least 5 places on which you can grip a mini-figure. You should be able to squeeze about 8 figures on the Fig Rig, more if you add some plates and other pieces to build on the vehicle. It has an awesome 8-bit red, yellow, and black flame and a "2" painted on the side for reasons I don't fully understand, so it looks really cool. It's not perfect - but it's close. A figure standing behind the cab can bend over to grip 3mm rods above the door windows, but the angle is just a tiny bit off. If they were moved just a smidgen so the figure cold grip on for dear life this would be the greatest car of the year. Heck, it still pretty much is, I doubt Mattel has anything else this amazingly fun up their sleeve for the remainder of 2013.
Some of the figures which can fit on the studs include: Minimates, LEGO figures, Kre-O figures, and even Hasbro's Fighter Pods.
Go out and grab any cheap LEGO polybagged set (with a figure) or blind-packed minifigure and this car. I review lots of toys - tons - but this one is easily the most fun I've had in 2013, particularly for the dollars-to-fun ratio. It's $1. It's fun. I've tried, and short of a freak clearance find you will never find anything else quite like this.
--Adam Pawlus
Additional Images


Click here to see more Mattel figures in Figure of the Day.

See more Hot Wheels in Figure of the Day:
Day 670: Mattel Hot Wheels Fig Rig Car
Day 675: Mattel Hot Wheels Star Trek U.S.S. Enterprise
Day 685: Mattel Hot Wheels Batmobile (Tim Burton, 2013)
Day 708: Mattel Hot Wheels Batman Live Batmobile
Day 718: Mattel Hot Wheels T-Rextroyer Die-Cast Metal Vehicle
Day 727: Mattel Hot Wheels Ratmobile (White) Die-Cast Metal Vehicle
Day 742: Mattel Hot Wheels Batcopter Die-Cast Metal Vehicle
Day 750: Mattel Hot Wheels Arachnorod
Day 770: Mattel Hot Wheels The Jetsons Capsule Car
Day 779: Mattel Hot Wheels Hiway Hauler
Day 786: Mattel Hot Wheels Speed-A-Saurus
Day 797: Mattel Hot Wheels Express Lane
Day 803: Mattel Hot Wheels Zombot
Day 817: Mattel Hot Wheels Scooby-Doo The Mystery Machine
Day 845: Mattel Hot Wheels Carbonator
Day 1,060: Mattel Hot Wheels Skate Punk
Day 1,116: Mattel Hot Wheels Let's Go
Day 1,157: Mattel Hot Wheels The Homer
Day 1,290: Mattel Hot Wheels Back to the Future Time Machine - Hover Mode
Day 1,321: Mattel Hot Wheels Loopster
Day 1,334: Mattel Hot Wheels Nintendo Cool-One (Super Mario)
Day 1,366: Mattel Hot Wheels Mars Rover Curiosity
Day 1,383: Mattel Hot Wheels Dawn of Justice Batmobile
Day 1.532: Mattel Hot Wheels Minecraft Mine Cart Die-Cast Metal Vehicle
Day 1.533: Mattel Hot Wheels Tankinator Die-Cast Metal Vehicle
Day 1,716: Mattel Hot Wheels Roller Toaster
Day 1,740: Mattel Hot Wheels Motosaurus
Day 1,768: Mattel Hot Wheels Aisle Driver
Day 1,831: Mattel Hot Wheels Radio Flyer Wagon
Day 1,873: Mattel Hot Wheels Glow Wheels Loopster
Day 2,284: Mattel Hot Wheels Screen Time Teenage Mutant Ninja Turtles Party Wagon
Day 2,316: Sonic Hot Wheels Monster Trucks Scorpion Special Glow Edition Action Figure
Day 2,319: Mattel Hot Wheels Glow Racers Lindster Prototype
Day 2,337: Mattel Hot Wheels Tooned Pixel Shaker
Day 2,340: Mattel Hot Wheels HW Screen Time Standard Kart
Day 2,400: Mattel Hot Wheels Experimotors Custom Small Block


Want to buy this figure? Check Hot Wheels availability at our sponsors:
Entertainment Earth