Mattel Hot Wheels Mars Rover Curiosity
Mattel, 2016

Day #1,366: January 28, 2016
Mars Rover Curiosity
HW City - #71 / 250

Hot Wheels 2013 HW City Basic Cars
Item No.: Asst. L2593 No. BFC82
Manufacturer: Mattel
Includes: n/a
Action Feature: Rolling wheels
Retail: $1.00
Availability: ca. November 2013
Other: Brown wheel variant

PREVIOUS
RSS
NEXT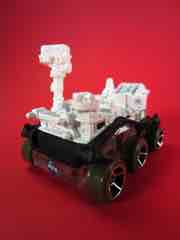 While I was out hunting for stuff a few years ago I found a bin packed with the Mars Rover Curiosity. I'm glad it was on a good hunt, because if you've ever waited in line at the ChrisTown Walmart, you know that waiting for a single car - especially on a weeknight - is a long process that will make you reconsider just how badly you want the toy you just found. I've left more than a few behind in hopes of finding it somewhere else later with a lesser wait on more than one evening.
While most cars from Hot Wheels function pretty much the same, this is one of those fun exceptions. It sports six rolling wheels with a rotating ChemCam with a ton of other bits and pieces that don't quite move - but they're present. The die-cast metal chassis is painted white with gold and black and silver trimmings, while each wheel is sort of a little brown or rusty - kind of like the Mars soil.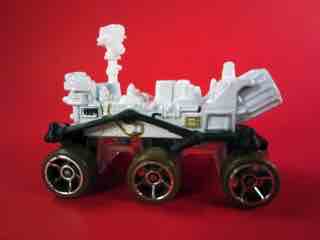 The paint is good, and it rolls nicely. I have to admit, I wasn't expecting all six wheels to roll well. Mattel's engineers tend to do a great job on these toys, as the bulk of them seem to be designed to work with their various playsets and tracks - wheels on other toys I buy don't always move so well.
The added bonus of the paint job on this figure? NASA tampo up front. Not only is it sharp, it's nice to see a real "space toy" for kids. Sure, we've got Star Wars but this is some real space stuff right here. And somehow, it can also drive real fast. Hey, I'm OK with that.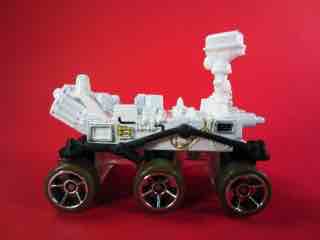 One of the things I find really exciting about Hot Wheels is how they can find new ways to play with the format. Toy-sized real-world cars make for a fun collectible and a decent toy, but how do you go beyond that? Creature cars, TV cars, and now interplanetary science labs can make for a great toy for a buck, especially since this format's low cost cracks open the door to some low-level experimentation. If you see it cheap, get one. It's neat!
--Adam Pawlus
Additional Images


Click here to see more Mattel figures in Figure of the Day.

See more Hot Wheels in Figure of the Day:
Day 670: Mattel Hot Wheels Fig Rig Car
Day 675: Mattel Hot Wheels Star Trek U.S.S. Enterprise
Day 685: Mattel Hot Wheels Batmobile (Tim Burton, 2013)
Day 708: Mattel Hot Wheels Batman Live Batmobile
Day 718: Mattel Hot Wheels T-Rextroyer Die-Cast Metal Vehicle
Day 727: Mattel Hot Wheels Ratmobile (White) Die-Cast Metal Vehicle
Day 742: Mattel Hot Wheels Batcopter Die-Cast Metal Vehicle
Day 750: Mattel Hot Wheels Arachnorod
Day 770: Mattel Hot Wheels The Jetsons Capsule Car
Day 779: Mattel Hot Wheels Hiway Hauler
Day 786: Mattel Hot Wheels Speed-A-Saurus
Day 797: Mattel Hot Wheels Express Lane
Day 803: Mattel Hot Wheels Zombot
Day 817: Mattel Hot Wheels Scooby-Doo The Mystery Machine
Day 845: Mattel Hot Wheels Carbonator
Day 1,060: Mattel Hot Wheels Skate Punk
Day 1,116: Mattel Hot Wheels Let's Go
Day 1,157: Mattel Hot Wheels The Homer
Day 1,290: Mattel Hot Wheels Back to the Future Time Machine - Hover Mode
Day 1,321: Mattel Hot Wheels Loopster
Day 1,334: Mattel Hot Wheels Nintendo Cool-One (Super Mario)
Day 1,366: Mattel Hot Wheels Mars Rover Curiosity
Day 1,383: Mattel Hot Wheels Dawn of Justice Batmobile
Day 1.532: Mattel Hot Wheels Minecraft Mine Cart Die-Cast Metal Vehicle
Day 1.533: Mattel Hot Wheels Tankinator Die-Cast Metal Vehicle
Day 1,716: Mattel Hot Wheels Roller Toaster
Day 1,740: Mattel Hot Wheels Motosaurus
Day 1,768: Mattel Hot Wheels Aisle Driver
Day 1,831: Mattel Hot Wheels Radio Flyer Wagon
Day 1,873: Mattel Hot Wheels Glow Wheels Loopster
Day 2,284: Mattel Hot Wheels Screen Time Teenage Mutant Ninja Turtles Party Wagon
Day 2,316: Sonic Hot Wheels Monster Trucks Scorpion Special Glow Edition Action Figure
Day 2,319: Mattel Hot Wheels Glow Racers Lindster Prototype
Day 2,337: Mattel Hot Wheels Tooned Pixel Shaker
Day 2,340: Mattel Hot Wheels HW Screen Time Standard Kart
Day 2,400: Mattel Hot Wheels Experimotors Custom Small Block


Want to buy this figure? Check Hot Wheels availability at our sponsors:
Entertainment Earth