Mattel Hot Wheels Express Lane
Mattel, 1998

Day #797: November 22, 2013
Express Lane
First Edition

Hot Wheels 1998 First Editions
Item No.: Asst. ??? No. 18537
Manufacturer: Mattel
Includes: n/a
Action Feature: Rolls
Retail: $1.00
Availability: Late 1997/Early 1998
Other: Collector Number #678 / #37 of 40 Cars

PREVIOUS
RSS
NEXT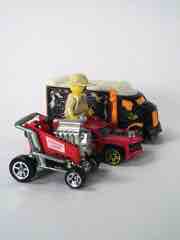 I am not posting Express Lane as some eBay find or something I just recently opened. No, I found this car from 1998 at a Kmart, going out of business, about a month and a half ago. I actually was eyeing it on eBay and while it's basically worthless (that's good!) shipping and handling is never free (that's bad.) It was also marked down, I got it and a couple of others for about seventy cents a pop. There were a few of each and I semi-regret not buying all of them so I could give it out as a Christmas present.
Made mostly of metal, the car has a red plastic chassis and a giant metal engine. If you collect mini-figures like OMFG or MUSCLE, it's roughly sized to match those.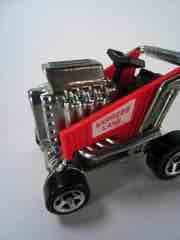 If you have a Glyos Noboto, he's right on the money. Express Lane's wheels roll freely and without too much friction compared to other recent cars I've bought. I didn't have any cars from the late 1990s before this one, and it feels significantly heavier than the bulk of my recent purchases. For a smaller vehicle, only 1 3/5-inches long, it's a lot denser.
Mattel gave it decent deco, but there's not a lot of paint here.
The red plastic is unpainted save for the words "EXPRESS LANE" on the sides and a "Hot Wheels" logo on what is basically the license plate spot. Given some of the wild designs of the late 1990s, I'm more than a little upset at myself for not having bought this back then - but my toy love was all on Star Wars back then, so it's not like I don't have a solid excuse.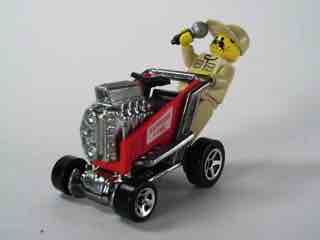 Due to the massive amount of metal, this weighty car seems like a perfect thing to fling across your desk to knock over other toys. If it flew off a Hot Wheels track, I bet you could really hurt someone with it. I'm hardly a hardcore collector of Mattel's seminal die-cast toy line, but I will say that this is one of my favorite cars that I've had the fortune to find at retail this year. If you can score one for $5 or less, buy it. It's fun, it's small, and again, I bet you could injure someone if you really tried.
--Adam Pawlus
Additional Images


Click here to see more Mattel figures in Figure of the Day.

See more Hot Wheels in Figure of the Day:
Day 670: Mattel Hot Wheels Fig Rig Car
Day 675: Mattel Hot Wheels Star Trek U.S.S. Enterprise
Day 685: Mattel Hot Wheels Batmobile (Tim Burton, 2013)
Day 708: Mattel Hot Wheels Batman Live Batmobile
Day 718: Mattel Hot Wheels T-Rextroyer Die-Cast Metal Vehicle
Day 727: Mattel Hot Wheels Ratmobile (White) Die-Cast Metal Vehicle
Day 742: Mattel Hot Wheels Batcopter Die-Cast Metal Vehicle
Day 750: Mattel Hot Wheels Arachnorod
Day 770: Mattel Hot Wheels The Jetsons Capsule Car
Day 779: Mattel Hot Wheels Hiway Hauler
Day 786: Mattel Hot Wheels Speed-A-Saurus
Day 797: Mattel Hot Wheels Express Lane
Day 803: Mattel Hot Wheels Zombot
Day 817: Mattel Hot Wheels Scooby-Doo The Mystery Machine
Day 845: Mattel Hot Wheels Carbonator
Day 1,060: Mattel Hot Wheels Skate Punk
Day 1,116: Mattel Hot Wheels Let's Go
Day 1,157: Mattel Hot Wheels The Homer
Day 1,290: Mattel Hot Wheels Back to the Future Time Machine - Hover Mode
Day 1,321: Mattel Hot Wheels Loopster
Day 1,334: Mattel Hot Wheels Nintendo Cool-One (Super Mario)
Day 1,366: Mattel Hot Wheels Mars Rover Curiosity
Day 1,383: Mattel Hot Wheels Dawn of Justice Batmobile
Day 1.532: Mattel Hot Wheels Minecraft Mine Cart Die-Cast Metal Vehicle
Day 1.533: Mattel Hot Wheels Tankinator Die-Cast Metal Vehicle
Day 1,716: Mattel Hot Wheels Roller Toaster
Day 1,740: Mattel Hot Wheels Motosaurus
Day 1,768: Mattel Hot Wheels Aisle Driver
Day 1,831: Mattel Hot Wheels Radio Flyer Wagon
Day 1,873: Mattel Hot Wheels Glow Wheels Loopster
Day 2,284: Mattel Hot Wheels Screen Time Teenage Mutant Ninja Turtles Party Wagon
Day 2,316: Sonic Hot Wheels Monster Trucks Scorpion Special Glow Edition Action Figure
Day 2,319: Mattel Hot Wheels Glow Racers Lindster Prototype
Day 2,337: Mattel Hot Wheels Tooned Pixel Shaker
Day 2,340: Mattel Hot Wheels HW Screen Time Standard Kart
Day 2,400: Mattel Hot Wheels Experimotors Custom Small Block


Want to buy this figure? Check Hot Wheels availability at our sponsors:
Entertainment Earth