Mattel Hot Wheels Speed-A-Saurus
Mattel, 1998

Day #786: November 7, 2013
Speed-A-Saurus
Turquoise

Hot Wheels 1998 Basic Cars
Item No.: Asst. ??? No. 19983
Manufacturer: Mattel
Includes: n/a
Action Feature: Rolls
Retail: $1.00
Availability: 1998
Other: #814

PREVIOUS
RSS
NEXT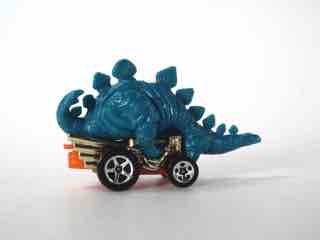 I had another stegosaurus toy set for today but I stumbled on a Speed-A-Saurus, 49 cents at an antique mall. Of course I'm going to post this first. (Also, fewer pictures means I have less work to do on a busy business trip week. I'm on another one as I post this.)
There's a lot of plastic here - the amorous dinosaur is a rubbery material, with the orange metal undercarriage being a heavier material. The gold chrome pipes are plastic, but a harder ABS. For the curious, the dinosaur has a red Hot Wheels logo stamped on its posterior, making it a tramp stamp before tramp stamps were popularized by girls, presumably going wild.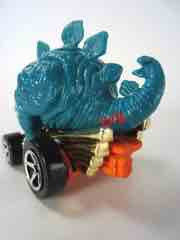 Designed by the great Larry Wood, this toy has been in circulation from 1995-2000 and is, like many cars (and Star Wars figures) of this era, largely worthless. The trick is to find one for sale in person because in this digital age, shipping is where you really waste your money. You can see on the Amazon link above that this guy is basically free - but it's not available via Prime or Super Saver Shipping or whatever, so it effectively increases the price to six or seven bucks. This is why it's still important to network with local collectors, particularly on low-dollar purchases. Or in my case, find a glass case at an antique mall run by someone not plagued with delusion as to what his wares were worth.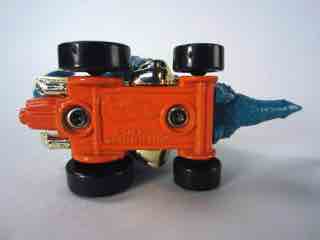 Variation hunters take note - the toy is also available in purple, grey, and multiple shades of green. The dinosaur's sculpt is actually quite good, on par with dino toys of his day and the detail of the final product is on par with numerous modern mini-figure lines. The final detail isn't as sharp as OMFG, but the amount of work in the sculpt is considerable and largely quite impressive. It's worth noting that the figure you see here is not broken - the actual design is missing a plate on his back, and his tail has only two spikes. Accuracy aside, it's still fantastic and fun.
I've been itching to get one of these for a while now so I'm super pumped to have found one for basically nothing, sans packaging. The wheels roll nicely for a used piece, so I assume a new one in the package must be twice as nice. Get it if you want, particularly if what you want is a dinosaur seemingly raping a freshly-crushed hot rod.
--Adam Pawlus
Additional Images


Click here to see more Mattel figures in Figure of the Day.

See more Hot Wheels in Figure of the Day:
Day 670: Mattel Hot Wheels Fig Rig Car
Day 675: Mattel Hot Wheels Star Trek U.S.S. Enterprise
Day 685: Mattel Hot Wheels Batmobile (Tim Burton, 2013)
Day 708: Mattel Hot Wheels Batman Live Batmobile
Day 718: Mattel Hot Wheels T-Rextroyer Die-Cast Metal Vehicle
Day 727: Mattel Hot Wheels Ratmobile (White) Die-Cast Metal Vehicle
Day 742: Mattel Hot Wheels Batcopter Die-Cast Metal Vehicle
Day 750: Mattel Hot Wheels Arachnorod
Day 770: Mattel Hot Wheels The Jetsons Capsule Car
Day 779: Mattel Hot Wheels Hiway Hauler
Day 786: Mattel Hot Wheels Speed-A-Saurus
Day 797: Mattel Hot Wheels Express Lane
Day 803: Mattel Hot Wheels Zombot
Day 817: Mattel Hot Wheels Scooby-Doo The Mystery Machine
Day 845: Mattel Hot Wheels Carbonator
Day 1,060: Mattel Hot Wheels Skate Punk
Day 1,116: Mattel Hot Wheels Let's Go
Day 1,157: Mattel Hot Wheels The Homer
Day 1,290: Mattel Hot Wheels Back to the Future Time Machine - Hover Mode
Day 1,321: Mattel Hot Wheels Loopster
Day 1,334: Mattel Hot Wheels Nintendo Cool-One (Super Mario)
Day 1,366: Mattel Hot Wheels Mars Rover Curiosity
Day 1,383: Mattel Hot Wheels Dawn of Justice Batmobile
Day 1.532: Mattel Hot Wheels Minecraft Mine Cart Die-Cast Metal Vehicle
Day 1.533: Mattel Hot Wheels Tankinator Die-Cast Metal Vehicle
Day 1,716: Mattel Hot Wheels Roller Toaster
Day 1,740: Mattel Hot Wheels Motosaurus
Day 1,768: Mattel Hot Wheels Aisle Driver
Day 1,831: Mattel Hot Wheels Radio Flyer Wagon
Day 1,873: Mattel Hot Wheels Glow Wheels Loopster
Day 2,284: Mattel Hot Wheels Screen Time Teenage Mutant Ninja Turtles Party Wagon
Day 2,316: Sonic Hot Wheels Monster Trucks Scorpion Special Glow Edition Action Figure
Day 2,319: Mattel Hot Wheels Glow Racers Lindster Prototype
Day 2,337: Mattel Hot Wheels Tooned Pixel Shaker
Day 2,340: Mattel Hot Wheels HW Screen Time Standard Kart
Day 2,400: Mattel Hot Wheels Experimotors Custom Small Block


Want to buy this figure? Check Hot Wheels availability at our sponsors:
Entertainment Earth