Mattel Hot Wheels The Homer
Mattel, 2015

Day #1,157: April 10, 2015
The Homer
Release #2 - Repack

Hot Wheels 2015 HW Race Basic Cars
Item No.: Asst. L2593 No. CFK18
Manufacturer: Mattel
Includes: n/a
Action Feature: Rolling wheels
Retail: $1.00
Availability: February 2015
Other: #56 / 250

PREVIOUS
RSS
NEXT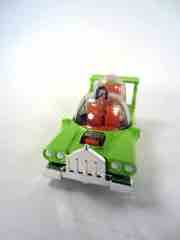 I think - but am not sure - that the 2015 version of The Homer is pretty much the 2014 one in a new package. Most other licensed cars come back with new wheels, or pinstriping, or some other notable change to the deco - this one looks the same as the previous $1 release. There's another fancy version for $3-$5 with better wheels and more paint, specifically on the domes - if you just want the best for the price, that's the one to get. But if you're cheap, this one should be good. I saw a ton of them at a Walmart and was shocked as I never saw the previous releases, so I snapped it up at the beginning of March when I saw it.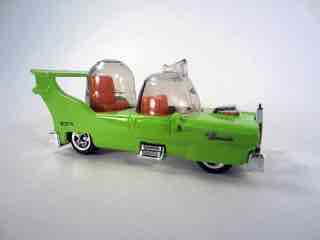 This is a pretty fantastic car for a buck - the same can be said of pretty much and vehicle in this line. You get three clear, unpainted looks at the interior - there's a big seat in the back, the driver's area, and a glimpse into the hood. The big horn on top of the roof is also cast in clear unfortunately, but it's hard for anything to ruin the piece given the price. After all, there's a wonderfully painted "The Homer" signature on each side as well as a "Hot Wheels" tampo stamped on the sides. The green paint is evenly applied all over the metal body, giving it a pretty wonderful look.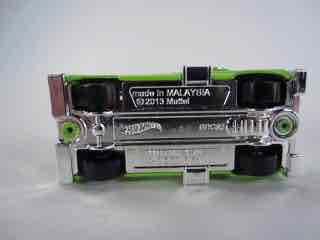 What's more, the grille, steps, rear bumper, and underside are all chromed plastic. The vehicle, first premiering in the episode "Oh Brother, Where Art Thou?" is actually less tacky than the on-screen design. The big antenna, bowling trophy hood ornament, and other additions which would be hard to replicate at this scale were left off. On one hand I can appreciate the need to do this for price point and gunking it up at the scale... and on the other I wouldn't have mind seeing the ugliest car of the year. I'm really glad Mattel decided to either reissue or redecorate the car because the mold is really fantastic. I don't think I need another redeco of it, but man, it's wonderful. Truly there is no better toy car for the average American.
--Adam Pawlus
Additional Images


Click here to see more Mattel figures in Figure of the Day.

See more Hot Wheels in Figure of the Day:
Day 670: Mattel Hot Wheels Fig Rig Car
Day 675: Mattel Hot Wheels Star Trek U.S.S. Enterprise
Day 685: Mattel Hot Wheels Batmobile (Tim Burton, 2013)
Day 708: Mattel Hot Wheels Batman Live Batmobile
Day 718: Mattel Hot Wheels T-Rextroyer Die-Cast Metal Vehicle
Day 727: Mattel Hot Wheels Ratmobile (White) Die-Cast Metal Vehicle
Day 742: Mattel Hot Wheels Batcopter Die-Cast Metal Vehicle
Day 750: Mattel Hot Wheels Arachnorod
Day 770: Mattel Hot Wheels The Jetsons Capsule Car
Day 779: Mattel Hot Wheels Hiway Hauler
Day 786: Mattel Hot Wheels Speed-A-Saurus
Day 797: Mattel Hot Wheels Express Lane
Day 803: Mattel Hot Wheels Zombot
Day 817: Mattel Hot Wheels Scooby-Doo The Mystery Machine
Day 845: Mattel Hot Wheels Carbonator
Day 1,060: Mattel Hot Wheels Skate Punk
Day 1,116: Mattel Hot Wheels Let's Go
Day 1,157: Mattel Hot Wheels The Homer
Day 1,290: Mattel Hot Wheels Back to the Future Time Machine - Hover Mode
Day 1,321: Mattel Hot Wheels Loopster
Day 1,334: Mattel Hot Wheels Nintendo Cool-One (Super Mario)
Day 1,366: Mattel Hot Wheels Mars Rover Curiosity
Day 1,383: Mattel Hot Wheels Dawn of Justice Batmobile
Day 1.532: Mattel Hot Wheels Minecraft Mine Cart Die-Cast Metal Vehicle
Day 1.533: Mattel Hot Wheels Tankinator Die-Cast Metal Vehicle
Day 1,716: Mattel Hot Wheels Roller Toaster
Day 1,740: Mattel Hot Wheels Motosaurus
Day 1,768: Mattel Hot Wheels Aisle Driver
Day 1,831: Mattel Hot Wheels Radio Flyer Wagon
Day 1,873: Mattel Hot Wheels Glow Wheels Loopster
Day 2,284: Mattel Hot Wheels Screen Time Teenage Mutant Ninja Turtles Party Wagon
Day 2,316: Sonic Hot Wheels Monster Trucks Scorpion Special Glow Edition Action Figure
Day 2,319: Mattel Hot Wheels Glow Racers Lindster Prototype
Day 2,337: Mattel Hot Wheels Tooned Pixel Shaker
Day 2,340: Mattel Hot Wheels HW Screen Time Standard Kart
Day 2,400: Mattel Hot Wheels Experimotors Custom Small Block


Want to buy this figure? Check Hot Wheels availability at our sponsors:
Entertainment Earth