Mattel Hot Wheels Hiway Hauler
Mattel, 2013

Day #779: October 29, 2013
Hiway Hauler
The Halloween Horror Show

Hot Wheels Kroger Exclusive Halloween Assortment
Item No.: Asst. W4066 No. Y2145
Manufacturer: Mattel
Includes: n/a
Action Feature: Rolls
Retail: $2.99
Availability: September 2013
Other: #5 of 5 Cars

PREVIOUS
RSS
NEXT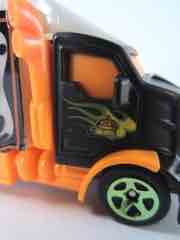 When I first saw Kroger's exclusive assortment of 2013 Halloween cars, I noticed one of the five was consistently missing. It took me a couple of weeks before I stumbled on a Hiway Hauler, which I snagged due to the large amount of glow-in-the-dark plastic on the back end of this thing. The other cars may be more thematically Halloweeny, but this one glows, and I like glowing.
This one is mostly plastic - there's some orange on the sides, grey on the bottom, and glow on the back. The black seems to be the piece's only metal elements, making it much lighter than it looks. If you spin the wheels, they don't keep spinning for very long - about 4 or 5 seconds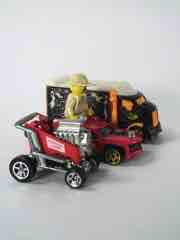 What makes this truck unique is its Halloween deco - black and orange, plus the glow-in-the-dark "Halloween Horror Show" paint job make it look really great, but it's worth noting that at least on my sample, the tampo is a little crooked. You might not notice, but it's hard to un-see once you see it.
There's also a tiny pumpkin sitting on top of a very small Hot Wheels logo on either door, which is obscured by a yellowish-green flame. It's pretty subtle, for being such a bright color on a black background.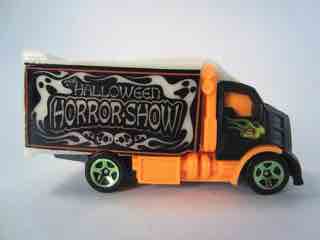 It's worth noting that the mold is actually the Hiway Hauler 2, which debuted in 2012, and not the Hiway Hauler as listed on the packaging. The more modern-looking truck has been released a few times so far, with a new version showing up in the 2014 packaging earlier this month. I don't think this one is worth the three bucks - but if you can get it for $2 on sale, or even less, it's certainly neat enough to be worth your while just to add one more glow-in-the-dark toy to your stash. If your stores still have it, go ahead and grab it.
--Adam Pawlus
Additional Images


Click here to see more Mattel figures in Figure of the Day.

See more Hot Wheels in Figure of the Day:
Day 670: Mattel Hot Wheels Fig Rig Car
Day 675: Mattel Hot Wheels Star Trek U.S.S. Enterprise
Day 685: Mattel Hot Wheels Batmobile (Tim Burton, 2013)
Day 708: Mattel Hot Wheels Batman Live Batmobile
Day 718: Mattel Hot Wheels T-Rextroyer Die-Cast Metal Vehicle
Day 727: Mattel Hot Wheels Ratmobile (White) Die-Cast Metal Vehicle
Day 742: Mattel Hot Wheels Batcopter Die-Cast Metal Vehicle
Day 750: Mattel Hot Wheels Arachnorod
Day 770: Mattel Hot Wheels The Jetsons Capsule Car
Day 779: Mattel Hot Wheels Hiway Hauler
Day 786: Mattel Hot Wheels Speed-A-Saurus
Day 797: Mattel Hot Wheels Express Lane
Day 803: Mattel Hot Wheels Zombot
Day 817: Mattel Hot Wheels Scooby-Doo The Mystery Machine
Day 845: Mattel Hot Wheels Carbonator
Day 1,060: Mattel Hot Wheels Skate Punk
Day 1,116: Mattel Hot Wheels Let's Go
Day 1,157: Mattel Hot Wheels The Homer
Day 1,290: Mattel Hot Wheels Back to the Future Time Machine - Hover Mode
Day 1,321: Mattel Hot Wheels Loopster
Day 1,334: Mattel Hot Wheels Nintendo Cool-One (Super Mario)
Day 1,366: Mattel Hot Wheels Mars Rover Curiosity
Day 1,383: Mattel Hot Wheels Dawn of Justice Batmobile
Day 1.532: Mattel Hot Wheels Minecraft Mine Cart Die-Cast Metal Vehicle
Day 1.533: Mattel Hot Wheels Tankinator Die-Cast Metal Vehicle
Day 1,716: Mattel Hot Wheels Roller Toaster
Day 1,740: Mattel Hot Wheels Motosaurus
Day 1,768: Mattel Hot Wheels Aisle Driver
Day 1,831: Mattel Hot Wheels Radio Flyer Wagon
Day 1,873: Mattel Hot Wheels Glow Wheels Loopster
Day 2,284: Mattel Hot Wheels Screen Time Teenage Mutant Ninja Turtles Party Wagon
Day 2,316: Sonic Hot Wheels Monster Trucks Scorpion Special Glow Edition Action Figure
Day 2,319: Mattel Hot Wheels Glow Racers Lindster Prototype
Day 2,337: Mattel Hot Wheels Tooned Pixel Shaker
Day 2,340: Mattel Hot Wheels HW Screen Time Standard Kart
Day 2,400: Mattel Hot Wheels Experimotors Custom Small Block


Want to buy this figure? Check Hot Wheels availability at our sponsors:
Entertainment Earth