Zombot
Stands or Rolls!

Hot Wheels 1991 Basic Cars
Item No.: Asst. ??? No. 4346
Manufacturer: Mattel
Includes: n/a
Action Feature: Rolls
Retail: $1.00
Availability: 1991 (or so says the cardback)
Other: #224

PREVIOUS
RSS
NEXT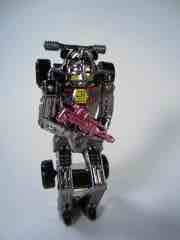 Now this was a solid idea. Part of what I've found to be delightful about Hot Wheels is just how much variety there is - one "car" is a kid on a skateboard, another was designed to be for LEGO figures, and another isn't so much a car as it is the U.S.S. Enterprise. I saw the oddly named Zombot online and have been itching to get one - I stumbled on one at an antique store for a buck, which is pretty much as awesome as a find can be if you collect these older toys short of being given them or stealing them. (Kids: do not steal.)
As usual, the bottom of the car is metal and the top is a silver chrome color that actually matches the unpainted metal quite closely. What's awesome about this car is that it "transforms" when you stand it up - it rolls like a car when the wheels are on the ground, with silver Ultra Hot wheels and a shiny pink gun when he stands in robot mode. There are red, yellow, and blue "robot" markings that look as if they would feel antiquated back when this sculpt debuted back in 1987, let alone in 1991 (or later) when it got reissued.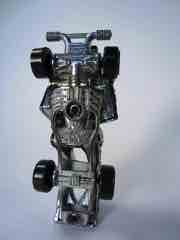 Designed by Larry Wood, this car is more than most toys. We've had a few "robot" cars, but this one is utterly charming. If you told me this guy was a background design on The Challenge of the Go-Bots or someone destroyed by ROM Space Knight I would believe you. Its bent arms and legs give him a bit of an action pose within the confines of the die-cast car footprint. It will still fit on your tracks, and it'll stand up on your desk at 3-inches tall. It's delightfully corny, but Hasbro has used the same "transformation" process in its own Transformers toy robot line.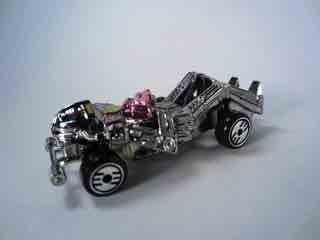 There are many variants of this figure in numerous colors, the last of which was released around 2008. I picked up this one because it was the cheapest one I saw, which tends to be the driving force of numerous decisions in my life.
Much like the Speed-a-Saurus last month, I give this one a strong recommentadtion because it is just so gosh darned charming. He's the same size as smaller figures like Pheyden from Glyos or an Imaginext guy, so it's a wonderful toy rather than just another realistic car. It's a ton of fun - it's a robot who can roll away in an instant, with no fidgeting. Hasbro did something similar with its quickly-swept-under-the-rug (after a couple of tries) line of die-cast Transformers RPMs, which could also had a robot mode - except they were a sculpted relief on the underside of the car. I like the Zombot a lot more, mostly because the robot has a lot more personality. This is one of my favorites.
--Adam Pawlus
Additional Images


Click here to see more Mattel figures in Figure of the Day.

See more Hot Wheels in Figure of the Day:
Day 670: Mattel Hot Wheels Fig Rig Car
Day 675: Mattel Hot Wheels Star Trek U.S.S. Enterprise
Day 685: Mattel Hot Wheels Batmobile (Tim Burton, 2013)
Day 708: Mattel Hot Wheels Batman Live Batmobile
Day 718: Mattel Hot Wheels T-Rextroyer Die-Cast Metal Vehicle
Day 727: Mattel Hot Wheels Ratmobile (White) Die-Cast Metal Vehicle
Day 742: Mattel Hot Wheels Batcopter Die-Cast Metal Vehicle
Day 750: Mattel Hot Wheels Arachnorod
Day 770: Mattel Hot Wheels The Jetsons Capsule Car
Day 779: Mattel Hot Wheels Hiway Hauler
Day 786: Mattel Hot Wheels Speed-A-Saurus
Day 797: Mattel Hot Wheels Express Lane
Day 803: Mattel Hot Wheels Zombot
Day 817: Mattel Hot Wheels Scooby-Doo The Mystery Machine
Day 845: Mattel Hot Wheels Carbonator
Day 1,060: Mattel Hot Wheels Skate Punk
Day 1,116: Mattel Hot Wheels Let's Go
Day 1,157: Mattel Hot Wheels The Homer
Day 1,290: Mattel Hot Wheels Back to the Future Time Machine - Hover Mode
Day 1,321: Mattel Hot Wheels Loopster
Day 1,334: Mattel Hot Wheels Nintendo Cool-One (Super Mario)
Day 1,366: Mattel Hot Wheels Mars Rover Curiosity
Day 1,383: Mattel Hot Wheels Dawn of Justice Batmobile
Day 1.532: Mattel Hot Wheels Minecraft Mine Cart Die-Cast Metal Vehicle
Day 1.533: Mattel Hot Wheels Tankinator Die-Cast Metal Vehicle
Day 1,716: Mattel Hot Wheels Roller Toaster
Day 1,740: Mattel Hot Wheels Motosaurus
Day 1,768: Mattel Hot Wheels Aisle Driver
Day 1,831: Mattel Hot Wheels Radio Flyer Wagon
Day 1,873: Mattel Hot Wheels Glow Wheels Loopster
Day 2,284: Mattel Hot Wheels Screen Time Teenage Mutant Ninja Turtles Party Wagon
Day 2,316: Sonic Hot Wheels Monster Trucks Scorpion Special Glow Edition Action Figure
Day 2,319: Mattel Hot Wheels Glow Racers Lindster Prototype
Day 2,337: Mattel Hot Wheels Tooned Pixel Shaker
Day 2,340: Mattel Hot Wheels HW Screen Time Standard Kart
Day 2,400: Mattel Hot Wheels Experimotors Custom Small Block


Want to buy this figure? Check Hot Wheels availability at our sponsors:
Entertainment Earth