Mattel Hot Wheels Ratmobile (White)
Mattel, 2013

Day #727: August 16, 2013
Ratmobile (White)
Vermining Up Your Collection Since 1988

Hot Wheels HW Imagination
Item No.: Asst. L2593 No. X1890
Manufacturer: Mattel
Includes: n/a
Action Feature: One of Many Ratmobiles
Retail: $1.00
Availability: 2013
Other: 054 / 250

PREVIOUS
RSS
NEXT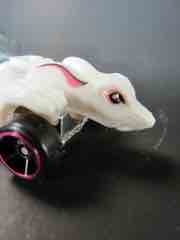 When living in Los Angeles, I saw a lot of stores that seemed designed specifically to cater to people who can't read. Do you like Domino's Pizza? You're going to love Domingo's Pizza. Do you enjoy shopping for groceries at Von's? Give Jon's a try. The Ratmobile (White) is one of a few cars being sold in 2013 that have a name that looks a lot like "Batmobile" on the pegs, and "Bad Raditude" might be confusing as well - of course, it also looks like a Batmobile.
Since its debut in 1988, the Ratmobile has been available with different wheels and in a few different colors - a 2011 release could even change color. In 2013, two versions are shipping - early in the year it was dark grey, and later it started showing up in white yet again, this time with some pretty nice ear, mouth, eye, and whisker paint. The first samples I saw had rotten paint jobs, but this one was dang near perfect. I'm sure some day in the future Mattel will augment this mold to include a pink tail or a painted nose, but for now this is great - particularly for a buck.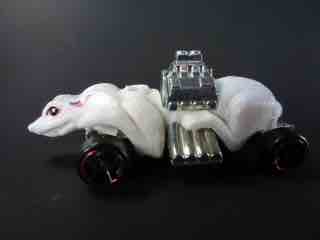 Like many of the fantastical creature cars, the rat has a metal undercarriage and wheels which tend to spin longer than most of his contemporaries on the pegs today. If you fire him out of a launcher, he tends to go far and smoothly - our sample didn't fly off the handle or veer off to the side. Most previous releases had silver or gold wheels, this one has metallic magenta on his rums. It looks pretty cool, and there's a driver's seat between the creature's head and the engine embedded in its spine. I'm not sure if this is supposed to be cool or cruel, but the fantastical beastly designs are appealing, fun, and no doubt infuriating to people who don't understand the need to have a toy rat with wheels to send flying across the house.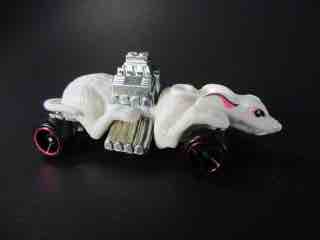 These kinds of cars are incredibly appealing to me, mostly because it showed just how wacky some of the designers - in this case, Larry Wood - could get with a 1:64 scale toy car. The late 1980s were loaded with particularly amazing and weird designs, many of which are still in production today with minimal changes. I would say some of the greatest signs of success in a toy line is when I see something and immediately say "I should get a few more to send to a friend of mine." It's so much fun, I want other people to have one, too.
--Adam Pawlus
Additional Images


Click here to see more Mattel figures in Figure of the Day.

See more Hot Wheels in Figure of the Day:
Day 670: Mattel Hot Wheels Fig Rig Car
Day 675: Mattel Hot Wheels Star Trek U.S.S. Enterprise
Day 685: Mattel Hot Wheels Batmobile (Tim Burton, 2013)
Day 708: Mattel Hot Wheels Batman Live Batmobile
Day 718: Mattel Hot Wheels T-Rextroyer Die-Cast Metal Vehicle
Day 727: Mattel Hot Wheels Ratmobile (White) Die-Cast Metal Vehicle
Day 742: Mattel Hot Wheels Batcopter Die-Cast Metal Vehicle
Day 750: Mattel Hot Wheels Arachnorod
Day 770: Mattel Hot Wheels The Jetsons Capsule Car
Day 779: Mattel Hot Wheels Hiway Hauler
Day 786: Mattel Hot Wheels Speed-A-Saurus
Day 797: Mattel Hot Wheels Express Lane
Day 803: Mattel Hot Wheels Zombot
Day 817: Mattel Hot Wheels Scooby-Doo The Mystery Machine
Day 845: Mattel Hot Wheels Carbonator
Day 1,060: Mattel Hot Wheels Skate Punk
Day 1,116: Mattel Hot Wheels Let's Go
Day 1,157: Mattel Hot Wheels The Homer
Day 1,290: Mattel Hot Wheels Back to the Future Time Machine - Hover Mode
Day 1,321: Mattel Hot Wheels Loopster
Day 1,334: Mattel Hot Wheels Nintendo Cool-One (Super Mario)
Day 1,366: Mattel Hot Wheels Mars Rover Curiosity
Day 1,383: Mattel Hot Wheels Dawn of Justice Batmobile
Day 1.532: Mattel Hot Wheels Minecraft Mine Cart Die-Cast Metal Vehicle
Day 1.533: Mattel Hot Wheels Tankinator Die-Cast Metal Vehicle
Day 1,716: Mattel Hot Wheels Roller Toaster
Day 1,740: Mattel Hot Wheels Motosaurus
Day 1,768: Mattel Hot Wheels Aisle Driver
Day 1,831: Mattel Hot Wheels Radio Flyer Wagon
Day 1,873: Mattel Hot Wheels Glow Wheels Loopster
Day 2,284: Mattel Hot Wheels Screen Time Teenage Mutant Ninja Turtles Party Wagon
Day 2,316: Sonic Hot Wheels Monster Trucks Scorpion Special Glow Edition Action Figure
Day 2,319: Mattel Hot Wheels Glow Racers Lindster Prototype
Day 2,337: Mattel Hot Wheels Tooned Pixel Shaker
Day 2,340: Mattel Hot Wheels HW Screen Time Standard Kart
Day 2,400: Mattel Hot Wheels Experimotors Custom Small Block


Want to buy this figure? Check Hot Wheels availability at our sponsors:
Entertainment Earth