World of Nintendo Metroid Samus Action Figure
Series 1-2

World of Nintendo 4-inch Scale Action Figures
Item No.: Asst. 68518 No. 83382
Manufacturer: Jakks Pacific
Includes: Maru Mari Samus (mystery accessory)
Action Feature: n/a
Retail: $9.99
Availability: February 2015
Other: From Metroid Prime 3

PREVIOUS
RSS
NEXT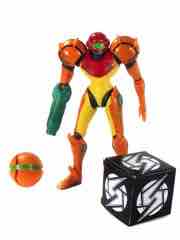 Warning/guarantee: I largely unabashedly love Metroid toys, and given the last couple were seemingly more marketed as collectibles this may be the first one sold into mass market toy stores in the USA since, uh, ever.
I hear this figure was showing up in February, but I've seen zero evidence of the wave with Metroid Samus (or just "Samus," as Aran doesn't appear on the packaging) in person until April. I'm getting lazy in my old age, and by that I mean I don't go hunting unless Hasbro is actively putting out stuff I need.
The line does a good job of more or less sticking to 3 3/4-inch scale, as Samus is taller than Link by most measurements and this figure is indeed a full head taller than the elfy green dude. At 4.6-inches tall, she's pretty bit and towers above most of my other 3 3/4-inch figures, but not all. As such, she's basically the right size to terrorize Joes or the ReAction Alien as a surrogate Ripley. The articulation is pretty good, showing that Jakks has a good handle on what makes a good collector figure but they still haven't quite nailed it. She sports 18 joints (if I'm feeling generous), with a couple of joints at the elbows and knees. The sculpting is clearly based off the Prime series with the deco seemingly coming from a 1990s-era model sheet in effectively the same colors as the Joyride figure from a million years ago. Only the greens feel different - everything else matches up very, very closely. It makes this item feel like more of a lost 1990s toy, which is good and bad. I can forgive a lot in the name of false nostalgia, but without the metallic sheen we've seen on Prime-era stuff the figure rings sort of false as authenticity goes. As I have a soft spot for weird glitch toys like Walrus Man from 1979, this figure scoots in that zone - it's a licensed product, and it's clearly approved by Nintendo's strict process, but that doesn't mean that it's correct.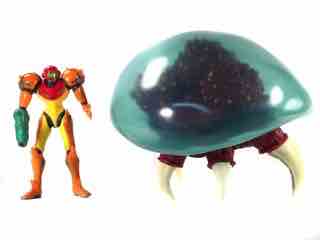 Once you get past the coloration situation, what you have is a very acceptable figure. It's a lot like Link, in that you can see they put a lot of work into putting together the best figure they could at the price. The found a good workaround to the big shoulder issue that Joyride didn't quite get right, and Samus can stand well. She can't sit for jack, and she was cheaper than the last one from 12 years ago. This one can be posed better than the last one, but not as well as the Figma - given the price, this is totally acceptable. I would have loved to be able to get some of her signature poses out of her, like her left hand covering her blaster arm as she aims and shoots a Zoomer or a Rio, but it doesn't quite work thanks to the shoulder and bicep joints being swivels. The ankles are swivel-only, the knees are about on par with Hasbro's bend-and-swivel knees on most Clone Troopers, and the elbows are as well. There are no wrist joints, like Link had, and Samus' hips have limited lateral hip movement. They did a pretty nice job here.
Her lone accessory is the morph ball, a.k.a. Maru Mari, a.k.a. the first thing you find in the game. It's hollow and I think molded in yellow plastic with orange paint - so it looks pretty good for being a hollow, hard plastic not-quite-a-ping-pong-ball. There's a green stripe down the equator with some red and green markings. It fits nicely with the look and feel of Samus, and seems a bit small, but I find myself wishing it was a harder, rubbery material like the super mushroom from Mario. (Or, you know, an enemy.) It's nicely designed and pretty simple, bringing a decent but not great figure to what can loosely be called complete.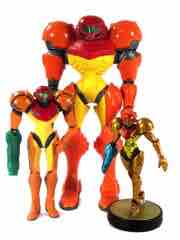 For the price, this is an amazing figure. These days you can't get a good figure in this size with more than five joints for under ten bucks, and this one is $9 at a lot of places (I paid $8 at Target.) Given the price point, she's good. Were this $15, I'd be chafing but for $9 or $10? This is almost too cheap, given the lack of product from the games. This figure doesn't have the quality of deco as the Amiibo, but it's cheaper and has moving parts. It's hard to not love it by default. Should Jakks Pacific produce different suited Samus figures from other games at this price, at roughly this quality level, I'd keep buying them all.
...but we need to talk about the packaging!
First, the box matches the Metroid creature in that it's a blueish, greenish color so it will immediately leap off the pegs, both visually and in terms of purchases, amidst the sea of red Mario-themed items. This sort of thing has worked wonders in other lines over the years, and most if not all of the non-Mario toys in this line just sell fast. Especially when it's obvious there's one in the back of the pegs, like these or the Zelda toys.
More interesting, though, is that the back of the packaging shows a completely different Samus figure. The helmet is clearly from the earlier NES/Super NES/GameBoy games, and the body is pretty close to the Metroid II illustrations. This mystery prototype has a very 1980s-looking helmet, extra knobs around the knees, and what may well be better ankle articulation - but it's hard to tell. I have to assume this was an earlier sample rejected by Nintendo or an accidental sneak peek at a refresh of Samus for down the road, and man, do I hope it is - I really like that alternative version! I'd gladly buy both, especially if the new version came with a new toy creature. Zoomers, Jakks. Get on that.
--Adam Pawlus
Additional Images

See more Jakks Pacific figures in Figure of the Day:
Day 471: Jakks Pacific S.L.U.G. Zombies Macho Mangler, Flesh-Eatin' Phil, Buck Wilde Minifigures 3-Pack
Day 503: Jakks Pacific S.L.U.G. Zombies Extra Crispy, Zero Hero, Riled-Up Riley Minifigures
Day 545: Jakks Pacific S.L.U.G. Zombies Hungry Humbug, Nutty Nate, Captain Payback Minifigures
Day 818: Jakks Pacific S.L.U.G. Zombies Ralph Reindead, Surprise Demise, Blazin' Basel Minifigures 3-Pack
Day 1,032: Jakks Pacific World of Nintendo Skyward Sword Link Action Figure
Day 1,125: Jakks Pacific World of Nintendo Metroid Action Figure
Day 1,162: Jakks Pacific World of Nintendo Metroid Samus Action Figure
Day 1,182: Jakks Pacific World of Nintendo Mario Action Figure
Day 1,186: Jakks Pacific World of Nintendo Luigi Action Figure
Day 1,320: Jakks Pacific World of Nintendo 8-Bit Link Action Figure
Day 1,336: Jakks Pacific World of Nintendo 8-Bit Luigi Action Figure
Day 1,341: Jakks Pacific World of Nintendo 8-Bit Donkey Kong Action Figure
Day 1,347: Jakks Pacific World of Nintendo ComicConBox.com Metallic Metroid Samus Action Figure
Day 1,349: Jakks Pacific World of Nintendo 8-Bit Mario Action Figure
Day 1,363: Jakks Pacific World of Nintendo Shy Guy Action Figure
Day 1,367: Jakks Pacific World of Nintendo Convention Exclusive Jakks Giants Link Action Figure
Day 1,369: Jakks Pacific World of Nintendo Jakks Giants Mario Action Figure
Day 1,380: Jakks Pacific World of Nintendo Tanooki Mario Action Figure
Day 1,398: Jakks Pacific World of Nintendo Boo Action Figure
Day 1,438: Jakks Pacific World of Nintendo Metroid Gravity Suit Samus Action Figure
Day 1,444: Jakks Pacific World of Nintendo 8-Bit Red Link Action Figure
Day 1,447: Jakks Pacific World of Nintendo 8-Bit Star Power Mario Action Figure
Day 1,454: Jakks Pacific World of Nintendo 8-Bit White Link Action Figure
Day 1,475: Jakks Pacific World of Nintendo Samus Mini Action Figure
Day 1,490: Jakks Pacific World of Nintendo 8-Bit Classic Mario Action Figure
Day 1,512: Jakks Pacific Batman v. Superman: Dawn of Justice Jokers Wild Batman
Day 1,537: Jakks Pacific World of Nintendo Metroid Action Figure
Day 1,624: Jakks Pacific World of Nintendo Blooper Action Figure
Day 1,647: Jakks Pacific World of Nintendo Metroid Phazon Suit Samus Action Figure
Day 1,652: Jakks Pacific World of Nintendo Goomba Action Figure
Day 1,668: Jakks Pacific World of Nintendo 8-Bit Toad Action Figure
Day 1,672: Jakks Pacific World of Nintendo Boo Glow Action Figure
Day 1,677: Jakks Pacific World of Nintendo 8-Bit Star Luigi Action Figure
Day 1,751: Jakks Pacific World of Nintendo 8-Bit Toad Variant Action Figure
Day 1,824: Jakks Pacific S.L.U.G. Zombies Gangrene Gene, Ferpcious Frankie, Johnson Minifigures 3-Pack
Day 1,863: Jakks Pacific S.L.U.G. Zombies Santa Claws, Eli the Expired Elf, Gator Jones Minifigures 3-Pack
Day 1,991: Jakks Pacific World of Nintendo 8-Bit Princess Peach Action Figure
Day 2,490: Jakks Pacific S.L.U.G. Zombies Frozen Fright, Johnny Hammer-stix, Buck Wilde Minifigures 3-Pack
Day 2,614: Jakks Pacific Metroid Samus

See more Nintendo figures in Figure of the Day:
Day 134: Applause Super Mario Bros. Super Mario with Koopa Troopa Action Figure
Day 369: Applause Zelda II: The Adventure of Link Link PVC Figure
Day 833: K'Nex Super Mario Blind-Bagged Series #2 Boo Action Figure
Day 926: Hasbro Pokemon Ash & Pikachu
Day 1,032: Jakks Pacific World of Nintendo Skyward Sword Link Action Figure
Day 1,083: Nintendo Super Smash Bros. Amiibo Samus Aran
Day 1,107: Nintendo Super Smash Bros. Amiibo Link
Day 1,125: Jakks Pacific World of Nintendo Metroid Action Figure
Day 1,162: Jakks Pacific World of Nintendo Metroid Samus Action Figure
Day 1,182: Jakks Pacific World of Nintendo Mario Action Figure
Day 1,186: Jakks Pacific World of Nintendo Luigi Action Figure
Day 1,280: Nintendo Super Mario Maker Classic Color Mario
Day 1,296: Nintendo Super Smash Bros. Amiibo Mega Man
Day 1,299: Nintendo Super Smash Bros. Zero Suit Samus
Day 1,320: Jakks Pacific World of Nintendo 8-Bit Link Action Figure
Day 1,335: Mattel Hot Wheels Nintendo Cool-One (Super Mario)
Day 1,336: Jakks Pacific World of Nintendo 8-Bit Luigi Action Figure
Day 1,341: Jakks Pacific World of Nintendo 8-Bit Donkey Kong Action Figure
Day 1,345: Nintendo Super Smash Bros. R.O.B., Mr. Game & Watch, and Duck Hunt
Day 1,347: Jakks Pacific World of Nintendo ComicConBox.com Metallic Metroid Samus Action Figure
Day 1,349: Jakks Pacific World of Nintendo 8-Bit Mario Action Figure
Day 1,363: Jakks Pacific World of Nintendo Shy Guy Action Figure
Day 1,367: Jakks Pacific World of Nintendo Convention Exclusive Jakks Giants Link Action Figure
Day 1,369: Jakks Pacific World of Nintendo Jakks Giants Mario Action Figure
Day 1,380: Jakks Pacific World of Nintendo Tanooki Mario Action Figure
Day 1,392: Toy Biz Video Game Super Stars Mario Kart 64 Mario Action Figure
Day 1,398: Jakks Pacific World of Nintendo Boo Action Figure
Day 1,404: Medicom Nintendo Series Legend of Zelda Link Ultra Detail Figure
Day 1,430: Sonic Drive-In Mario & Luigi Paper Jam Mario Figure
Day 1,433: Nintendo Shovel Knight Amiibo
Day 1,438: Jakks Pacific World of Nintendo Metroid Gravity Suit Samus Action Figure
Day 1,444: Jakks Pacific World of Nintendo 8-Bit Red Link Action Figure
Day 1,447: Jakks Pacific World of Nintendo 8-Bit Star Power Mario Action Figure
Day 1,454: Jakks Pacific World of Nintendo 8-Bit White Link Action Figure
Day 1,475: Jakks Pacific World of Nintendo Samus Mini Action Figure
Day 1,490: Jakks Pacific World of Nintendo 8-Bit Classic Mario Action Figure
Day 1,537: Jakks Pacific World of Nintendo Metroid Action Figure
Day 1,568: Good Smile Company The Legend of Zelda: A Link Between Worlds Link Deluxe Action Figure
Day 1,599: Nintendo Toad Amiibo
Day 1,601: The Octavirate Forge Shapeways NES Inspired Zapper Gun 5mm Grip
Day 1,605: Nintendo The Legend of Zelda Link Amiibo
Day 1,624: Jakks Pacific World of Nintendo Blooper Action Figure
Day 1,647: Jakks Pacific World of Nintendo Metroid Phazon Suit Samus Action Figure
Day 1,649: Nintendo Super Smash Bros. Little Mac Amiibo
Day 1,652: Jakks Pacific World of Nintendo Goomba Action Figure
Day 1,668: Jakks Pacific World of Nintendo 8-Bit Toad Action Figure
Day 1,672: Jakks Pacific World of Nintendo Boo Glow Action Figure
Day 1,677: Jakks Pacific World of Nintendo 8-Bit Star Luigi Action Figure
Day 1,691: Nintendo Super Smash Bros. Zelda Amiibo
Day 1,733: Nintendo Super Smash Bros. Wii Fitness Trainer Amiibo
Day 1,751: Jakks Pacific World of Nintendo 8-Bit Toad Variant Action Figure
Day 1,795: Nintendo Super Mario Boo Amiibo
Day 1,811: Hasbro Nintendo Diddy Kong Monopoly Gamer Power Pack
Day 1,812: Nintendo Metroid Samus Aran and Metroid Amiibo
Day 1,823: Hasbro Nintendo Boo Monopoly Gamer Power Pack
Day 1,843: Hasbro Nintendo Luigi Monopoly Gamer Power Pack
Day 1,858: Hasbro Nintendo Wario Monopoly Gamer Power Pack
Day 1,896: Good Smile Company Metroid Prime 3: Corruption Samus Aran Action Figure
Day 1,897: Hasbro Nintendo Fire Mario Monopoly Gamer Power Pack
Day 1,991: Jakks Pacific World of Nintendo 8-Bit Princess Peach Action Figure
Day 2,068: Nintendo Super Smash Bros. Ridley Amiibo
Day 2,159: The Legend of Zelda: Link's Awakening Amiibo Link
Day 2,170: Nintendo Super Smash Bros. Simon Amiibo
Day 2,340: Mattel Hot Wheels HW Screen Time Standard Kart
Day 2,361: Nintendo Metroid Dread Samus Aran and E.M.M.I. Amiibo
Day 2,614: Jakks Pacific Metroid Samus