Link
Inspired By The Legend of Zelda: Skyward Sword

Super Smash Bros. Amiibo Wave 1 Amiibo
Item No.: No. NVL C AAAE USZ
Manufacturer: Nintendo
Includes: n/a
Action Feature: Works with Super Smash Bros. Wii U/3DS, Mario Kart 8, Hyrule Warriors
Retail: $13.99
Availability: November 2014
Other: Pretty neat

PREVIOUS
RSS
NEXT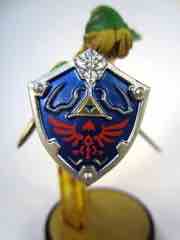 The Super Smash Bros. Amiibo concept is a thing that I like. For years I've been pestering licensors that someone needs to make Smash Bros. toys, and I didn't expect that non-poseable interactive statues would be how we got Link and his friends from this combat series. Taking a cue from Skyward Sword, this dynamically-posed, non-articulated figure is nicely designed but doesn't actually do anything.
The 3 3/4-inch figure (including the base) is a bit smaller, and more expensive, than the Jakks Pacific counterpart. To be honest, if you don't have a Wii U or 3DS you ought to just get that figure instead - it does things, it can be played with. The Amiibo's statue-like sensibility makes for a good sturdy display piece, though. Unfortunately, the head looks down and he's in this ridiculously specific combat pose. The head paint on the Amiibo is good, but the flesh color in the face does a good job of sucking out all the detail.
I bought a couple of Amiibo figures and later got a Wii U when they were on sale, and while I didn't yet get Smash Bros. I found you can scan this figure in Mario Kart 8 to get a new outfit for a Mii racer. The figure is meant to serve as a leveling-up attack in Smash Bros. but it also works as a sort of a DLC delivery mechanism in other games - and I completely, totally approve of this. I love the idea, because the figure acts as a "backup" to unlocking the item later (as needed) and you can also loan a buddy the figure and in some games, it permanently unlocks the item. I don't have to swipe the figure every time I want to dress up as Link in Mario Kart 8.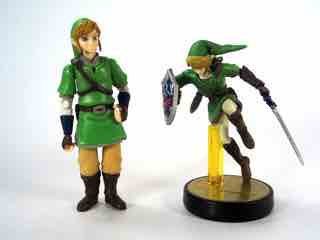 The figure is largely molded in color, with a little bit of deco. I assume this keeps costs down, plus makes it harder to rub paint off several parts. The Master Sword is painted silver, but the hilt is largely blue and somewhat bland. The shield looks a bit more colorful on the Jakks figure than the Amiibo, and while this is a fun little figure it's worth noting there are many other Link figures to buy if you aren't needing the Amiibo functionality. A Figma figure brings you tons of detail, accessories, and articulation. The Jakks figure is, overall, quite good - lots of articulation and gear for the price. And if you go back, there are quite a few collectible figures dating back to the NES days. This is a neat figure and it's rare to see a media company/content provider also produce their own collectible figures, so you know it's going to be decent at the worst.
If you have a Wii U, you're probably going to benefit from this figure as it delivers you in-game items going forward. If not, I wouldn't make this your first pick - it's a wonderful desk accessory and the display base keeps it upright, but you'll never see his face unless he's displayed above your eyeline. I love the idea of the Amiibo as a sort of a complete collectible line of figures, but the distribution seems to make it difficult to get everything. As a one-off it's sort of a dud, but as part of a larger set it's a dynamic figure that really stands out on a shelf. I realize this isn't helpful but hey, you've probably already made a decision on this one anyway and if not, get Toon Link later on.
--Adam Pawlus
Additional Images


See more Amiibo figures in Figure of the Day:
Day 1,083: Nintendo Super Smash Bros. Amiibo Samus Aran
Day 1,107: Nintendo Super Smash Bros. Amiibo Link
Day 1,280: Nintendo Super Mario Maker Classic Color Mario
Day 1,296: Nintendo Super Smash Bros. Amiibo Mega Man
Day 1,299: Nintendo Super Smash Bros. Zero Suit Samus
Day 1,345: Nintendo Super Smash Bros. R.O.B., Mr. Game & Watch, and Duck Hunt
Day 1,433: Nintendo Shovel Knight Amiibo
Day 1,599: Nintendo Toad Amiibo
Day 1,605: Nintendo The Legend of Zelda Link Amiibo
Day 1,649: Nintendo Super Smash Bros. Little Mac Amiibo
Day 1,691: Nintendo Super Smash Bros. Zelda Amiibo
Day 1,733: Nintendo Super Smash Bros. Wii Fitness Trainer Amiibo
Day 1,795: Nintendo Super Mario Boo Amiibo
Day 1,812: Nintendo Metroid Samus Aran and Metroid Amiibo
Day 2,068: Nintendo Super Smash Bros. Ridley Amiibo
Day 2,159: The Legend of Zelda: Link's Awakening Amiibo Link
Day 2,170: Nintendo Super Smash Bros. Simon Amiibo
Day 2,361: Nintendo Metroid Dread Samus Aran and E.M.M.I. Amiibo

See more Nintendo figures in Figure of the Day:
Day 134: Applause Super Mario Bros. Super Mario with Koopa Troopa Action Figure
Day 369: Applause Zelda II: The Adventure of Link Link PVC Figure
Day 833: K'Nex Super Mario Blind-Bagged Series #2 Boo Action Figure
Day 926: Hasbro Pokemon Ash & Pikachu
Day 1,032: Jakks Pacific World of Nintendo Skyward Sword Link Action Figure
Day 1,083: Nintendo Super Smash Bros. Amiibo Samus Aran
Day 1,107: Nintendo Super Smash Bros. Amiibo Link
Day 1,125: Jakks Pacific World of Nintendo Metroid Action Figure
Day 1,162: Jakks Pacific World of Nintendo Metroid Samus Action Figure
Day 1,182: Jakks Pacific World of Nintendo Mario Action Figure
Day 1,186: Jakks Pacific World of Nintendo Luigi Action Figure
Day 1,280: Nintendo Super Mario Maker Classic Color Mario
Day 1,296: Nintendo Super Smash Bros. Amiibo Mega Man
Day 1,299: Nintendo Super Smash Bros. Zero Suit Samus
Day 1,320: Jakks Pacific World of Nintendo 8-Bit Link Action Figure
Day 1,335: Mattel Hot Wheels Nintendo Cool-One (Super Mario)
Day 1,336: Jakks Pacific World of Nintendo 8-Bit Luigi Action Figure
Day 1,341: Jakks Pacific World of Nintendo 8-Bit Donkey Kong Action Figure
Day 1,345: Nintendo Super Smash Bros. R.O.B., Mr. Game & Watch, and Duck Hunt
Day 1,347: Jakks Pacific World of Nintendo ComicConBox.com Metallic Metroid Samus Action Figure
Day 1,349: Jakks Pacific World of Nintendo 8-Bit Mario Action Figure
Day 1,363: Jakks Pacific World of Nintendo Shy Guy Action Figure
Day 1,367: Jakks Pacific World of Nintendo Convention Exclusive Jakks Giants Link Action Figure
Day 1,369: Jakks Pacific World of Nintendo Jakks Giants Mario Action Figure
Day 1,380: Jakks Pacific World of Nintendo Tanooki Mario Action Figure
Day 1,392: Toy Biz Video Game Super Stars Mario Kart 64 Mario Action Figure
Day 1,398: Jakks Pacific World of Nintendo Boo Action Figure
Day 1,404: Medicom Nintendo Series Legend of Zelda Link Ultra Detail Figure
Day 1,430: Sonic Drive-In Mario & Luigi Paper Jam Mario Figure
Day 1,433: Nintendo Shovel Knight Amiibo
Day 1,438: Jakks Pacific World of Nintendo Metroid Gravity Suit Samus Action Figure
Day 1,444: Jakks Pacific World of Nintendo 8-Bit Red Link Action Figure
Day 1,447: Jakks Pacific World of Nintendo 8-Bit Star Power Mario Action Figure
Day 1,454: Jakks Pacific World of Nintendo 8-Bit White Link Action Figure
Day 1,475: Jakks Pacific World of Nintendo Samus Mini Action Figure
Day 1,490: Jakks Pacific World of Nintendo 8-Bit Classic Mario Action Figure
Day 1,537: Jakks Pacific World of Nintendo Metroid Action Figure
Day 1,568: Good Smile Company The Legend of Zelda: A Link Between Worlds Link Deluxe Action Figure
Day 1,599: Nintendo Toad Amiibo
Day 1,601: The Octavirate Forge Shapeways NES Inspired Zapper Gun 5mm Grip
Day 1,605: Nintendo The Legend of Zelda Link Amiibo
Day 1,624: Jakks Pacific World of Nintendo Blooper Action Figure
Day 1,647: Jakks Pacific World of Nintendo Metroid Phazon Suit Samus Action Figure
Day 1,649: Nintendo Super Smash Bros. Little Mac Amiibo
Day 1,652: Jakks Pacific World of Nintendo Goomba Action Figure
Day 1,668: Jakks Pacific World of Nintendo 8-Bit Toad Action Figure
Day 1,672: Jakks Pacific World of Nintendo Boo Glow Action Figure
Day 1,677: Jakks Pacific World of Nintendo 8-Bit Star Luigi Action Figure
Day 1,691: Nintendo Super Smash Bros. Zelda Amiibo
Day 1,733: Nintendo Super Smash Bros. Wii Fitness Trainer Amiibo
Day 1,751: Jakks Pacific World of Nintendo 8-Bit Toad Variant Action Figure
Day 1,795: Nintendo Super Mario Boo Amiibo
Day 1,811: Hasbro Nintendo Diddy Kong Monopoly Gamer Power Pack
Day 1,812: Nintendo Metroid Samus Aran and Metroid Amiibo
Day 1,823: Hasbro Nintendo Boo Monopoly Gamer Power Pack
Day 1,843: Hasbro Nintendo Luigi Monopoly Gamer Power Pack
Day 1,858: Hasbro Nintendo Wario Monopoly Gamer Power Pack
Day 1,896: Good Smile Company Metroid Prime 3: Corruption Samus Aran Action Figure
Day 1,897: Hasbro Nintendo Fire Mario Monopoly Gamer Power Pack
Day 1,991: Jakks Pacific World of Nintendo 8-Bit Princess Peach Action Figure
Day 2,068: Nintendo Super Smash Bros. Ridley Amiibo
Day 2,159: The Legend of Zelda: Link's Awakening Amiibo Link
Day 2,170: Nintendo Super Smash Bros. Simon Amiibo
Day 2,340: Mattel Hot Wheels HW Screen Time Standard Kart
Day 2,361: Nintendo Metroid Dread Samus Aran and E.M.M.I. Amiibo
Day 2,614: Jakks Pacific Metroid Samus

Want to buy this figure? Check Star Trek availability at our sponsors:
Entertainment Earth