Super Smash Bros. Little Mac
Punch Out!!, It's Not

Super Smash Bros. Amiibo Wave 3 Amiibo
Item No.: No. NVL C AAAR USZ
Manufacturer: Nintendo
Includes: n/a
Action Feature: Works with Super Smash Bros. and a lot of other stuff
Retail: $13.99
Availability: December 2014
Other: Formerly Scarce

PREVIOUS
RSS
NEXT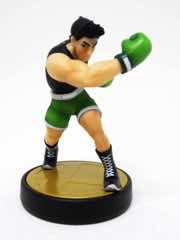 The Super Smash Bros. Little Mac Amiibo has sat packaged in my photo room for over two years. I bought it because I wanted a figure from the Punch Out!! games, but it stayed packaged because I didn't know if there would be other Amiibo figures I'd want more that I might need to trade to get. Two years out it seems silly how Amiibo-crazed people were for so long, but some of these are impossible to find in retail stores but can be bought online cheaply. Especially if you want the Japanese ones.
Complete with his golden base, Little Mac is indeed little. With his base, he stands about 2 3/4-inches tall and has no articulation.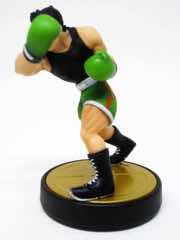 What's interesting here is how he was made - you can see that he's largely molded in color with limited paint applications. The green hands? Green plastic. The pale flesh? Molded in flesh. Mike Tyson's tiny nemesis has white and silver highlights plus a painted face, but is surprisingly largely squirted out in color. Most action figures are one to three colors of plastic with loads of paint. The reason you want your figures to be molded in color is that they generally hold up better to wear and tear. If a figure's hair is painted, the paint can be rubbed off. If it's molded in that color, it remains the correct color if worn down.
This largely works well - the classic challenge of having white details show up bright against a dark color plastic remains, with shoelaces that are cleanly painted but not as vibrant as one might have hoped. The face is painted well, although the kind of plastic used for his flesh has a tiny bit of a translucent quality that sucks some of the detail out of his small nose and mouth.
In Super Smash Bros. Wii U, Little Mac has multiple costumes in various colors, although this one matches how he looked in the first few matches of the original NES Punch Out!! and Mike Tyson's Punch Out!! games.
The Amiibo line was cool because it is, on some level, the Nintendo collector figure line that nobody could get approval to make. There are very few Little Mac products out there - some trophies from Mattel and an Applause! PVC figure come to mind - so something like this was kind of a big deal when it first hit. We may never get Mike Tyson for licensing reasons, or King Hippo due to the world being unfair, but this is something. It stands nicely, was painted well, and is indeed little. I'd say snag it if you see it, mostly because it's one of very few collectibles from one of the most popular video games of the 1980s.
--Adam Pawlus
Additional Images


See more Amiibo figures in Figure of the Day:
Day 1,083: Nintendo Super Smash Bros. Amiibo Samus Aran
Day 1,107: Nintendo Super Smash Bros. Amiibo Link
Day 1,280: Nintendo Super Mario Maker Classic Color Mario
Day 1,296: Nintendo Super Smash Bros. Amiibo Mega Man
Day 1,299: Nintendo Super Smash Bros. Zero Suit Samus
Day 1,345: Nintendo Super Smash Bros. R.O.B., Mr. Game & Watch, and Duck Hunt
Day 1,433: Nintendo Shovel Knight Amiibo
Day 1,599: Nintendo Toad Amiibo
Day 1,605: Nintendo The Legend of Zelda Link Amiibo
Day 1,649: Nintendo Super Smash Bros. Little Mac Amiibo
Day 1,691: Nintendo Super Smash Bros. Zelda Amiibo
Day 1,733: Nintendo Super Smash Bros. Wii Fitness Trainer Amiibo
Day 1,795: Nintendo Super Mario Boo Amiibo
Day 1,812: Nintendo Metroid Samus Aran and Metroid Amiibo
Day 2,068: Nintendo Super Smash Bros. Ridley Amiibo
Day 2,159: The Legend of Zelda: Link's Awakening Amiibo Link
Day 2,170: Nintendo Super Smash Bros. Simon Amiibo
Day 2,361: Nintendo Metroid Dread Samus Aran and E.M.M.I. Amiibo

See more Nintendo figures in Figure of the Day:
Day 134: Applause Super Mario Bros. Super Mario with Koopa Troopa Action Figure
Day 369: Applause Zelda II: The Adventure of Link Link PVC Figure
Day 833: K'Nex Super Mario Blind-Bagged Series #2 Boo Action Figure
Day 926: Hasbro Pokemon Ash & Pikachu
Day 1,032: Jakks Pacific World of Nintendo Skyward Sword Link Action Figure
Day 1,083: Nintendo Super Smash Bros. Amiibo Samus Aran
Day 1,107: Nintendo Super Smash Bros. Amiibo Link
Day 1,125: Jakks Pacific World of Nintendo Metroid Action Figure
Day 1,162: Jakks Pacific World of Nintendo Metroid Samus Action Figure
Day 1,182: Jakks Pacific World of Nintendo Mario Action Figure
Day 1,186: Jakks Pacific World of Nintendo Luigi Action Figure
Day 1,280: Nintendo Super Mario Maker Classic Color Mario
Day 1,296: Nintendo Super Smash Bros. Amiibo Mega Man
Day 1,299: Nintendo Super Smash Bros. Zero Suit Samus
Day 1,320: Jakks Pacific World of Nintendo 8-Bit Link Action Figure
Day 1,335: Mattel Hot Wheels Nintendo Cool-One (Super Mario)
Day 1,336: Jakks Pacific World of Nintendo 8-Bit Luigi Action Figure
Day 1,341: Jakks Pacific World of Nintendo 8-Bit Donkey Kong Action Figure
Day 1,345: Nintendo Super Smash Bros. R.O.B., Mr. Game & Watch, and Duck Hunt
Day 1,347: Jakks Pacific World of Nintendo ComicConBox.com Metallic Metroid Samus Action Figure
Day 1,349: Jakks Pacific World of Nintendo 8-Bit Mario Action Figure
Day 1,363: Jakks Pacific World of Nintendo Shy Guy Action Figure
Day 1,367: Jakks Pacific World of Nintendo Convention Exclusive Jakks Giants Link Action Figure
Day 1,369: Jakks Pacific World of Nintendo Jakks Giants Mario Action Figure
Day 1,380: Jakks Pacific World of Nintendo Tanooki Mario Action Figure
Day 1,392: Toy Biz Video Game Super Stars Mario Kart 64 Mario Action Figure
Day 1,398: Jakks Pacific World of Nintendo Boo Action Figure
Day 1,404: Medicom Nintendo Series Legend of Zelda Link Ultra Detail Figure
Day 1,430: Sonic Drive-In Mario & Luigi Paper Jam Mario Figure
Day 1,433: Nintendo Shovel Knight Amiibo
Day 1,438: Jakks Pacific World of Nintendo Metroid Gravity Suit Samus Action Figure
Day 1,444: Jakks Pacific World of Nintendo 8-Bit Red Link Action Figure
Day 1,447: Jakks Pacific World of Nintendo 8-Bit Star Power Mario Action Figure
Day 1,454: Jakks Pacific World of Nintendo 8-Bit White Link Action Figure
Day 1,475: Jakks Pacific World of Nintendo Samus Mini Action Figure
Day 1,490: Jakks Pacific World of Nintendo 8-Bit Classic Mario Action Figure
Day 1,537: Jakks Pacific World of Nintendo Metroid Action Figure
Day 1,568: Good Smile Company The Legend of Zelda: A Link Between Worlds Link Deluxe Action Figure
Day 1,599: Nintendo Toad Amiibo
Day 1,601: The Octavirate Forge Shapeways NES Inspired Zapper Gun 5mm Grip
Day 1,605: Nintendo The Legend of Zelda Link Amiibo
Day 1,624: Jakks Pacific World of Nintendo Blooper Action Figure
Day 1,647: Jakks Pacific World of Nintendo Metroid Phazon Suit Samus Action Figure
Day 1,649: Nintendo Super Smash Bros. Little Mac Amiibo
Day 1,652: Jakks Pacific World of Nintendo Goomba Action Figure
Day 1,668: Jakks Pacific World of Nintendo 8-Bit Toad Action Figure
Day 1,672: Jakks Pacific World of Nintendo Boo Glow Action Figure
Day 1,677: Jakks Pacific World of Nintendo 8-Bit Star Luigi Action Figure
Day 1,691: Nintendo Super Smash Bros. Zelda Amiibo
Day 1,733: Nintendo Super Smash Bros. Wii Fitness Trainer Amiibo
Day 1,751: Jakks Pacific World of Nintendo 8-Bit Toad Variant Action Figure
Day 1,795: Nintendo Super Mario Boo Amiibo
Day 1,811: Hasbro Nintendo Diddy Kong Monopoly Gamer Power Pack
Day 1,812: Nintendo Metroid Samus Aran and Metroid Amiibo
Day 1,823: Hasbro Nintendo Boo Monopoly Gamer Power Pack
Day 1,843: Hasbro Nintendo Luigi Monopoly Gamer Power Pack
Day 1,858: Hasbro Nintendo Wario Monopoly Gamer Power Pack
Day 1,896: Good Smile Company Metroid Prime 3: Corruption Samus Aran Action Figure
Day 1,897: Hasbro Nintendo Fire Mario Monopoly Gamer Power Pack
Day 1,991: Jakks Pacific World of Nintendo 8-Bit Princess Peach Action Figure
Day 2,068: Nintendo Super Smash Bros. Ridley Amiibo
Day 2,159: The Legend of Zelda: Link's Awakening Amiibo Link
Day 2,170: Nintendo Super Smash Bros. Simon Amiibo
Day 2,340: Mattel Hot Wheels HW Screen Time Standard Kart
Day 2,361: Nintendo Metroid Dread Samus Aran and E.M.M.I. Amiibo
Day 2,614: Jakks Pacific Metroid Samus