Metroid Samus Aran and E.M.M.I.
Two Amiibo Figures for the Price of Two

Metroid Amiibo Wave 2 Amiibo
Item No.: No. NVL E AR2B USZ
Manufacturer: Nintendo
Includes: n/a
Action Feature: Works with Metroid: Dread and a lot of other games
Retail: $29.99
Availability: October 8, 2021
Other: Presumably still available

PREVIOUS
RSS
NEXT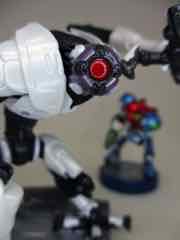 Since in-game functionality and general ease-of-finding Amiibo figures has been a hassle, I have really cut back on these - with exceptions like this one. The Metroid Dread Samus Aran and E.M.M.I. pairing was both something I could not resist and could not find in a store for over a month - eventually I bought mine online, and it seems to randomly go in and out of stock at the usual suspects.
As little statues, they're great. In Metroid Dread Samus unlocks a bonus energy tank (think DLC) as well as daily energy recharges. Meanwhile, sentry mechanoid GLADoS/General Grievous hybrid E.M.M.I. will net you a bonus missile tank and once-daily missile refills. Neither of these are essential to finishing the game, nor do they really add to the experience beyond offering a helping hand. The previous Samus Returns pair activated an in-game Metroid Detector, which is arguably a more useful tool. These just help give you a boost in a rough situation.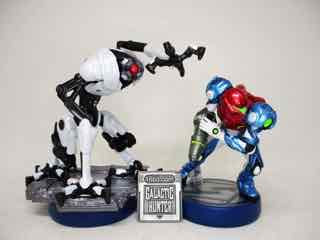 As the figures seem to come straight from Nintendo's own 3-D marketing assets, they look like the key package art. Samus Aran is seen in her post-Metroid Fusion suit with blue elements over a silver suit of armor, with red highlights on the head and torso. The base is blue, with her "S" symbol on it. The sculpting is sharp, with metallic red and blue augmented by bright green and yellow patches to indicate glowing energy. There's a clear block to keep her leg upright so she won't sag over time, which is most welcome for future stability. This figure looks like it was designed to be stunning in an eye-level, mirrored collector's shelf or admired in its packaging. If you put it on your desk or a lower shelf, all you get is a good view of the back of Samus' head. While not a goofy pose, angle is everything, and much like Super Smash Bros. Luigi's Amiibo it really does look weird at certain angles. It also gives you a very clean view of the light red on the back of her armor, the fibers on her blue shoulder pads, and some black elements running down her spine. If you want a figure that forces you to really take into account just how much work went in to her redesign, you're going to like this. If you just want something that looks cool after you open it... well, display with care.
The E.M.M.I. (Extraplanetary Multiform Mobile Identifier) robot exists in the game as an automated contraption to hunt down space-government problems - and of course they malfunction and chase you down in the game. This model has a small head with a big red eye, massive hands and feet, and a pose that's a little unsettling. In the game, these robots can contort and squeeze themselves through all sorts of corridors and this figure hints at unusual mobility without spoiling the surprise. It's worth noting that the red eye is a clear piece - really quite stunning in person - while the body looks like something that got spat out by Aperture Science after watching the Star Wars prequels. This isn't a dig - I really like it. It's big, spindly, and muscular all at once. Presumably there won't be more from this game, as Nintendo doesn't tend to milk them very much these days.
The previous two-pack sells for north of $100 right now, but also had the history of the original Game Boy game and a number of unofficial remakes plus nostalgia to drive interest in it. This one probably won't be as popular - after all, it's not a Metroid but a new robot in the package - but fans would probably be smart to snap it up for $30 if the chance comes up. It doesn't articulate, it can't shoot, it's just a statue. It's like the coolest, best Happy Meal toy you never got - and may well be the only figures you see from this game for a long time. Nintendo does infrequently rerun these figures, so I have no idea if what came out is all we'll ever see or if another production run is in the wings for 2022. I just know that beating the game didn't stop me from wanting these goofy figures, and if some day we get that Metroid Fusion remake I'll buy a Samus from that too. These are always pretty nice figures, and Nintendo certainly didn't skip on the shiny paint for Samus.
--Adam Pawlus
Additional Images


See more Amiibo figures in Figure of the Day:
Day 1,083: Nintendo Super Smash Bros. Amiibo Samus Aran
Day 1,107: Nintendo Super Smash Bros. Amiibo Link
Day 1,280: Nintendo Super Mario Maker Classic Color Mario
Day 1,296: Nintendo Super Smash Bros. Amiibo Mega Man
Day 1,299: Nintendo Super Smash Bros. Zero Suit Samus
Day 1,345: Nintendo Super Smash Bros. R.O.B., Mr. Game & Watch, and Duck Hunt
Day 1,433: Nintendo Shovel Knight Amiibo
Day 1,599: Nintendo Toad Amiibo
Day 1,605: Nintendo The Legend of Zelda Link Amiibo
Day 1,649: Nintendo Super Smash Bros. Little Mac Amiibo
Day 1,691: Nintendo Super Smash Bros. Zelda Amiibo
Day 1,733: Nintendo Super Smash Bros. Wii Fitness Trainer Amiibo
Day 1,795: Nintendo Super Mario Boo Amiibo
Day 1,812: Nintendo Metroid Samus Aran and Metroid Amiibo
Day 2,068: Nintendo Super Smash Bros. Ridley Amiibo
Day 2,159: The Legend of Zelda: Link's Awakening Amiibo Link
Day 2,170: Nintendo Super Smash Bros. Simon Amiibo
Day 2,361: Nintendo Metroid Dread Samus Aran and E.M.M.I. Amiibo

See more Nintendo figures in Figure of the Day:
Day 134: Applause Super Mario Bros. Super Mario with Koopa Troopa Action Figure
Day 369: Applause Zelda II: The Adventure of Link Link PVC Figure
Day 833: K'Nex Super Mario Blind-Bagged Series #2 Boo Action Figure
Day 926: Hasbro Pokemon Ash & Pikachu
Day 1,032: Jakks Pacific World of Nintendo Skyward Sword Link Action Figure
Day 1,083: Nintendo Super Smash Bros. Amiibo Samus Aran
Day 1,107: Nintendo Super Smash Bros. Amiibo Link
Day 1,125: Jakks Pacific World of Nintendo Metroid Action Figure
Day 1,162: Jakks Pacific World of Nintendo Metroid Samus Action Figure
Day 1,182: Jakks Pacific World of Nintendo Mario Action Figure
Day 1,186: Jakks Pacific World of Nintendo Luigi Action Figure
Day 1,280: Nintendo Super Mario Maker Classic Color Mario
Day 1,296: Nintendo Super Smash Bros. Amiibo Mega Man
Day 1,299: Nintendo Super Smash Bros. Zero Suit Samus
Day 1,320: Jakks Pacific World of Nintendo 8-Bit Link Action Figure
Day 1,335: Mattel Hot Wheels Nintendo Cool-One (Super Mario)
Day 1,336: Jakks Pacific World of Nintendo 8-Bit Luigi Action Figure
Day 1,341: Jakks Pacific World of Nintendo 8-Bit Donkey Kong Action Figure
Day 1,345: Nintendo Super Smash Bros. R.O.B., Mr. Game & Watch, and Duck Hunt
Day 1,347: Jakks Pacific World of Nintendo ComicConBox.com Metallic Metroid Samus Action Figure
Day 1,349: Jakks Pacific World of Nintendo 8-Bit Mario Action Figure
Day 1,363: Jakks Pacific World of Nintendo Shy Guy Action Figure
Day 1,367: Jakks Pacific World of Nintendo Convention Exclusive Jakks Giants Link Action Figure
Day 1,369: Jakks Pacific World of Nintendo Jakks Giants Mario Action Figure
Day 1,380: Jakks Pacific World of Nintendo Tanooki Mario Action Figure
Day 1,392: Toy Biz Video Game Super Stars Mario Kart 64 Mario Action Figure
Day 1,398: Jakks Pacific World of Nintendo Boo Action Figure
Day 1,404: Medicom Nintendo Series Legend of Zelda Link Ultra Detail Figure
Day 1,430: Sonic Drive-In Mario & Luigi Paper Jam Mario Figure
Day 1,433: Nintendo Shovel Knight Amiibo
Day 1,438: Jakks Pacific World of Nintendo Metroid Gravity Suit Samus Action Figure
Day 1,444: Jakks Pacific World of Nintendo 8-Bit Red Link Action Figure
Day 1,447: Jakks Pacific World of Nintendo 8-Bit Star Power Mario Action Figure
Day 1,454: Jakks Pacific World of Nintendo 8-Bit White Link Action Figure
Day 1,475: Jakks Pacific World of Nintendo Samus Mini Action Figure
Day 1,490: Jakks Pacific World of Nintendo 8-Bit Classic Mario Action Figure
Day 1,537: Jakks Pacific World of Nintendo Metroid Action Figure
Day 1,568: Good Smile Company The Legend of Zelda: A Link Between Worlds Link Deluxe Action Figure
Day 1,599: Nintendo Toad Amiibo
Day 1,601: The Octavirate Forge Shapeways NES Inspired Zapper Gun 5mm Grip
Day 1,605: Nintendo The Legend of Zelda Link Amiibo
Day 1,624: Jakks Pacific World of Nintendo Blooper Action Figure
Day 1,647: Jakks Pacific World of Nintendo Metroid Phazon Suit Samus Action Figure
Day 1,649: Nintendo Super Smash Bros. Little Mac Amiibo
Day 1,652: Jakks Pacific World of Nintendo Goomba Action Figure
Day 1,668: Jakks Pacific World of Nintendo 8-Bit Toad Action Figure
Day 1,672: Jakks Pacific World of Nintendo Boo Glow Action Figure
Day 1,677: Jakks Pacific World of Nintendo 8-Bit Star Luigi Action Figure
Day 1,691: Nintendo Super Smash Bros. Zelda Amiibo
Day 1,733: Nintendo Super Smash Bros. Wii Fitness Trainer Amiibo
Day 1,751: Jakks Pacific World of Nintendo 8-Bit Toad Variant Action Figure
Day 1,795: Nintendo Super Mario Boo Amiibo
Day 1,811: Hasbro Nintendo Diddy Kong Monopoly Gamer Power Pack
Day 1,812: Nintendo Metroid Samus Aran and Metroid Amiibo
Day 1,823: Hasbro Nintendo Boo Monopoly Gamer Power Pack
Day 1,843: Hasbro Nintendo Luigi Monopoly Gamer Power Pack
Day 1,858: Hasbro Nintendo Wario Monopoly Gamer Power Pack
Day 1,896: Good Smile Company Metroid Prime 3: Corruption Samus Aran Action Figure
Day 1,897: Hasbro Nintendo Fire Mario Monopoly Gamer Power Pack
Day 1,991: Jakks Pacific World of Nintendo 8-Bit Princess Peach Action Figure
Day 2,068: Nintendo Super Smash Bros. Ridley Amiibo
Day 2,159: The Legend of Zelda: Link's Awakening Amiibo Link
Day 2,170: Nintendo Super Smash Bros. Simon Amiibo
Day 2,340: Mattel Hot Wheels HW Screen Time Standard Kart
Day 2,361: Nintendo Metroid Dread Samus Aran and E.M.M.I. Amiibo
Day 2,614: Jakks Pacific Metroid Samus