Wario
Board Game DLC Is Real

Monopoly Gamer Power Pack
Item No.: No. C1444
Manufacturer: Hasbro
Includes: Sticker, figure, game card
Action Feature: Drop coins to move, steal coins
Retail: $3.99
Availability: August 2017
Other: All 8 packs share item number, UPC

PREVIOUS
RSS
NEXT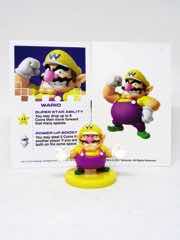 Originally the heavy in a GameBoy sequel, Wario has come into his own as the king of the micro game collection, a go-to anti-hero, and as a bizarre evil clone character. You've seen him in party games, platformers, but rarely ever as the "bad guy" in a regular run-of-the-mill game. It makes sense that Hasbro would want to include the greedy treasure-hunting character in Monopoly, because really, why not? His presence makes a heck of a lot more sense than a boot or a thimble.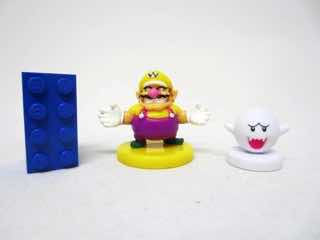 This is one of the larger figures in the line, with a wider base and a much bigger build. And more paint. It may well be the best of the series, standing not particularly tall but definitely proud. His nose is painted. His eyes have three colors of paint. His shoes, his overalls, his buttons, and his gloves are painted. The "W" on his hat is painted, and there's a white circle behind it that you can probably barely see. He even has painted "W"s on the backs of his gloves - this is a tour de force for Hasbro's deco department, even if the straps of his pants are a little sloppy in spots. For a figure that's barely 1 1/2-inches tall, that's a lot of paint - I can't believe how good the eyes look. Check out those bags under his eyes. That's awesome.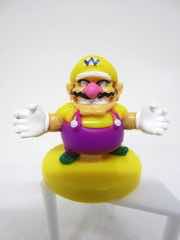 His powers include moving extra spaces by dropping coins, and also stealing coins from other players on your same space. Sounds fair.
I assume you have had your Wario fill from Amiibo figurines and Jakks Pacific toys, but if you haven't this micro figure is a good one. I hope Nintendo keeps making more of them, because it turned out exceptionally well. It's by no means perfect, but a card and a sticker and a figure for $4 is largely worthwhile - particularly since Jakks has yet to bring Wario into its smaller $5-$7 figure assortment. I might revise the recommendation had there been a larger, meatier figure for an extra buck or two.
--Adam Pawlus
Additional Images

Click here to see more Hasbro figures in Figure of the Day.
See more Nintendo figures in Figure of the Day:
Day 134: Applause Super Mario Bros. Super Mario with Koopa Troopa Action Figure
Day 369: Applause Zelda II: The Adventure of Link Link PVC Figure
Day 833: K'Nex Super Mario Blind-Bagged Series #2 Boo Action Figure
Day 926: Hasbro Pokemon Ash & Pikachu
Day 1,032: Jakks Pacific World of Nintendo Skyward Sword Link Action Figure
Day 1,083: Nintendo Super Smash Bros. Amiibo Samus Aran
Day 1,107: Nintendo Super Smash Bros. Amiibo Link
Day 1,125: Jakks Pacific World of Nintendo Metroid Action Figure
Day 1,162: Jakks Pacific World of Nintendo Metroid Samus Action Figure
Day 1,182: Jakks Pacific World of Nintendo Mario Action Figure
Day 1,186: Jakks Pacific World of Nintendo Luigi Action Figure
Day 1,280: Nintendo Super Mario Maker Classic Color Mario
Day 1,296: Nintendo Super Smash Bros. Amiibo Mega Man
Day 1,299: Nintendo Super Smash Bros. Zero Suit Samus
Day 1,320: Jakks Pacific World of Nintendo 8-Bit Link Action Figure
Day 1,335: Mattel Hot Wheels Nintendo Cool-One (Super Mario)
Day 1,336: Jakks Pacific World of Nintendo 8-Bit Luigi Action Figure
Day 1,341: Jakks Pacific World of Nintendo 8-Bit Donkey Kong Action Figure
Day 1,345: Nintendo Super Smash Bros. R.O.B., Mr. Game & Watch, and Duck Hunt
Day 1,347: Jakks Pacific World of Nintendo ComicConBox.com Metallic Metroid Samus Action Figure
Day 1,349: Jakks Pacific World of Nintendo 8-Bit Mario Action Figure
Day 1,363: Jakks Pacific World of Nintendo Shy Guy Action Figure
Day 1,367: Jakks Pacific World of Nintendo Convention Exclusive Jakks Giants Link Action Figure
Day 1,369: Jakks Pacific World of Nintendo Jakks Giants Mario Action Figure
Day 1,380: Jakks Pacific World of Nintendo Tanooki Mario Action Figure
Day 1,392: Toy Biz Video Game Super Stars Mario Kart 64 Mario Action Figure
Day 1,398: Jakks Pacific World of Nintendo Boo Action Figure
Day 1,404: Medicom Nintendo Series Legend of Zelda Link Ultra Detail Figure
Day 1,430: Sonic Drive-In Mario & Luigi Paper Jam Mario Figure
Day 1,433: Nintendo Shovel Knight Amiibo
Day 1,438: Jakks Pacific World of Nintendo Metroid Gravity Suit Samus Action Figure
Day 1,444: Jakks Pacific World of Nintendo 8-Bit Red Link Action Figure
Day 1,447: Jakks Pacific World of Nintendo 8-Bit Star Power Mario Action Figure
Day 1,454: Jakks Pacific World of Nintendo 8-Bit White Link Action Figure
Day 1,475: Jakks Pacific World of Nintendo Samus Mini Action Figure
Day 1,490: Jakks Pacific World of Nintendo 8-Bit Classic Mario Action Figure
Day 1,537: Jakks Pacific World of Nintendo Metroid Action Figure
Day 1,568: Good Smile Company The Legend of Zelda: A Link Between Worlds Link Deluxe Action Figure
Day 1,599: Nintendo Toad Amiibo
Day 1,601: The Octavirate Forge Shapeways NES Inspired Zapper Gun 5mm Grip
Day 1,605: Nintendo The Legend of Zelda Link Amiibo
Day 1,624: Jakks Pacific World of Nintendo Blooper Action Figure
Day 1,647: Jakks Pacific World of Nintendo Metroid Phazon Suit Samus Action Figure
Day 1,649: Nintendo Super Smash Bros. Little Mac Amiibo
Day 1,652: Jakks Pacific World of Nintendo Goomba Action Figure
Day 1,668: Jakks Pacific World of Nintendo 8-Bit Toad Action Figure
Day 1,672: Jakks Pacific World of Nintendo Boo Glow Action Figure
Day 1,677: Jakks Pacific World of Nintendo 8-Bit Star Luigi Action Figure
Day 1,691: Nintendo Super Smash Bros. Zelda Amiibo
Day 1,733: Nintendo Super Smash Bros. Wii Fitness Trainer Amiibo
Day 1,751: Jakks Pacific World of Nintendo 8-Bit Toad Variant Action Figure
Day 1,795: Nintendo Super Mario Boo Amiibo
Day 1,811: Hasbro Nintendo Diddy Kong Monopoly Gamer Power Pack
Day 1,812: Nintendo Metroid Samus Aran and Metroid Amiibo
Day 1,823: Hasbro Nintendo Boo Monopoly Gamer Power Pack
Day 1,843: Hasbro Nintendo Luigi Monopoly Gamer Power Pack
Day 1,858: Hasbro Nintendo Wario Monopoly Gamer Power Pack
Day 1,896: Good Smile Company Metroid Prime 3: Corruption Samus Aran Action Figure
Day 1,897: Hasbro Nintendo Fire Mario Monopoly Gamer Power Pack
Day 1,991: Jakks Pacific World of Nintendo 8-Bit Princess Peach Action Figure
Day 2,068: Nintendo Super Smash Bros. Ridley Amiibo
Day 2,159: The Legend of Zelda: Link's Awakening Amiibo Link
Day 2,170: Nintendo Super Smash Bros. Simon Amiibo
Day 2,340: Mattel Hot Wheels HW Screen Time Standard Kart
Day 2,361: Nintendo Metroid Dread Samus Aran and E.M.M.I. Amiibo