Nintendo Series Legend of Zelda Link Ultra Detail Figure
The Hyrule Fantasy

Nintendo Series Ultra Detail Figure
Item No.: UDF 177
Manufacturer: Medicom
Includes: Stand
Action Feature: n/a
Retail: $12.99
Availability: Fall 2015
Other: From The Legend of Zelda

PREVIOUS
RSS
NEXT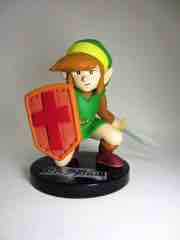 The look of the cast of The Legend of Zelda changed significantly from game to game, and early on the character looked more or less like any typical anime hero from the time. Medicom celebrates the now 30-year-old game with the Legend of Zelda Link Ultra Detail Figure, which is a brand name that sounds better than "action figure" while it delivers more detail and less everything else. For all intents and purposes, this is a statue that's basically in scale with 3-4-inch action figures. He seems more or less at home next to Playmobil in terms of scale, but that's not why you want this figure.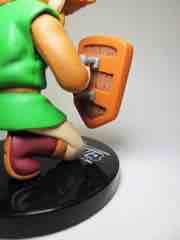 At about 2 1/2-inches tall, Link looks a lot like the box art from the original game - specifically, the Japanese Famicom disc system box art. He's in the same pose, holding the Magical Sword and Magic Shield while crouching, complete with determined face and flesh-colored tights. From the front or the sides, this is a pretty gorgeous figure - the detail does not exceed what you should expect for the price, but it does have a look that seems like the best 1987 might have had to offer. If you look between his legs - and really, why wouldn't you? - you'll see orange/brown underpants that match the border of his oversized shield. Why? I have no idea - it adds character to the figure.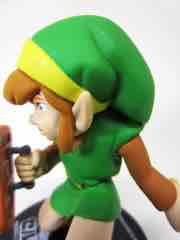 There is no articulation, but the sculpting is pretty good with paint that's also pretty good. It's a little thick in spots, but that seems to add to a sort of otherworldly charm - it feels like something you could have maybe found in an antique store. Link is based on the same models as those trophies they cleared out at Lionel PlayWorld 28 years ago from Hasbro, maintaining a similar look in terms of color and overall form. They de-mangafied it a great deal, so seeing Link in his original cover art glory is pretty impressive. It is, however, tiny. The sword is stiff and the figure is generally pretty sturdy - this seems like a great desk accessory, as it offers about as much fun and play features as a rock.
It's pretty remarkable to see what they decided to decorate - the back of the shield, the grip, the soles of the boots, and even a little jewel on the pommel of the sword are recreated in detail that I could best call "as good as you might expect." The general design was refined for the animated Wind Waker and Spirit Tracks character models, but seeing it here in its original form is a rare treat. The series also put out The Wind Waker and Skyward Sword versions of Link, so far eschewing the nifty Jughead-esque teenage Link from Zelda II (which is my favorite). There are also plenty of Mario game figures.
If you've been buying a lot of Japanese figures, you'll recognize the taped-on slide-off bubble packaging from numerous other toy lines. The bubble is nice, the cardback ain't bad, but for some reason they wrapped Link in a clear plastic bag that obfuscates much of the detail. If you want to see this figure, you pretty much have to buy one. The packaging does not succeed in its mission to highlight the figure and convince you to buy one - you're only going to buy this if you're already in love with the idea of owning the original Link.
I would love to see more of this kind of figure - it's not unlike an Amiibo in terms of scale and appearance, just without the electronics. I have no doubt Nintendo could do a finer release as a toys-to-life item, but odds are such a thing would never happen. Similarly, I'm not holding my breath for Metroid UDF toys, but if they did such things I'd pre-order without a second thought. There are lots of Link toys out there, but the number coming from the original The Legend of Zelda I could probably count on two hands - one if we're ignoring repaints. I don't think it's a bad figure for the price - especially being an import or distributed via Diamond - but I'd be lying if I said I think everybody will love this. If you're in your late 30s or mid 40s, this is a figure for you. If you played this game late at night in 1987, this is a figure for you. If you can play through most of the first quest in an hour without dying from memory, this is a figure for you. If you weren't, well, leave it for people like me. We'll give it a good home.
--Adam Pawlus
Additional Images

See more Medicom figures in Figure of the Day:
Day 1,404: Medicom Nintendo Series Legend of Zelda Link Ultra Detail Figure

See more Nintendo figures in Figure of the Day:
Day 134: Applause Super Mario Bros. Super Mario with Koopa Troopa Action Figure
Day 369: Applause Zelda II: The Adventure of Link Link PVC Figure
Day 833: K'Nex Super Mario Blind-Bagged Series #2 Boo Action Figure
Day 926: Hasbro Pokemon Ash & Pikachu
Day 1,032: Jakks Pacific World of Nintendo Skyward Sword Link Action Figure
Day 1,083: Nintendo Super Smash Bros. Amiibo Samus Aran
Day 1,107: Nintendo Super Smash Bros. Amiibo Link
Day 1,125: Jakks Pacific World of Nintendo Metroid Action Figure
Day 1,162: Jakks Pacific World of Nintendo Metroid Samus Action Figure
Day 1,182: Jakks Pacific World of Nintendo Mario Action Figure
Day 1,186: Jakks Pacific World of Nintendo Luigi Action Figure
Day 1,280: Nintendo Super Mario Maker Classic Color Mario
Day 1,296: Nintendo Super Smash Bros. Amiibo Mega Man
Day 1,299: Nintendo Super Smash Bros. Zero Suit Samus
Day 1,320: Jakks Pacific World of Nintendo 8-Bit Link Action Figure
Day 1,335: Mattel Hot Wheels Nintendo Cool-One (Super Mario)
Day 1,336: Jakks Pacific World of Nintendo 8-Bit Luigi Action Figure
Day 1,341: Jakks Pacific World of Nintendo 8-Bit Donkey Kong Action Figure
Day 1,345: Nintendo Super Smash Bros. R.O.B., Mr. Game & Watch, and Duck Hunt
Day 1,347: Jakks Pacific World of Nintendo ComicConBox.com Metallic Metroid Samus Action Figure
Day 1,349: Jakks Pacific World of Nintendo 8-Bit Mario Action Figure
Day 1,363: Jakks Pacific World of Nintendo Shy Guy Action Figure
Day 1,367: Jakks Pacific World of Nintendo Convention Exclusive Jakks Giants Link Action Figure
Day 1,369: Jakks Pacific World of Nintendo Jakks Giants Mario Action Figure
Day 1,380: Jakks Pacific World of Nintendo Tanooki Mario Action Figure
Day 1,392: Toy Biz Video Game Super Stars Mario Kart 64 Mario Action Figure
Day 1,398: Jakks Pacific World of Nintendo Boo Action Figure
Day 1,404: Medicom Nintendo Series Legend of Zelda Link Ultra Detail Figure
Day 1,430: Sonic Drive-In Mario & Luigi Paper Jam Mario Figure
Day 1,433: Nintendo Shovel Knight Amiibo
Day 1,438: Jakks Pacific World of Nintendo Metroid Gravity Suit Samus Action Figure
Day 1,444: Jakks Pacific World of Nintendo 8-Bit Red Link Action Figure
Day 1,447: Jakks Pacific World of Nintendo 8-Bit Star Power Mario Action Figure
Day 1,454: Jakks Pacific World of Nintendo 8-Bit White Link Action Figure
Day 1,475: Jakks Pacific World of Nintendo Samus Mini Action Figure
Day 1,490: Jakks Pacific World of Nintendo 8-Bit Classic Mario Action Figure
Day 1,537: Jakks Pacific World of Nintendo Metroid Action Figure
Day 1,568: Good Smile Company The Legend of Zelda: A Link Between Worlds Link Deluxe Action Figure
Day 1,599: Nintendo Toad Amiibo
Day 1,601: The Octavirate Forge Shapeways NES Inspired Zapper Gun 5mm Grip
Day 1,605: Nintendo The Legend of Zelda Link Amiibo
Day 1,624: Jakks Pacific World of Nintendo Blooper Action Figure
Day 1,647: Jakks Pacific World of Nintendo Metroid Phazon Suit Samus Action Figure
Day 1,649: Nintendo Super Smash Bros. Little Mac Amiibo
Day 1,652: Jakks Pacific World of Nintendo Goomba Action Figure
Day 1,668: Jakks Pacific World of Nintendo 8-Bit Toad Action Figure
Day 1,672: Jakks Pacific World of Nintendo Boo Glow Action Figure
Day 1,677: Jakks Pacific World of Nintendo 8-Bit Star Luigi Action Figure
Day 1,691: Nintendo Super Smash Bros. Zelda Amiibo
Day 1,733: Nintendo Super Smash Bros. Wii Fitness Trainer Amiibo
Day 1,751: Jakks Pacific World of Nintendo 8-Bit Toad Variant Action Figure
Day 1,795: Nintendo Super Mario Boo Amiibo
Day 1,811: Hasbro Nintendo Diddy Kong Monopoly Gamer Power Pack
Day 1,812: Nintendo Metroid Samus Aran and Metroid Amiibo
Day 1,823: Hasbro Nintendo Boo Monopoly Gamer Power Pack
Day 1,843: Hasbro Nintendo Luigi Monopoly Gamer Power Pack
Day 1,858: Hasbro Nintendo Wario Monopoly Gamer Power Pack
Day 1,896: Good Smile Company Metroid Prime 3: Corruption Samus Aran Action Figure
Day 1,897: Hasbro Nintendo Fire Mario Monopoly Gamer Power Pack
Day 1,991: Jakks Pacific World of Nintendo 8-Bit Princess Peach Action Figure
Day 2,068: Nintendo Super Smash Bros. Ridley Amiibo
Day 2,159: The Legend of Zelda: Link's Awakening Amiibo Link
Day 2,170: Nintendo Super Smash Bros. Simon Amiibo
Day 2,340: Mattel Hot Wheels HW Screen Time Standard Kart
Day 2,361: Nintendo Metroid Dread Samus Aran and E.M.M.I. Amiibo
Day 2,614: Jakks Pacific Metroid Samus